The latest round up of recent updates from these fine websites featured here today are now available for your perusal, I am sorry that I am unable to bring you more news, as I will be covering new sites and site redesign reviews soon and the important news which affects UK customers only using their British ISPs (internet service providers such as Sky, Virgin, BT and so on) – I will be providing a review of best rated VPNs to use very shortly in the event any of our sites are blocked, including this one… as we feel the Age Verification process to be used is pointless (which won't cover piracy forums/sites and various social media platforms like TWITTER) and we will not trust YOUR private viewing data habits and information to Mindgeek – who the British Govt. seem intent on giving this contract to (through sheer incompetence, lack of real understanding, and laziness) – it is a scandal and ill-thought out… As I said, I will be sitting down, writing up a list of (perhaps) 5 top rated VPNs with links to why this could be necessary if you want to watch any porn/fetish rated sites before the authorities could ask the ISPs to block foreign based/hosted websites as well as target UK based websites completely for non compliance (fortunately not us… we relocated everything after the shitshow with ATVOD at the start of 2015) but it would still affect an important 10-15% of our readers/members and surfers that are from the U.K.
Anyway, enough of that nonsense, go enjoy these reviews of recent films & updates now showing at the following websites.



Scouting For Trouble
Miss Bernadette, scout leader, is very disappointed in Elori once again. Not only has Elori been misbehaving, but she has been getting Cherry, her daughter, in trouble. She explains to Cherry that Elori will be coming over so the two of them can be dealt with. After a good scolding, each naughty girl is taken over the knee for some old fashioned discipline. After, they are bent over and strapped side by side. Elori is given extra as it was her who got Cherry in trouble and was being a bad influence.
This site is also part of the Sarah Gregory Pass
– including full access to ALL of the Strictmoor Academy series –


Introducing Lola Belle
Spring is a time for all things new, and a time for new flowers to start blossoming. To celebrate the slow but steady arrival of Spring with something new… every Tuesday for the month of March – that will bring you the introduction of a brand new spanking model. All four of these beautiful new girls have never been seen on a spanking membership site before. Meet the first new girl for March: Lola Belle.
Alex met Lola some months ago in a chat group.  It turned out that Lola was local to a city she was about to visit, and when Alex asked her if she'd like to do her first shoot for a production company she was very enthusiastic about the idea! Take a look at these images of Lola and Alex at play. If her bottom looks particularly red, it's with good reason: she had only ever been spanked on one occasion before this, and had never been spanked with an implement! Please welcome newcomer Lola to Northern Spanking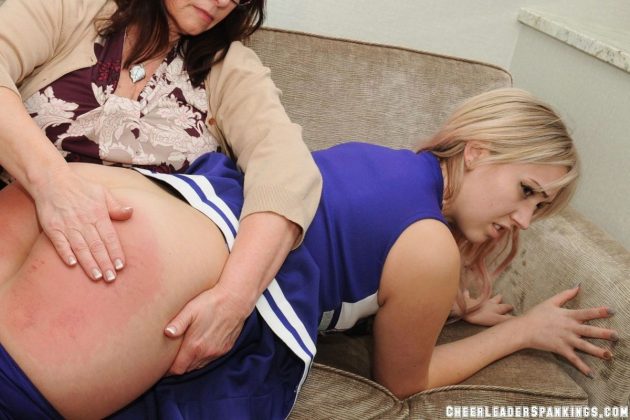 Cara learns a painful lesson
Coach Lake takes Cara home from school after her latest poor attitude in practice – he has had enough and confronts Cara's mother. Her mom is mortified that she is playing up again as the Coach tells about how Cara has been using crude dating apps and drinking alcohol which is affecting team morale and a poor role model to the other girls. So Cara's mother wastes no time in showing Coach just how she deals with inappropriate behavior as she takes her daughter for an over the lap spanking, right there and then! Cara is embarrassed that her coach is asked to watch and it isn't long before her cute sports panties are pulled down and her bare bottom is being spanked harder and harder whilst mommy scolds and shames her. If that was emabrrassing enough… the heavy, nasty hairbrush spanking that follows takes her attention away from any shame at having her full round bottom bared to her male coach's gaze. Mother isn't finished though… to ensure that Cara fully learns this lesson, she invites Coach Lake to do exactly the same while she looks on. The poor girl is mortified and finds this second part of her punishment very humiliating, as her red swollen cheeks receive yet another hard hand and hairbrush spanking. Mother stares at her daughter, reminding her to really learn from this painful lesson. Behavior like this will not be tolerated at home or at cheerleading practice!

Wooden Spoon in the Lunge Position
Ambriel is sent to fetch the heavy wooden spoon and is then placed into the lunge position. Michael uses the spoon on her poor bottom until it is black and blue.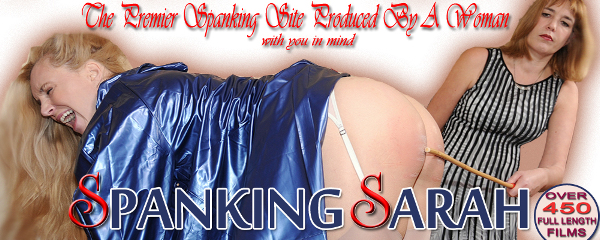 Extra Strokes
Lulu has really spoiled Sarah's party plans, as she is supposed to be a maid. She should have known better than to hire her from the Sexy Cleaning Company! After informing her friends the party was cancelled, Lulu is punished with the strap and then something special afterwards. A try out with her newest and most favorite cane, after a good whacking, she gives Lulu extra strokes. All because she not show any real remorse for ruining the party.

NEW Michaela McGowen videos: Lost for 11 years, rediscovered!
Our new library supervisor struck gold when she discovered an entire series of Michaela McGowen videos shot in 2008, but never shown. It's solid gold treasure as Michaela's magnificent round buttocks are bared and soundly spanked over Cindy Wallace's knee in one of the longest, hardest spankings ever! Cute, sassy and sexy, Michaela pays the penalty for not asking her stepmom about having a college friend live in her home in Houseguest From Hell. Check out cheek rippling slow-motion replays: butt perfection!
Don't forget that you can be a part of the largest & newbie friendliest party this May!
Check out the Lone Star Spanking Party – website details HERE