There is a new spanking series just released at AAA Spanking featuring a particular uniform fetish of mine… and I hope yours too… seeing a well heeled flight attendant or two in a smart believable uniform (not the silly Halloween costumes that you see) with attention to detail – E.g.) wearing pantyhose, and looking every part a member of an airline cabin crew. I hope that as the series progresses over time we include other aspects of an airline/airport operation, from pilots to ground crew and so on. To kick start this off, as soon as I knew I was filming with these two beauties recently, I knew they would be PERFECT! Welcome back Zoe Page and say "hello" to new girl Lucy Lauren! They filmed some more scenes but this opening one is very memorable… as you'll see! So all aboard the most kink friendly airline in the world… SPANKO AIR! Will there be mile high spanking scenes? Who knows? Filming would be cramped inside those restrooms… riiiight? 🙂
I have featured some nice video screen grabs, some animated GIFs and a link to the full length 90 seconds preview! Enjoy… this film really is a wonderful visual spanking treat! How could it nbot be with these 2 young ladies?
SPANKO AIR: The Disciplinary Meeting
This film can be viewed as part of the AAA Membership site option starting from as little as the equivalent of $12.50/month with the Loyalty Annual membership – or from around $25 for a basic monthly subscription… giving you access to well over 460 full length films, their extensive video image galleries and high quality stills images – all zipped for easy download and there are MP4 streaming options as well as the HD1080 versions to download and keep.
Or… purchase this as a one time video download from our Clip Store – Click HERE for access
For a limited time, you can get 10% off the point of sale at the Clip Store until end of June 10th 2019 (at the time of writing) – this applies to ALL films, click on this link HERE or the image below for the preview page of all films at AAA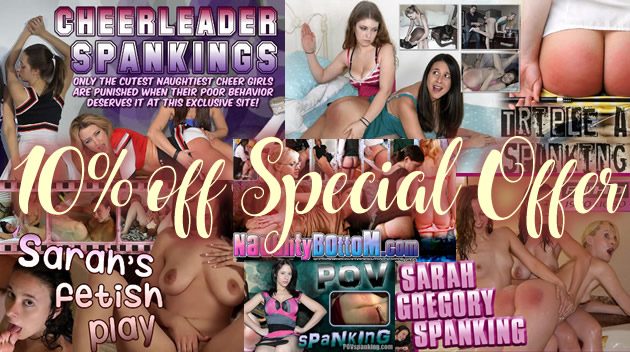 We have something special for you as we introduce a new spanking series called " Spanko Air". This is a kink friendly airline, employing staff that understand particular fetishes that they and their fellow passengers are comfortable with in public. It has proved very popular with customers so demand for quality trained staff is important.. This is where we start as ceratin standards have been slipping with one individual who has been turning up late for training, work evaluations, performing poorly on the job and so on… but this is precisely what Lucy Lauren does (making her amazing debut appearance at Triple A). She has been taking advantage of her friend, roommate and fellow employee, Zoe Page. Zoe is her superior at work and has been told to deal with Lucy appropriately when they return from their latest flight for the day. Lucy's Disciplinary Meeting means that Zoe has been asked to punish Lucy, or she will be in trouble too.

It's a little embarrassing for them both but Zoe is professional and takes matters into her own hands after the initial scolding. Then Lucy is placed over the desk for the start of her spanking punishment. As well as poor attitude, laziness and rudeness to passengers, it appears Lucy is also wearing a thong which is forbidden and this is removed as her bottom is reddened quickly with a hard hand spanking. Management has insisted they be able to hear and then inspect Lucy's bottom afterward, so Zoe ensures Lucy's bottom is thoroughly tanned with an additional leather paddle that she uses without mercy. Poor Lucy, her bottom is so sore at the end, it is just as red as the neckerchief she is using to dab the tears from her eyes. Zoe is pleased with her work, leaving a very sorry Lucy rubbing her swollen reddened cheeks as she waits for the inspection by senior management. Welcome to the new series of Spanko Air, a colorful, authentic uniform spanking feature that we are sure you will enjoy.
MORE THAN 20 FULL PAGES OF FILMS AT THE TOUR GALLERY
[jwplayer mediaid="59791″]