Hello, I am always apologizing for not getting back here as often as I'd like. That's because I do care about this spanking blog, it is one of the longest-running spanking blogs that is updated since its' inception way back in 2006! It will be 13 years old by the end of this year… that's a hell of a lot of free spanking archived news, content, behind the scenes updates and news. Anyway, I have the latest 2 movie updates featured at AAA Spanking for you today and both feature 2 brand new ladies who I know will be a big hit with you all.
The first is Amy Fox. She loves foxes for real, loves cosplay and dressing up. She is naturally submissive, intelligent and has become very good friends with my beloved, Sarah. Amy also enjoys aspects of ageplay as well as spanking roleplay. You will be seeing an awful lot of Amy at all our sites and we are so honored to be able to showcase her obvious talent! Please do go follow her Twitter account, we all like followers, right? You can do that HERE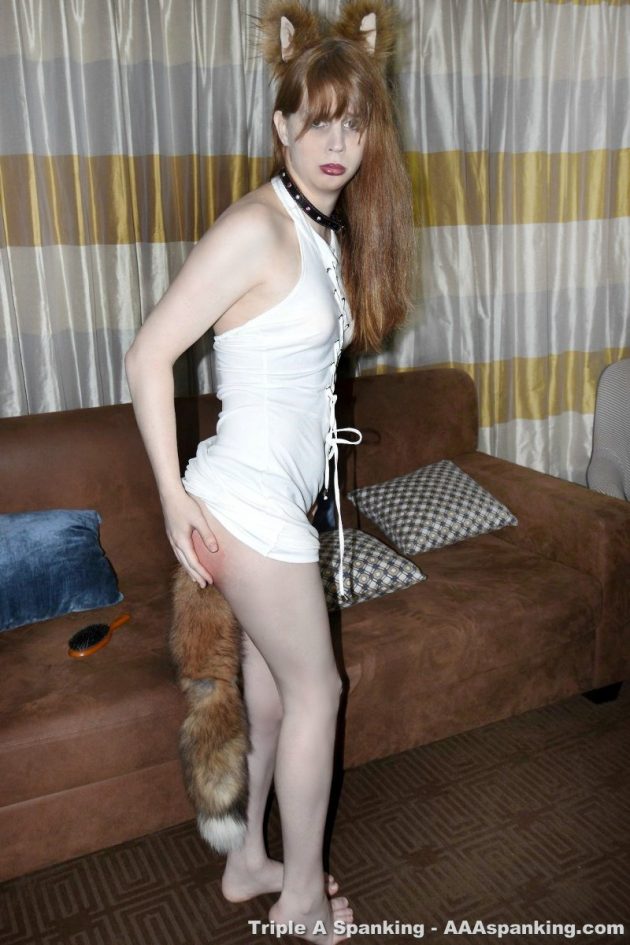 Please welcome Amy Fox in a memorable debut at AAA. Amy loves dressing up, and in this case, is attending an adult-themed Cosplay Convention. She is dressed as a fox with a huge, beautiful bushy tail. However, before she can leave, her mother sees what she is wearing and won't let her leave until she explains herself. She is the sort of girl who cannot resist answering back; a perpetual brat! Amy has got herself into trouble many times with her rude behavior and sassy replies to mom's questions only make things worse. It's not long before mother has had enough and takes her outrageously rude daughter over her lap for a spanking. Soon, the question of how the tail is attached upsets her mom as she discovers that it is plugged into Amy's bottom.

Mother is shocked and only spanks her sassy brat harder before deciding something extra is needed in this case. Amy is told to bring the nearby wooden hairbrush which she knows, only too well, stings like hell. She hates that thing! With a fast and furious hairbrush spanking, Amy learns in no uncertain terms that going out dressed like that with a bushy fox tail plugged up her bottom is unacceptable behavior as far as her mother is concerned. This is an awesome debut with lots of humor, banter, sass and some great spanking action. You can be sure we will be working with Amy far more often as she is local to us in New England and we are excited to showcase this wonderful new talent!

You can view this video as a one time download to keep & playback as often as you wish!
CLICK HERE to download from the C4S Store
Check out the free preview below – taken from the full-length video
Melanie Graham is from the UK, like me, and we share something in common, we both have fiances in the USA. Like myself, she has to conduct a trans-Atlantic relationship, not the best or easiest thing to do… but love prevails, as they say! Melanie makes her first appearance for AAA and it is rather memorable, as Melanie makes an excellent naughty schoolgirl. She can take a hard punishment, and of course is deserving of every stroke across her already painful, sore behind! Melanie has a Twitter account and you can catch up with her behind the scenes shenanigans HERE
Melanie is the absolute worst girl in school. She is habitually in trouble with all the teaching staff and has been punished many times. Now she has been sent to the Headmaster's office for a caning. This type of discipline is only carried out by the head of teaching staff, as it is the most serious form of punishment that is sanctioned in the school. It is her last chance and the caning will not be light at all. Melanie appears to show no sign of remorse so she is bent over the table and her regulation knickers are pulled down revealing the extent of her recent spankings by the other teachers. Headmaster is appalled at the sight of her sore bottom but he has no qualms in also applying his hand to her naughty behind.

She is given 2 sets of 12 severe cane strokes. Melanie grits her teeth and takes her punishment in near silence, not wanting to give him the satisfaction of knowing that this painful caning got the better of her. See Melanie make her debut appearance at this website in a memorable hard caning movie.

You can view this video as a one time download to keep & playback as often as you wish!
CLICK HERE to download from the C4S Store
Check out the free preview below – taken from the full-length video
AAA features different styles of erotic & hard discipline style female punishments including OTK (over the knee) spankings, girls punished at school & at home, girlfriends, wives & those at work who need firm sound chastisement from their peers & colleagues. The site features girls from all over the UK & USA who have been deserving of a good spanking, strapping, slippering, paddling & sometimes, when all else fails, a real punishment caning.

If you are into seeing real next door girls, real lifestylers & those who crave discipline in their lives on film… then you have come to the right place!
Membership to Triple A Spanking includes
Full HD1080 movie downloads & streaming options.
Complete zipped files: beautifully edited photosets & comprehensive video grab galleries.
Auditions, Schoolgirls, Domestic Discipline, All girl spankings & much more!