It's been some time since I last wrote any sort of update… so without wasting any more time, here are the very latest releases from the SG Group of sites… and these are worth waiting for!
Thieving Lily's Liquor Lickin'

You can also view the full HD film at the Cheerleader Spankings Clip Store HERE
Lily has been stealing strong liquor from mom's cabinet and taking the booze to cheer practice to impress her peers. Lily loves being popular but everything changes when her mother's suspicions are confirmed as she catches her girl red-handed, pinching another bottle. Lily has nothing much to say since she is caught in the act so mom lets her know what happens to thieves in this house. If she wants to impress her friends, she can impress them by showing off her soon to be very sore red bottom. She places her daughter, still dressed in her cheer outfit, over the table and spanks her hard whilst scolding her naughty girl. Those tight white shorts are pulled down and Lily's beautiful toned butt cheeks are given a further licking from mom's mean hands. Worse is to come as Mom spies a hairbrush on the table and gets Lily to ask her to give her a hairbrush spanking. Oh, the shame and humiliation! The brush really stings and poor Lily finally learns her lesson as her bottom turns an angry red and her very real yelps of pain fills the room! Do not miss this hot mommy/daughter combination of super fit and sexy, Lily Swan getting a spanking from Madame Samantha B.
CLICK HERE TO VIEW THE FREE SPANKING PREVIEW

After school spanking & strapping

You can also view the full HD film at the AAA Clip Store HERE
Ava Nicole arrives home not long after daddy… and he had received the news about her latest poor behavior and punishment at school. He is naturally upset and disappointed that his daughter would shame the family name once more, behaving so badly at school, that she had to be spanked and strapped. She is nervously waiting in her bedroom knowing that Daddy will soon be there as she knows what happens next. When he comes into her room, daddy confirms this as he asks her to explain what happens when she is punished at school… "a spanking at school means a spanking at home". In this case, poor Ava is to receive the exact same punishment so that will be a spanking and leather strapping given to her earlier. However, at home, all discipline is always carried out on the bare bottom! She takes her position over his lap as the hard hand spanking begins, the white cotton knickers are quickly pulled down and her quivering bottom given a further mean hand spanking. The leather strap is then used with her bent over the bed, with her bare bottom exposed and vulnerable, as the strapping continues until he feels her lesson has been learned.
CLICK HERE TO VIEW THE FREE SPANKING PREVIEW
Sister's Punishment
Kiki has been getting all the blame for Sophia's misbehavior and Kiki has had enough. She is going to teach her younger sister a lesson and the kind of lesson that she has been getting from mom and dad. Kiki takes little sister, Sophia, over her lap to give her a well-deserved spanking for all the times poor Kiki got the blame instead of the younger sibling. Daddy walks in on this spanking scene and is shocked not only to learn that Sophia has been lying but that Kiki has now decided to take matters into her own hands instead of telling mom and dad. So daddy spanks Sophia for the first time (something that he should have done a long time ago, it seems). Sophia is embarrassed that she is spanked in front of her sister as Kiki giggles and smirks at her misfortune. However, Kiki's smug demeanor is short-lived as she is not getting away scot-free either! Kiki has her turn over Daddy's lap, just as Sophia did, getting her bare round bottom hand spanked before both girls are strapped side by side. This is a humiliating finale for them as they can each see the other receiving hard swats of leather from daddy's heavy strap. Punishments at home will be far more equal in the future now that it appears both his girls need regular discipline.
CLICK HERE TO VIEW THE FREE SPANKING PREVIEW
This site is part of the Sarah Gregory Pass (2 sites for less than the combined cost)
Little Bratty Sarah Spanked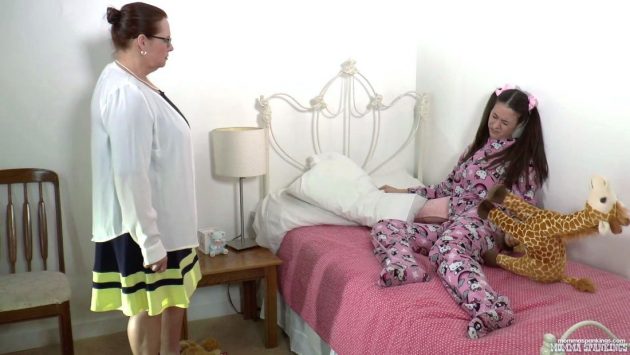 In this fun age play scene, Sarah is acting like a bratty little girl who doesn't want to go to bed. Mommy tries to get her to bed but Sarah complains and throws a hissy fit about it, even throwing her stuffed teddybear at Mommy. That is a big mistake. Mommy scowls and won't put up with this obnoxious bratty behavior, placing Sarah right over her lap for a spanking. Sarah is spanked over her drop-seat pajamas as she kicks out and continually complains. This leads to the spanking being carried out on the bare bottom until she finally apologizes and promises to be a good girl for Mommy and to do as she is told. Lovers of this style of ageplay discipline dynamic will not want to miss our latest bedtime spanking punishment film.
CLICK HERE TO VIEW THE FREE SPANKING PREVIEW

This site is part of the Sarah Gregory Pass (2 sites for less than the combined cost)