As promised, I have an in-depth look at all the latest spanking updates across this network of sites including the very latest release from Cheerleader Spankings which I will showcase first (as it is a hot film with a difference for the sports uniform discipline site, as you'll find out!)
I have chosen some great video images and, of course, the link to the latest films and clip previews… so without further ado, read on…
Ava spanked & diapered by Mommy
Ava needlessly peed in her shorts at cheer practice and made a mess of herself and disgusted her teammates. After being told to clean up, given a replacement pair, and sent home… the coach called Ava's mother to inform her of the embarrassing bad news. This is where the film starts as Ava arrives home to find Mommy waiting for her with a hairbrush in hand with baby powder and a diaper placed next to her! Ava's tummy flips at the sight of this… "Mom knows!" she thinks to herself. Mommy scolds Ava and is tells her how disgusted she is at her daughter's juvenile behavior. She will be diapered like a baby, but first, she is going to be spanked… and spanked hard! Ava's tight black shorts offer little protection from mother's hard hand and soon her bottom is bared revealing a reddening pair of glowing, shameful cheeks. Poor Ava squirms with embarrassment, looking at the diaper, knowing what is to come. However, the dreaded stinging Mason & Pearson hairbrush is painfully used across her sore quivering cheeks which focuses her senses.

As her bottom throbs from the spanking, it is now time to lay back on the bench as she is about to be diapered for the first time in many years. As this takes place, the scoldings continue as mommy treats her like a baby taping up the oversized underwear. The diaper is crinkly and obvious, how will she be able to wear this to practice? Her humiliation is complete! Watch Ava getting spanked and diapered by mommy in this cheerleader discipline film with a difference!

A Sexy Sinful Spanking
Sage Pillar makes her hot, sexy debut with us as Veronica Weston also makes her first appearance on top of the action, giving blonde Sage a delightfully sinful wheelbarrow spanking. This is a deliberately intimate and very sexy spanking between two hot young ladies who clearly enjoyed making this unique film. You will see Veronica tease Sage, caress her slowly and intimately with a varied hand spanking in the naughty and revealing wheelbarrow position. Veronica also can not resist grabbing Sage's perfect bottom and is encouraged by sinful Sage as she gasps in pleasure at the sensation play she is receiving. This is a special sexy spanking episode featuring two delightful ladies that we know you will enjoy watching give & take in this hot wheelbarrow spanking movie exclusive to Triple A.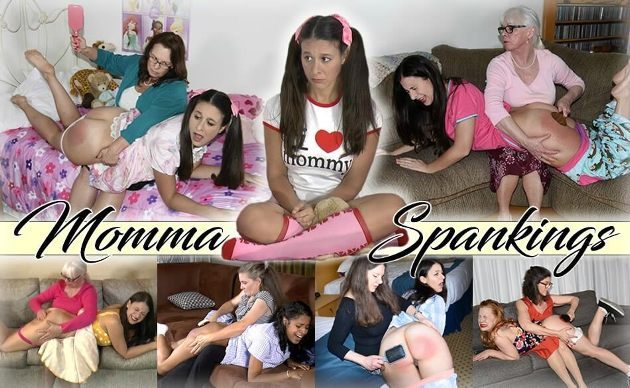 Mommy Spanks Helen
Helen has really done it this time and mom is very angry with her. Dad has called mom to give news that Helen was very rude to his new wife and to him while visiting for the weekend. Even if Helen doesn't like her, that is no excuse to be rude and disrespectful. Mom is the one who dishes out the discipline so when Helen comes home she is waiting for her in the spanking chair. After a bit of backtalk, it is right over mom's knee for a hard hand spanking. First over her panties, and then on the bare bottom. Her spanking finishes with the hairbrush which causes lots of leg kicking and apologies from the naughty daughter.

Grandpa spanks Ava
Ava has really upset Grandpa by disappearing at the theme park not just once, but three times. As soon as he gets her back to the hotel he takes her right over his knee for a hard hand spanking. A good old fashioned punishment will be the only thing that teaches this naughty girl a lesson. Ava struggles and wriggles, attempting to evade the hard mean hand of Grandpa but he is having none of it. She is spanked over her short skirt, then on her tight, white cotton panties and finally on her bare, pert bottom. But that is not all after she is hand spanked, he takes the wooden hairbrush to her already very sore, red bottom to really drive the message home. She struggles and kicks her legs even more and promises to be a good girl from now on and not wander off.
I will be back soon, I hope, with news of today's huge film shoot that Sarah has just completed (at the time of writing) in the Annual Strictmoor Academy… the biggest yet!