Happy New Year 2020
This post is actually the delayed Part 2 of my 2019 End of Year post in which I was going to cover the latest updates from the SG Group of sites… however, both Sarah & I were busy out celebrating the New Year in our respective countries and traveling, meeeting family and so on, so this got put back. Anyway, better late than never… and here we are, a few days into the new decade already…
Before I start: Some images from around the world, starting with Auckland (NZ), Sydney, Hong Kong, Riyadh (Saudi Arabia), Moscow, Paris, Berlin, London, New York, Disney Orlando, Rio de Janeiro & Las Vegas!
I hope you are keeping to your resolutions, I have a few and intend to try and keep them. I have many things to look forward to in 2020, I should find out by the end of this month if these plans will bear fruit… so here's hoping!
In the meantime, here are the very latest updates from the SG Network of 4 sites… enjoy, these are awesome new films that underscore the quality of spanking content we will be bringing you throughout 2020 and beyond! Once again… a very Happy New Year to you and yours!
This features a stunning debut performance from Reyna St. Clair getting her gorgeous bottom hand and hairbrush spanked hard by Miss Anna in this excellent maternal discipline film… now available for members at AAA Spanking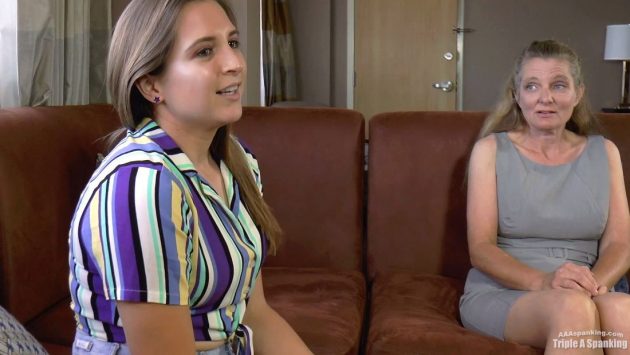 Reyna St. Clair makes her amazing debut with us in this maternal discipline film. While mom was away, she thought she could get away with hosting a few parties for her friends. However, the mother easily recognized all the telltale signs of bottles in the trash and the shoddy, hurried cleaning of spillages. This infuriated her further since the daughter had tried to hide the evidence of partying. It has been some time but Reyna knows what is about to happen as Mom points to over her lap for the inevitable spanking. Reyna is embarrassed and tries to laugh it off at first but mom's hand is hard and unforgiving. Soon she is struggling as her shorts and panties are removed for the bare bottom spanking. When she continually answers back to her mother, Reyna is told to fetch the hairbrush nearby! Now she is worried… the Mason & Pearson hairbrush hurts so much as Mommy uses it with great force. Her bottom cheeks glow and turn a shameful crimson as they are whacked… now the daughter finally starts to learn her lesson. She is very sorry and promises to be more respectful in the future.
Alternatively, you can also download this in full HD at the AAA Clip Store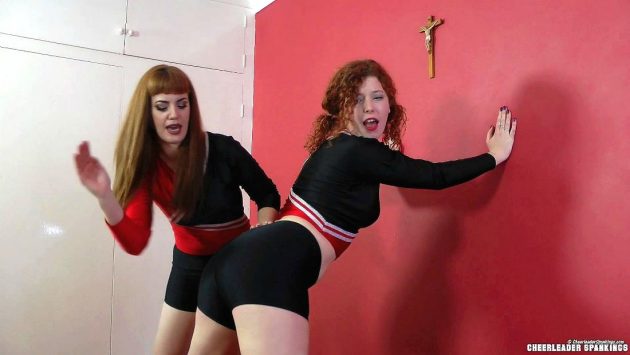 Zoe Page, the Head Cheer Girl, is fed up with a new upstart, Charlie Ten, trying to replace her as the top girl in the squad. Charlie has been disruptive, telling the other girls that she should replace Zoe as Head Girl. She has even gone as far as flirting with the male coaching staff, knowing how to make herself sexually desirable in the hope of influencing them too. This behavior is too obvious for Zoe to ignore so she decides to confront this sassy slut and show her who is boss! The hapless rival has no idea of the real power that Zoe wields, as she discovers that a Head Cheer Girl has the power to have anyone kicked out of the squad. To remain, Charlie is told she needs to learn a rather painful lesson as Zoe wants to "spank the slut" out of her. This is no ordinary spanking, Zoe is adept at the fine art of humiliation and associating poor behavior with pain. You will see Charlie placed in various exposed and embarrassing positions, while mocked with further humiliating stretch positions throughout her spanking punishment. This disruptive slut learns who is boss very quickly from her failed challenge to be Head Cheer Girl.
Alternatively, you can also download this in full HD at the Cheer Clip Store
A fantastic maternal discipline film featuring an awesome debut from Kitty Theory not only getting a spanking… but as the subject title suggests, she receives a humiliating diapering too – out now to download at Momma Spankings
Kitty is being such a naughty girl. Mommy has asked her to go to bed, but instead, she wants to stay up, play, and jump on the bed. Mommy hears the noise and runs into her daughter's room to see what is going on and she is very upset to see Kitty is still not asleep. Kitty complains that she doesn't want to go to bed, but mom is having none of this nonsense. Kitty complains and whines, starting to sound like a little baby until mom gets fed up with this behavior. She says that if she wants to act like a whiney baby then she will be treated as such. Mommy takes Kitty over her lap for a hard hand spanking over her pajamas, then on her white panties and finally on her bare bottom as kitty's cheeks start to burn and turn red. She knows that a hand isn't going to be nearly enough for this brat, so she uses a plastic hairbrush Kitty had been using earlier which stings terribly, making some beautiful dark red marks of shame. Kitty cries and kicks, promising to be a good girl but that doesn't stop the spanking. Mommy punishes Kitty until her bottom is crimson, swollen and very sore. The punishment doesn't stop there, not at all! There is something else that Mom has in mind to further embarrass her disobedient daughter… with a diapering. Kitty is to be put in diapers just like a baby because acting like one means that she gets treated like one in this house, how humiliating is that?
This site makes up part of the Sarah Gregory Pass
Giving you access to more sites with one set of codes for less than the combined cost!
In an exclusive blog preview… here is what is out later at Sarah Gregory Spanking – this is not shown ANYWHERE as of yet. It stars 2 of my favorite people, Cara Day and Miss Bernadette… and a hot theme that I like, punishments in the cellar or basement, the sort of place where no-one can hear the cries. That is so dark and edgy – LOVE it!!!
Another in the series of basement punishments from the vindictive nurse, Miss Bernadette, having her way with a naked Cara, treated as her plaything… it was something Cara really wanted to film… with the result being an edgy film you will most definitely want to watch! This is not the official blurb, but needless to say, it covers humiliating punishments, thigh, pussy, titty slapping, strapping and canings as well as cruel pet play, predicament play and embarrassing punishments including face slapping. It's so bad, it's good!
This site makes up part of the Sarah Gregory Pass
Giving you access to more sites with one set of codes for less than the combined cost!