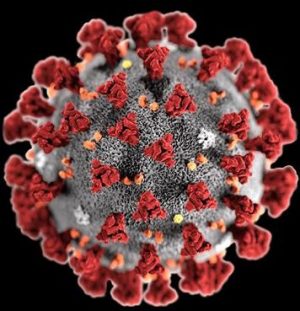 Hello again… I hope that you are all well and that self-isolation or whatever you are doing (socially distant-wise), is not driving you all too mad… here at "SG Towers" we have been doing much-needed yard work and general upkeep where possible. As usual, grocery shopping is probably the most stressful time of the time when we need to do this. We hope that you and your loved ones are staying safe!
It's sad that we can not interact or trust people close-up right now… especially when you see folk stirring up trouble to break lockdowns or whatever (with pathetic feeble-minded and selfish conspiracy theories) with what is downright civil disobedience (in the name of The Constitution… pah!) However, without getting political as we have all had our fill of that in our lives and you didn't come here to be lectured. I am hopeful that before the end of the year we will be able to resume (with safer practices) a semblance of life before COVID… in person, right?
I have to say I am far from impressed by the Govt responses from the USA and the UK with the lack of testing being the issue when we all want to try and restart our lives but everyday changes and the sooner we realize this virus isn't going to be lectured, lied to, or ignored… and we deal with how to beat it from the advice of infectious disease experts (and no-one else) the sooner we will have an idea of something to genuinely hope for… so stay strong out there.
Here is a selection of some featured spanking updates to keep you occupied and check out at the participating sites: This is the first of (hopefully) many posts that I need to catch up on… so without further ado, let's just get on with bringing you all the latest HOT spanking video updates I have chosen for you today.
INTIMATE SPANKING
Spanked to Cum
Cara and Veronica are popular girls here at "Intimate Spanking" and they make their return in a stunning, hawt erotic video that will have you wishing you could be either of them. Veronica is the fortunate spanker and Cara is the lucky recipient in this thrilling girl on girl spanking with a difference. You can imagine being there watching the girls and you decide who you want to be… both options are too delicious to think about but we will let you decide as you gaze upon this pair. Cara shows off her recent marks from a recent hard discipline punishment as Veronica takes pity wanting to give her girlfriend a "good girl" spanking. Blonde Cara doesn't mind… she replies to her GF's concerns that it is sore but hurts in a good way! This encourages Veronica to make her move as the girls make out and caress each other. Then Veronica uses 2 pink paddles and spanks her gently at first bringing back the glowing red cheeks of her BAE's bottom. Both girls are getting turned on and Cara takes a prolonged and intimate pussy and light clit spanking until she can take it no more, wanting to cum with her powerful Hitachi wand. She grinds it against her swollen, glistening clit, bottom stuck out as Veronica spanks and gropes her to a shattering orgasm that has her body convulsing with pleasure, washing over all that delicious warm pain.
CLICK HERE FOR THE FREE PREVIEW
Check out the new sexiest all girl spanking clips at intimatespanking.com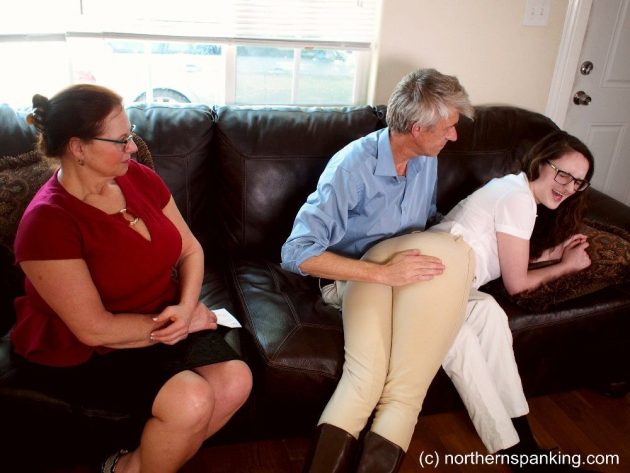 NORTHERN SPANKING
Taken for a Ride

Luci is a rather over-privileged young lady and is equipped with her own credit card. Her parents are unimpressed when she uses her financial independence to purchase an unorthodox companion for her horse. A discussion ensues about financial responsibility and who pays the bills! The discussion concludes with a very sore bottom for spoiled Luci, Paul having smacked her over her jodhpurs before taking them down. Concluding with a prolonged paddling from Elizabeth.
See this latest domestic discipline from Northern Spanking
SPANKING SARAH
Mummy's Going to Slipper your Bottoms
This is the full film of the slippering of two naughty sisters by their very angry mummy. Do sisters really behave like this towards each other it will end in tears, that's a promise. Sisters Willow & Holly are in trouble and know that one of them is going to be punished and punished hard. They have been very cheeky with the lady who lives next door but which girl is the guilty one? It's up to mummy to find out and so when they are in their pyjamas she goes to their room and has it out with them. Willow ends up over her knees getting her bottom spanked and then slippered but is she the guilty one. Willow has just been spanked and slippered for supposedly telling lies. Now the truth comes out and the trouble maker turns out to be Holly. Mummy is not best pleased with this and invites Willow to spank her sister's bottom. She proves to be not very good at this so mummy takes over and gives Holly one hell of a spanking before taking off her carpet slipper and beating the bare bottom of this very naughty teenager. Two girls with very red and sore bottoms.
See the full film only at Spanking Sarah
The following updates below come courtesy of the CLARE FONDA PASS network
SPANKED CALL GIRLS
Iris Spanked For Scamming
Iris tells Bart her fee is $10,000. When he threatens to call Madam Clare for clarification, she tries to move the price down a bit, but he calls and Clare recommends spanking Iris. So Bart does just that, putting Iris over his knee for a sound spanking.
GIRL SPANKS GIRL
Rachel's Hit and Run Punishment
When Rachel Adams hits another car and flees the scene without leaving a note, she does not realize that it was caught on camera. She shows up to a location to resolve the issue. Turns out the car belonged to dominatrix Snow Mercy, who will settle the issue the old fashioned way, with some sound corporal punishment in her dungeon. Rachel is bent over a spanking bench and she is spanked by hand and paddled until she learns a valuable lesson – always leave a note. She leaves in tears, with a very sore, red bottom.
SPANKING SORORITY GIRLS
Teacher Snow Spanked By Volleyball Coach
Volleyball Coach Veronica Ricci is upset that Teacher Snow Mercy failed star player Iris, which means she will get kicked off the team. So Veronica marches into her office and puts Snow over her knee for a very long, hard spanking, lecturing her about respecting the Volleyball team, turning her bottom bright red. When Veronica uses a strong wooden ruler, it drives the lesson home.
View all these latest films courtesy of the Clare Fonda Pass – access to all 5 sites with the same set of codes for a fraction of the combined cost of them all… what's there not to like about this multi-site deal?