As the title suggests, there's no let-up today as I bring you yet more awesome spanking content you might not have been aware of… so without any lectures today (LOL) let's just get on with the updates and films that I have chosen for your perusal today. As a side note, it really does help both the producers and myself if you choose to use our links we show here if you do decide to purchase something… as this guarantees that we can continue to work together to bring you the very best in spanking erotica, spanking news and more.
Lucia's Pussy Strapping
Starring Lucia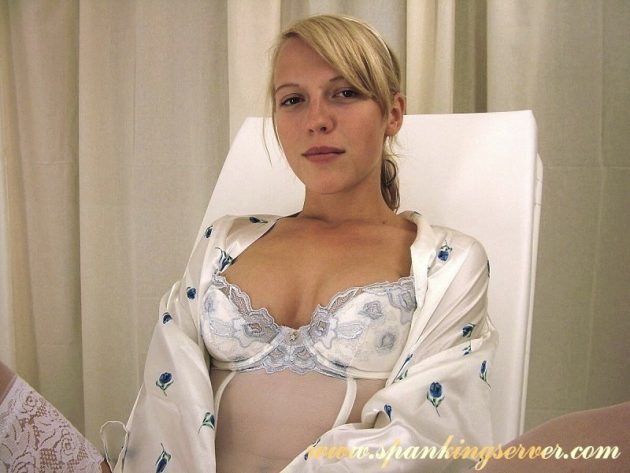 Lucia is another exclusive East European beauty found at this site who takes the various forms of disciplinary punishment. This scene features the pussy strapping which the site has become known for. legs apart, in the medical chair, her legs are parted and her most vulnerable ladyparts are exposed to the stinging leather. In other scenes, Lucia, found in the archives… endures many varied forms of punishment expected at this site. Outstanding!
Mrs. Williamson is strapped for cash
Starring: Katie Didit & Suzanne Wright
Mrs. Williamson is young and she is a bit of a spendthrift and so she has come to the Strapped for Cash Company for a loan. She is a little surprised at the terms of the loan, but it is explained by Katie Didit the agent that as a part of the deal she has to learn to be more careful with her money. So her lesson starts with a good old fashioned over the knee spanking. This is more painful than she thought it would be but she needs the money. So her bare bottom has to take the pain.
Peaches' bad day at the Institute
Starring Peaches, Miss Betty Blaze & M. Masterson
Peaches waits in time out to be spanked by Miss Betty. She is bent over with her hands on her knees and given hard swats with a strap. When Peaches is unable to remain still, Betty moves her to the lunge position. Betty finishes the spanking and leaves Peaches in time out.
Part of the Real Spankings Pass network

Ambriel's Nude Punishment
Starring Ambriel & M. Masterston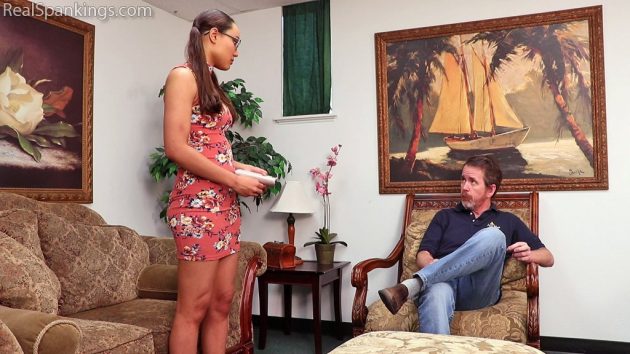 Running late getting home, and with a dead phone, Ambriel is required to go to her room, strip fully naked, and return to the living room for a very embarrassing nude hand spanking.
This site & RSI make up part of the Real Spankings Pass – giving you so much more for a fraction of the combined cost plus 6 more sites for free! Go check it out HERE
Spa Rules (F – taken from the multi part series)
Starring Helen Stephens & Earl Grey
Missed appointments cost doe-eyed beauty Helen Stephens double discipline Late back to the spa after horse riding, pretty therapist Helen Stephens feels her own riding crop across her bottom, protected only by thin jodhpurs. Earl Grey still isn't satisfied and orders her to take down her jodhpurs and panties for a strapping across her bare bottom. See those buns bounce in slow motion as Helen learns a lesson in the finale of this film.