At IntimateSpanking.com you will find some of the hottest, sexiest scenes we have ever filmed. All content is strictly F/F – with no wandering, unwanted male hands and filmed with the eye of an excited young lady viewing this, filming it and ultimately making erotic content that everyone can enjoy! This clip store had been in the making for over 2 years so a lot of content has been amassed over that time and all of this from the female point of view.
Films feature lots of Mood lighting, cool music scores, and sexually explicit scenes. As I said… the cast is all-female, you will never see a male hand/stunt hand/fingers or a dirty old man poking, groping under the guise of spankings as these spankings are "intimate" and we felt that this would be inappropriate. Even I find seeing guys doing this sort of thing in our niche pervy or icky… but, put an all-female cast together, then the ladies LOVE to play with each other… and it honestly shows!
The store has only been open for a few months but has had some amazing films showcased. This is only just the beginning of what will be on offer over the coming year. There will be plenty of NEW performers to this scene as well as many of our favorite girls who you will NOT have seen like this until now! It's a lot of fun to make and is a great way to introduce girls who are not shy but curious about the more erotic side of spanking that they may not have explored before. So come take a look at some of the latest clips featured below: They are the popular, highest quality MP4 clips but you can choose the preferred format of your choice! if you check out the entire store… clips are offered in MP4 & MOV, WMV, and also a lower resolution mobile/cellphone format (MP4).
The films below are the most recent at the time of writing… you will also be able to download the special poster images shown below in their large format (click to enlarge and keep as you wish… just respect our copyright, naturally). Keep them as a special memento… courtesy of IntimateSpanking.com

Starring: Helen Stephens & Jessica Taylor
Jessica and Helen are in a loving relationship that sometimes needs added spice to keep them both head over heels for each other. They have been experimenting with many kinky forms of domination and impact play and love when they get a chance to spank each other. Today, Jessica is the lucky recipient as Helen teases her, taking time to caress her excited GF. She slowly undresses Jessica (and herself) on the bed until Helen can no longer keep her hands off her! This time Jessica wants to feel some harder hand spanking with the bonus of those loving caresses in between and you will hear her squeal in delight and pain as Helen beautifully reddens Jessica's bottom a glowing red in this sinfully hot, playful girl/girl spanking film.

Starring: Veronica Weston & Ashley Lane
There's nothing sexier to us than watching 2 horny girls play with each other who also are real-life spankos! What a match Veronica and Ashley make as they genuinely enjoyed making this hot film for us! They get to play with each other, explore each other's bodies, and use some of their favorite implements on each other's bare bottoms. This is such a hot girl next door style film that lovers of this genre should add to their library of spanking erotica!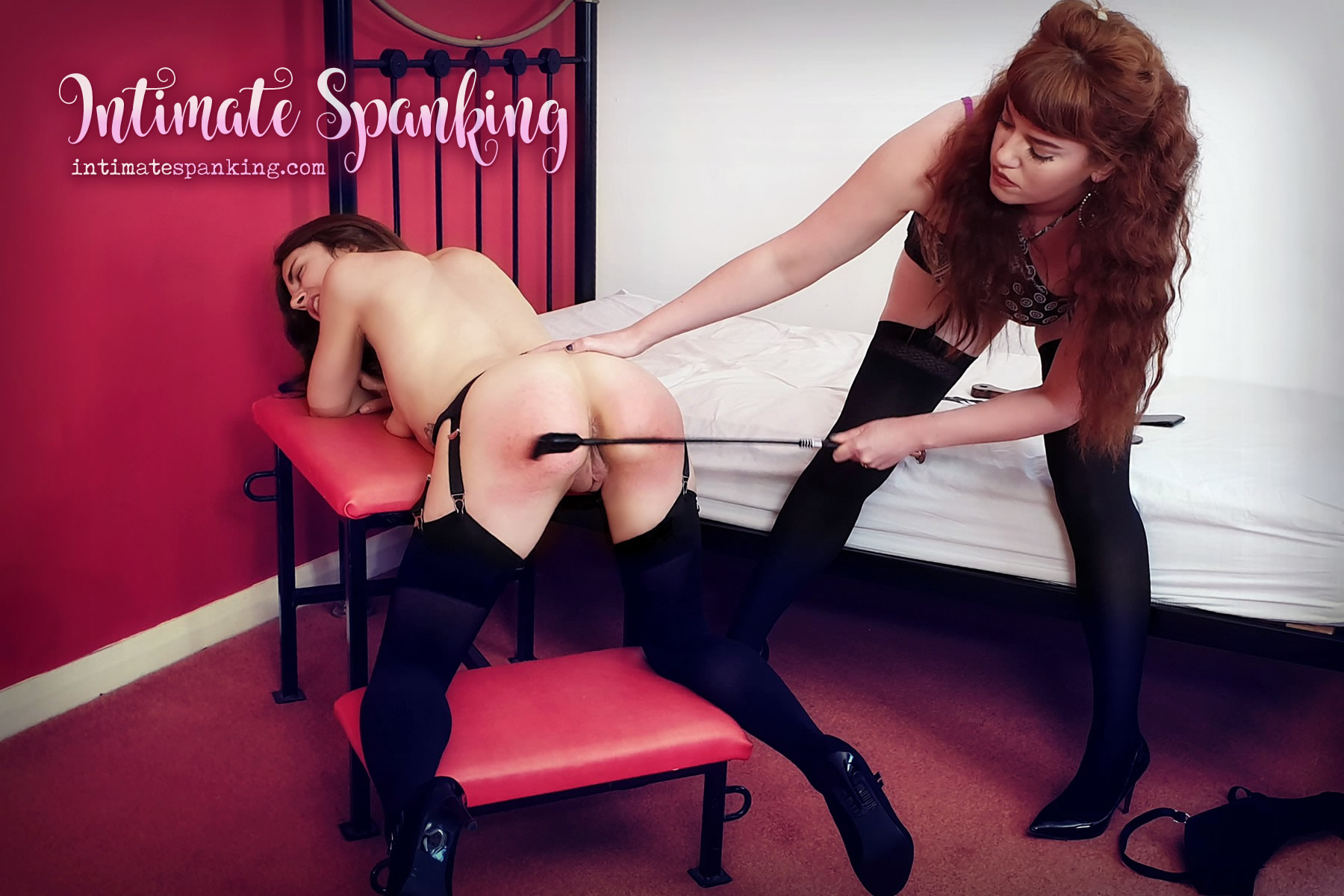 Starring: Zoe Page & Red Little
Mistress Zoe has a fabulous new sub called Red who is eager to please and do as she is told. Zoe has a carefully laid out plan for this nervous first-timer and wants to show her another side of BDSM and that not all spankings are not for bad behavior. Red has been used to this type of punishment and has been promised something different to experience… something to really push her limits. Zoe explores her body and introduces Red to sensation play, caressing her erogenous zones before a hard hand slap across the poor quivering girl's bottom brings her right back from the subspace she wants to escape to. It isn't long before the hand spankings wander and start to impact on Red's excited pussy… she likes that but is embarrassed to tell Mistress! For this to continue Red learns that she must ask Mistress, and she enjoys the riding crop touching her most intimate parts. Mistress knows how to play this delicate young lady who seeks alternative pleasures, she might make an eager slave, maybe even worthy of helping Mistress with her own carnal needs from time to time. It is a fabulous performance from Zoe Page who knows exactly what buttons to press with nervous newcomer, Red Little. This 18-minute film will appeal to all genders eager to imagine how Mistress Zoe might deal with those limits if given the chance!

Starring: Cara Day, Arielle Lane, Babygirl Fae & Miss Bernadette 
Brothel Punishments is our first long play movie with a delicious storyline starring the wicked threesome of Cara, Fae, and Arielle. They are the most popular girls in a high-class bordello run by strict madame, Miss Bernadette. The girls wait in the parlor for their madame as she has revelations of them taking cash from The House and overcharging clients, keeping the difference for themselves. As punishment, she decides to humiliate them with a series of demeaning and different spankings but making each other spank, paddle, and smack their titties and pussies has them giggling. These naughty sluts are taught by their madame how to demean each other with conviction otherwise they'll be out on their ears. The girls end up with visibly sore, red pussies and titties as the strappings and leather paddlings from Miss Bernadette must be equaled by the girls. These are some really hot scenes and only end when they all do as they are told… then she will stop their punishments. She has plans to make sure the girls will work off their stolen income later, it's going to be a very busy night for this naughty threesome! Oh to be their lucky clientele during this long evening of salacious debauchery!

Starring: Anastasia Rose & Cara Day
This smoking hot duo, Anastasia & Cara, get it on together after a long absence apart. They both love impact and sensual spanking play in their lovemaking and can hardly keep their hands off each other. Cara is first to use her hands on Anastasia's bare bottom and sweet, tender thighs… spanking her intimately as she remembers how beautiful her smooth skin feels against her caresses. This turns on Anastasia who wants to give back the pleasure she knows her girlfriend adores. Anastasia uses a sensual leather paddle and pretty pink riding crop to bring out the rosy red color of her girlfriend's bottom and inner thighs. Both girls play with these implements on each other's titties and enjoy the tease of a pussy cropping until Cara admits how wet she has become. She spreads her legs and pussy wide for Anastasia to see for herself who then uses the powerful wand which brings her to a lingering, explosive orgasm, hiding nothing as we watch her body shudder with each delicious pang of pleasure!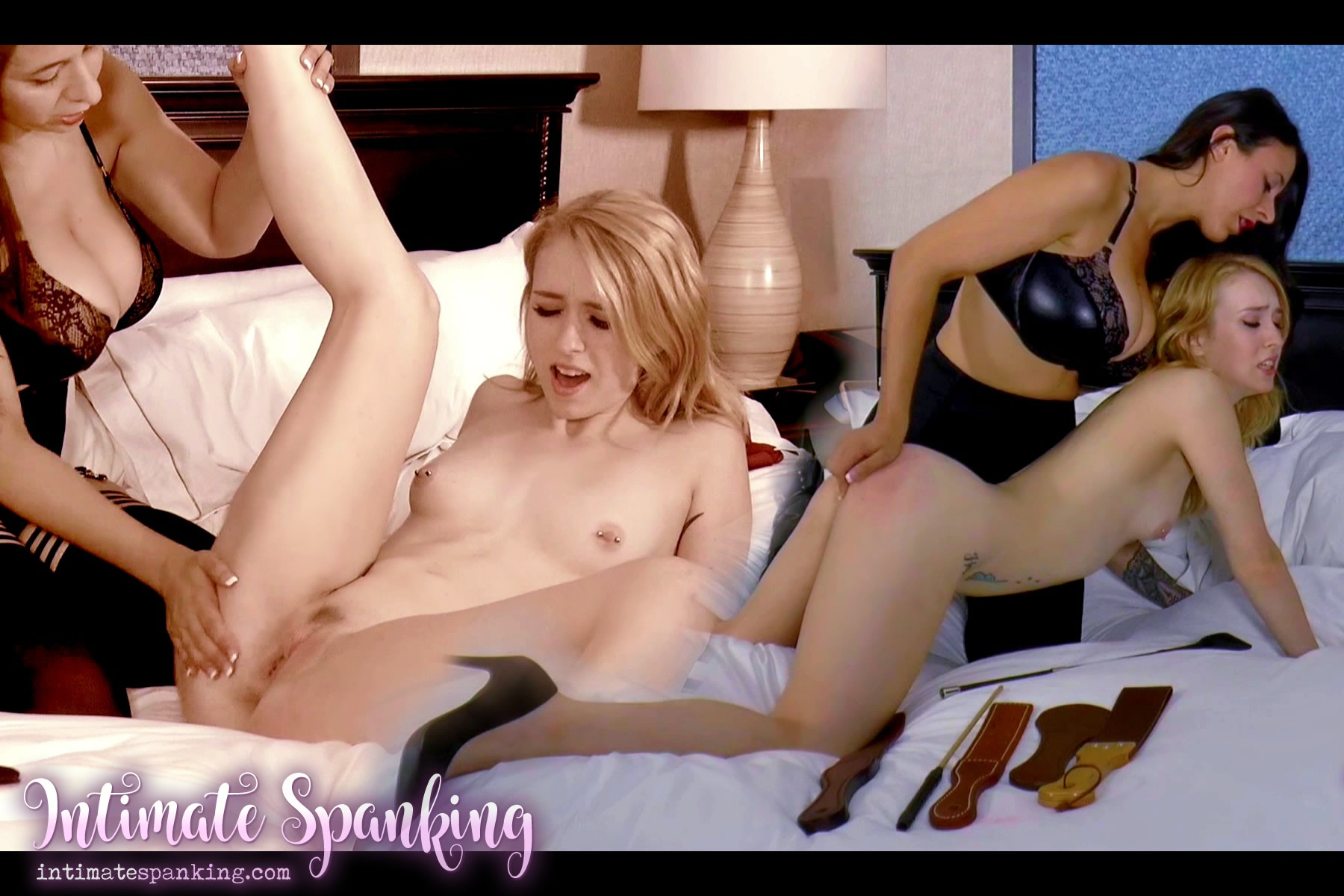 Starring: Macy Nikole & Sarah Gregory
Watch Mistress Sarah Gregory initiate a new sub, beautiful model, Macy Nikole. She has been a fan of Sarah's so when they got together at a Fetish event, Macy crushed on her and asked if she could be Sarah's new female plaything. Sarah uses the many implements at her disposal to bring all forms of sensation play, inducing the more submissive side of beautiful Macy. Her pussy gives away how excited she is under the expert, teasing hands and implements used by Sarah as she is exposed and fully bared. With her legs spread wide, Macy looks into the eyes of Sarah for her most intimate pussy spanking imaginable… oh my!
For the full library of spanking erotica now showing at this clip store…
Remember the URL – IntimateSpanking.com