Hello again… here's an interesting selection of spankings from various websites that you will be able to view and download as part of any membership chosen. Each of these sites has more than enough content to keep you busy downloading content to your hard drives to playback to your heart's content. The added bonus is that you HELP these sites, the original makers of the content you love. I have provided links to all the LEGITIMATE websites… as a fellow producer you can trust the links I give rather than some of the awful piracy download sites that I have seen recently including ways in which they will take YOUR credit card number as part of their own nefarious membership. Do you want to give your credit card numbers to Russian thief? I know I wouldn't! I've included some animated GIFs for some added interaction… enjoy!
High schooler Apricot returns home from the second day of her summer job at a movie theater… and reports that she got fired! It took Paul calling in a huge favor to secure that job for Apricot, because he was sick of her slacking off during the summer holidays. Well, he's going to find ANOTHER job for Apricot and she is going to keep it. And there's a price to pay for losing this one, a price Apricot pays with a spanking followed by a good leathering.
Serenity's stepdad had given his princess a list of chores to be done while he was away on business. She resisted, complaining that it was exam week. Stepdad was unmoved and informed his brat that should she fail to perform her tasks a sound spanking awaited her upon his arrival home. She smirked at the idea that a girl her age would be spanked.

When her stepdad arrived home and found the house in worse shape than when he left. As promised she was taken over her stepdad's lap for a spanking. She protested and then sassed then man over whose lap she currently found herself as he spanked her bottom.  After one word of complaint and disrespect too many Serenity's bottom was bared. She gasped in horror as she felt spank after hard spank land upon her naked bottom.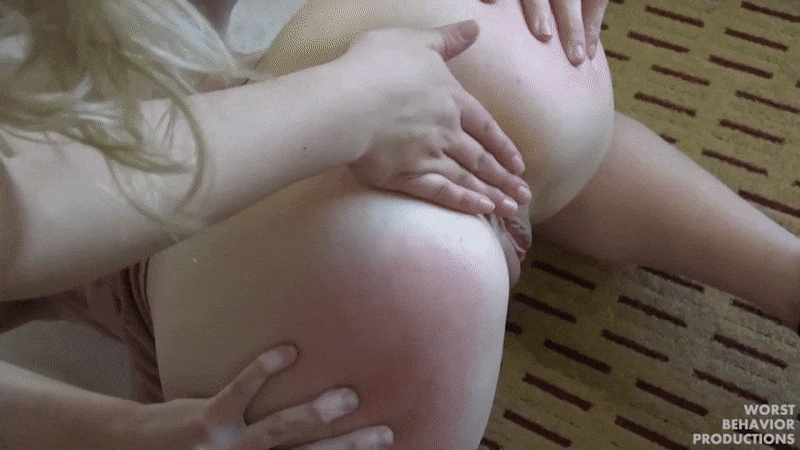 After giving spanking newcomer Kat a good paddling on her wet panties and on her bare bottom sticking out over the end of a chair, the boss finds that she is going to receive the very same punishment including penalty swats. We get to see her watch her paddling between her legs and at the end of the punishment she is on all fours with her bottom spread wide open to be spanked on her bare butthole.
This 22-year-old Russian beauty wants to try a different type of spanking, one which she has been told will make her emotional. She promises to do as she is asked, so she strips slowly until naked, waiting for him to inspect her and use her as his plaything. She becomes totally submissive, taking a sensual spanking, flogging, and a leather paddling which she must do bent over and exposed for his viewing pleasure. Yana's loss of control turns her on and excites her beyond expectation, bringing tears of pain as well as tears of joy.
After a lengthy erotic flogging on her most sensitive princess parts, Ivy is once again turned over to present her ass for discipline. She is overjoyed to be handed the Hitachi to pleasure herself as she is whipped. The lash of the whip falls rhythmically as she luxuriates in the buzzing between her legs. Her ass and thigh jiggle under the heavy whip, begging to cum. Finally given permission, she collapsed in ecstasy. She crawls to the edge of the bed, frantically unfastening his pants to collect her reward in her eager mouth.