It has been some time since I last wrote here and, to be honest, I was wondering how to start posting again as I just didn't want to do some lame promotional blog piece (not that it's lame, but I wanted to provide you all with a more personal insight into what we get up to). So, the recent trip to the UK (and what Sarah & I got up to) is a most excellent way to get me to kick start reporting content and behind-the-scenes (BTS) updates. We are also earnestly filming LOTS of content for a new clip store – ABDLspanking.com – but more on that later.
Long story short, I was finally allowed to leave the US after successfully completing the Green Card procedure… this had taken nearly a year longer than normal due to the unforeseen circumstances of COVID throughout 2020. Then, of course, once I was able to leave, I couldn't because of the Delta variant concerns and the draconian entry requirements and testing that we would have to go through in order to arrive in the UK. I must say, we have been tested regularly, adhere to the mask mandates, and wear them correctly… protecting others as well as ourselves so we went through multiple procedures to start filming with other negatively tested performers in 2021.  Not having seen my family for over 18 months, I was determined to see them after we completed our enforced quarantine with our good friend Dodgy Dave at Dodgy Towers. The UK had a requirement for testing on Day 2, Day 8 and if we wanted to leave earlier, pay extra for testing out on Day 5. Of course, we had to test negative before taking the flight from Boston.
Sarah and I had missed filming in the UK so we wanted to catch up with that before I set off to Plymouth to meet my family.
I also had to fix my poor car, after Dave had left it under a cover and unloved for 18 months after he gave up with the draining battery (I don't blame him but it was in a right state, 4 flat tyres, moldy leather seats and pitted brakes… but it somehow passed the MOT, the British test for roadworthiness). I loved that car but it is going to be history as there have been so many electrical issues with it that trying to keep it would mean endless trips to mechanics it would baffle and expensive diagnostics that would be a guess at best.  Shame… it was fun in the sun with the roof down but from now on it will be car rentals in the UK!
So back to our recent film shoots, we had 3 separate shoots with new ladies as well as popular returnees who felt comfortable working with us on their own first shoot return in well over a year or two. New friendships were made and old friendships rekindled such as the fortunate chance to meet with Ariel Andersen, Zoe Page & Lucy Lauren on our first night back in the UK at Dave's. We had a few drinks and many laughs as we all caught up with our shenanigans on both sides of The Atlantic with the promise of many more to come. I so miss these lovely kinky people.
Here is a wonderful selfie as we ate a great supper and revealed our innermost fantasies to each other (!!!)
Ladies & Gentlemen, please allow me to introduce Faerie Willow (click on her name for her Twitter account), she helped make some killer content for us on our first film shoot in the UK for almost 2 years. We feel so fortunate that we got together as she was a true professional and enjoyed hanging out for the day making some amazing films as you will discover across our network. We filmed with her for "ABDL" before Clara Matthews arrived to do what she does best… scold, spank and punish naughty girls! namely, Miss Willow.
The 2 images above were taken from the 1st film of the day starring Faerie Willow & Sarah Gregory. We have been filming a lot of content for a few years now to start up a brand new clip store ABDLspanking.com (the store isn't active just yet but I will let you know when it goes live very soon).
Both Sarah & I share a passion for the start-up of this new venture which has produced a lot of custom work, we have grown to love the people involved in this niche and learned so much… so stand by for spankings and various styles of punishments mixed with diaper discipline, embarrassment, maternal discipline, ageplay, regression and just plain cute girls next door wearing their "Dips". We know this isn't for everyone, but we also know that it is for a whole load more and we have many different websites and stores so if one was to find this not to their liking there is sure to be something else, right?
We have had a lot of missed opportunities due to COVID or issues over schedules trying to get Clara but all good things come to those who wait, right? I can tell you, we were not disappointed and our Strictmoor patron was very happy that we finally got to work with her as we were able to film some content in that genre later. So enjoy some early behind the scenes (BTS) images above!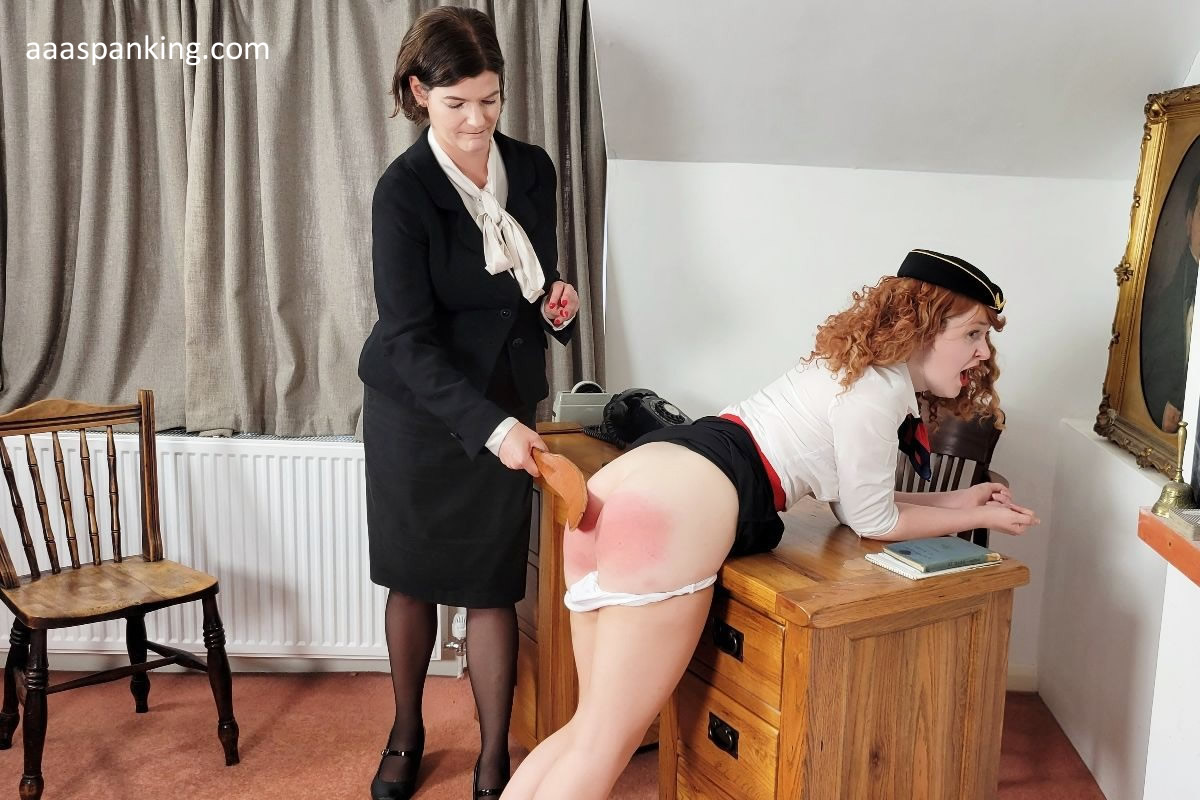 I had been waiting to film the next installment of the AAA Airlines saga so it was great to get Clara and Willow together for this one! We even got to change the set at Dave's place slightly (notice the new desk is kittyed at an angle with the familiar Czech Man painting looking on (God bless 'im).
We love filming outdoors when the chance arises so set up quickly when the conditions were opportune. It got a little bright so we found some shade and let Miss Clara do her thing, spanking poor Willow some more! As you'll see from the pics below, we got to film outdoors again and made some excellent schoolgirl discipline films. I even managed to add a new film made for the AAA "Exercise & Discipline" series having Miss Clara spanking Willow and Ms Portia.
Portia, you say? Yup, Portia knows Miss Clara and we were delighted to include her in some final films of the day too.
Ms Portia takes charge too, as you can see above… but of course, we also liked to have her fine booty given a good whacking, courtesy of the Cheer & AAA sites (coming soon)!
Sarah also got to sub in a few films this day too… and why not in a Strictmoor style film with Miss Clara? Regulation Knicker down, white gussets showing, and a damned good scolding before being taken over the knee for a well-deserved, old fashioned spanking!
We had a lot of fun working with 3 new faces for our sites and also adding content to the new store which will be coming very soon! By the time we had completed this epic day, we knew that there was another filmshoot the following day with another new face, a return for Clara and also Zoe Page would be "on hand" for a few films too. After the fun and success of this day, we were looking forward to producing more content. Of course, I felt I deserved several cold beers and enjoyed the (what was to be rare) pleasant evening sunshine outdoors on a typical balmu English summer evening (before the bugs came a-biting!)
Look out for Part 2, the second film shoot… and what Sarah & I got up to on our travels to my hometown and the beautiful South West of England.