Sorry for not getting back sooner… September has been one heck of a busy month, Sarah and I had been travelling all over the US, attending our first spanking party in almost 2 years, and filming out west, which was a blast. More on that in another blog post, but back to the promised Part 2 (there are 3 parts) of our recent UK visit. Today I'm showing what images I have… just taken from my phone, and some of the films featured below are already out at the sites. I'll let you know which ones, plus news of the update on our new store ABDLspanking.com
Just released at Sarah Gregory Spanking – the latest film co-starring Clara Mathews
"An American Spanked in London" – we loved the title (like a certain werewolf movie but without fangs). This is a very Strictmoor Academy-esque film that the ladies wanted to make… and conforms to all the intricate punishment rituals that a naughty girl receives at the hand of strict Miss Mathews! You can see the free preview and description of the movie HERE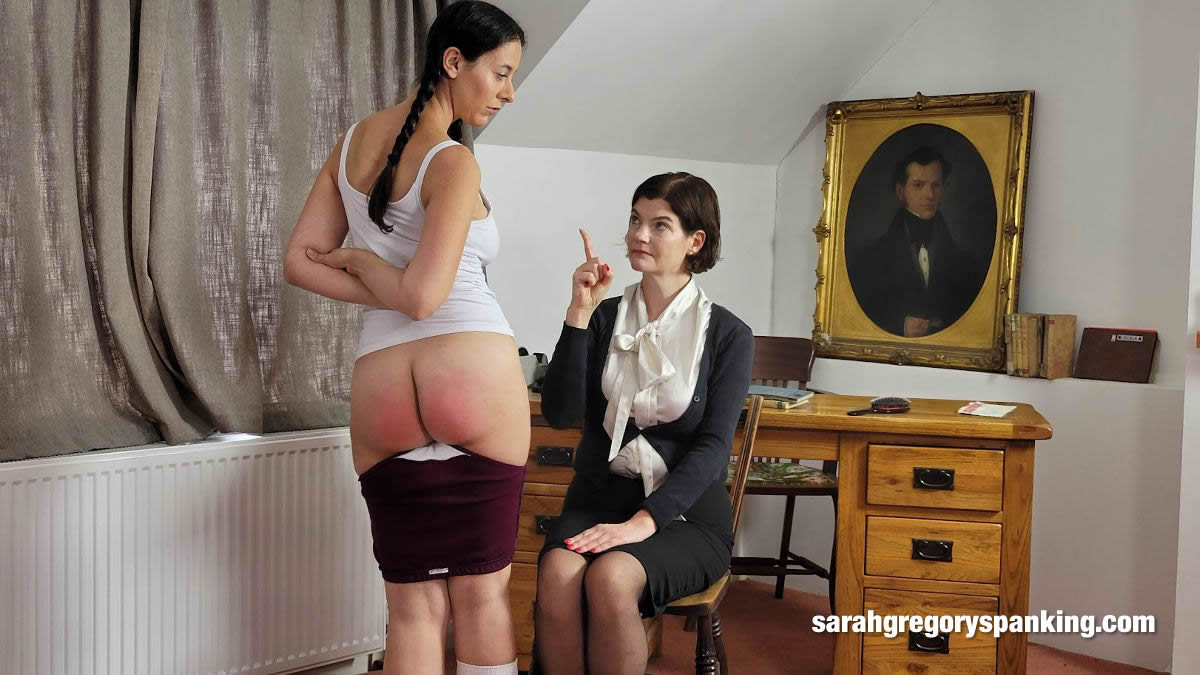 Clara also appeared at the (as yet) unseen new store, ABDL Spanking – spanking and diapering Sarah in a very strict and maternal role (I can't wait to show you this later). Of course, we also got gorgeous newbie, Violet Haze, back for a second film shoot as we had many custom requests which we were happy to fulfill. She is a joy to work with and I know Sarah had quite the chemistry with her in some films we made that day! very Hot! Phew!!!
We got to film a whole ton of content with Violet that day, for all our sites, some images below from my phone showcase typical cheerleader scenes, school uniform punishments, bedtime and ABDL as well as some HOT intimate scenes. Wowsers!
As we were staying at Dodgy Towers, we were lucky to get Zoe Page to co-top with us for a few films the following day and we also got to film with another new girl to our site, Dolliiy. Again, these are only a few scenes as they were taken with my phone, but as well as filming for intimate spanking and ABDL Spanking – there was some unseen content from films already released at our sites, you'll have to go see, or wait until next time when I will cover some of thttps://abdlspanking.comhe films already released in more detail.
You may have noticed I added Violet at the end, that was just for symmetry in the images as I have massive OCD otherwise – LOL! So this was our second dedicated filming session over 2 days. In my next installment, I'll include some reviews of what has already been released from the shoots over these 2 days and the first UK shoot. The final shoot will cover when we filmed with Pandora Blake… another interesting and fruitful day, naturally! Until then, and hopefully later this week… Adieu!
Oh, and the ABDL Spanking store will get the 1st few films up later today onwards, I'll come back with a more detailed review of that clip store once there are a few films for you to check out. For those of you who like this crossover niche, you'll LOVE this content. Trust me!