Hi. Here's just a quick blog update to celebrate two things. Firstly, this blog just passed its' 15th birthday. I know that I don't write here as often as I should anymore, but I do still try to bring you some updates or news from time to time. So, as I am on vacation at the moment, you're lucky that you're even getting a post at all (LOL). Anyway, it's kind of special that I am STILL blogging after all these years! Yay for the blog!
The other milestone was reached last week with the 600th official full film release at AAA Spanking – needless to say, we knew this was coming so had filmed something special way back in March for this day to come… the result of this is below and feature some awesome talent I am sure you will all recognize! I also had the assistance of Miss Katherine Worthington (as the temp taking/spanking nurse). I also got to scold the young ladies in a manner that they were not used to (in the style of my dreaded teachers at school). Later after we had finished the film, we were all on quite a high, everyone agreed that the scolding was on point, and with Miss Katherine providing the female top role it rounded off this long play film perfectly! I have collected a few screen grabs from the film and also have the clip for you to view at your leisure. If you take out an annual membership, that works out at just $12.50/month, and now with 600 films and all the screengrabs, performer profiles, and extra image sets… it's a nice present to give yourselves. CLICK HERE for the join page (full details of all memberships are there).
[jwplayer mediaid="65325″]
This is the 600th release and what better way to mark this with a stellar casting and a wicked storyline that has 3 naughty schoolgirls introduced to their new austere life with humiliating punishments they can expect for poor behavior. The Head of the Institute and Matron (played by John Osborne and Miss Katherine) meet the 3 new inductees. They have all been expelled from their schools, and are now facing the tough conditions of this educational establishment. Angelica Vee, Kajira Bound, and Jayda Blayze are dressed in their simple gym outfits after a workout before being sent for their unexpected "introduction". They all get off on the wrong foot as the English Head of the institute scolds them and promises that their behavior will be scrutinized and punished. In fact, the girls are treated to classic English style disciplinary scolding techniques of wit, sarcasm, and humiliating put-downs at their own expense if they dare to answer back and Angelica is the first to understand the consequences of her behavior. Matron takes her temperature rectally, in front of the others and of course, each girl gets the same embarrassing treatment afterward for good measure. It comes as no surprise that Matron also likes to hand out discipline the old-fashioned way, and encouraged by Mr. Osborne, she spanks each girl on the bare bottom until she is satisfied they understand that punishments are never to be taken lightly. To give the girls a proper welcome of what they can expect, Headmaster uses his Reformatory Strap on their red throbbing behinds, as each girl is bent over the desk to take her turn. They are left in the office for some contemplation of what to expect, with their burning bottoms on full display, knickers still pulled down. Fun fact: The girls all thought the scoldings and this style of punishment were hot and are as excited to watch this release as we are. What better endorsement can you hope for than from the cast that helped make this?
Check out the full tour pages with free preview clips HERE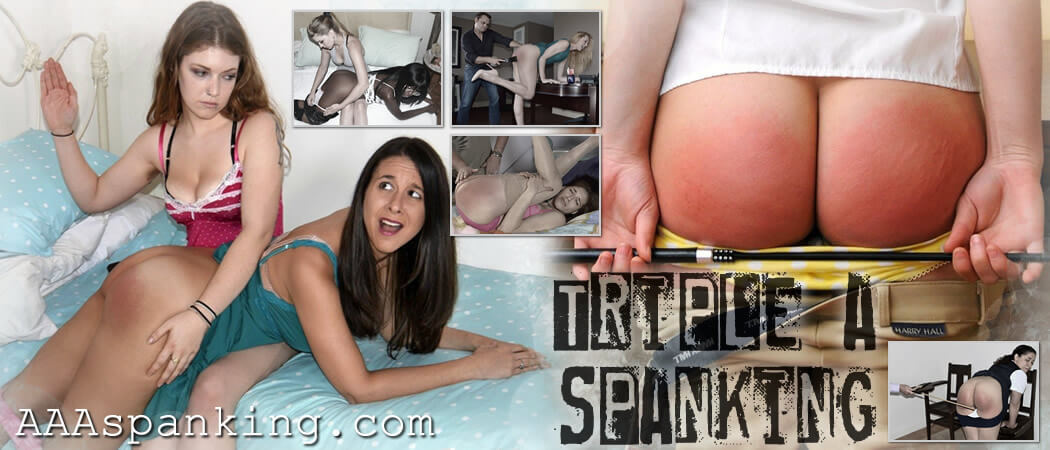 This film can also be viewed at the AAA C4S store (click image below)