Hello everyone, we all made it through 2021, thinking that it couldn't get much worse when at times this past year infuriated us even more than the shitshow that was 2020. Idiots who continue to propagate the lie that an election was stolen (FFS), or deny that COVID vaccines won't help, refusing to mask up or just try to help their fellow man. Science is being necessarily questioned thanks to false narratives on social media or via obscure blog posts or Youtube channels being the basis for "news" sources, in the name of "doing their research" (FFS). Social media really is the start of the end as far as I am concerned… allowing any idiot to anonymously attack individuals in the name of free speech, just because they feel emboldened.
I've seen huge social injustices between those who cling to power and those continually disenfranchised. People of Color, immigrants, the usual racist tropes being fed to deflect and infuriate a certain minority of the population who often have a controlling stake in the US rural states which no longer reflects the populous centers and cities… I even see this crap in our own Kinkosphere. Spanking Partygates have continued throughout the last year and into this already.
I think you all know how I feel about Russia, I'm not a fan… and seeing the armed build-up on Ukraine's borders does not bode well at all. "Fuck Russia", I say… this is going to be another tough year for everyone to get along, right?
However, it's not all doom and gloom.
I caught the Omicron variant at Xmas and thanks to being triple vaxxed, it was pretty mild, so currently I feel invincible (LOL). I have been able to travel again and will continue to travel in 2022… we held the Lone Star party in Houston late last year and it was such a success that we will now choose to keep the date to November each year. Sarah and I go from strength to strength… we opened more kinky stores which we love filming for and updating.
We have been filming a serious amount of custom work and really love making these films for our lovely clients. We'll be in Scotland next week filming a huge Strictmoor manor movie with LOTS of ladies. These are exciting times for us and we hope that we can pass on this enthusiasm to you all. So far, 2022 has been wonderful, I will try to update this blog far more often and I also plan to change the appearance of this to make it far more attractive to mobile browsers too. So, to start off the year, here are a few films we have so far from our network of membership websites.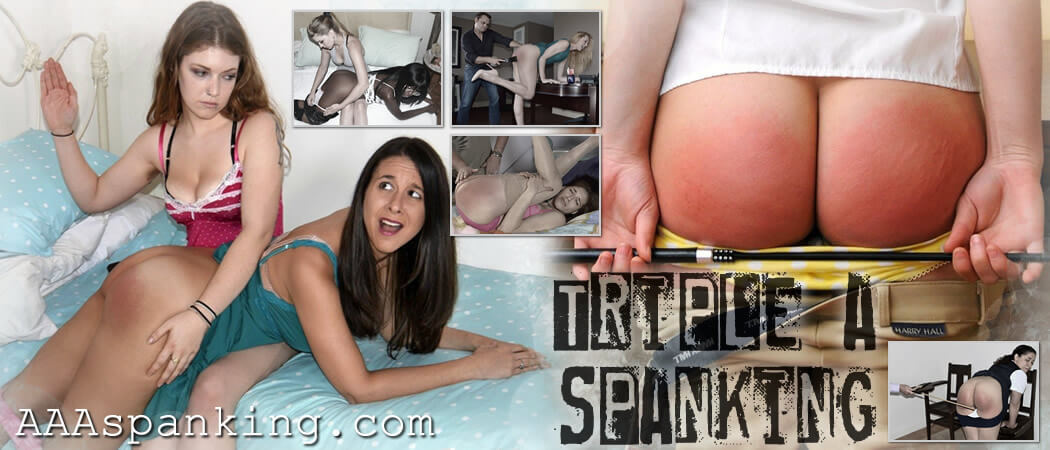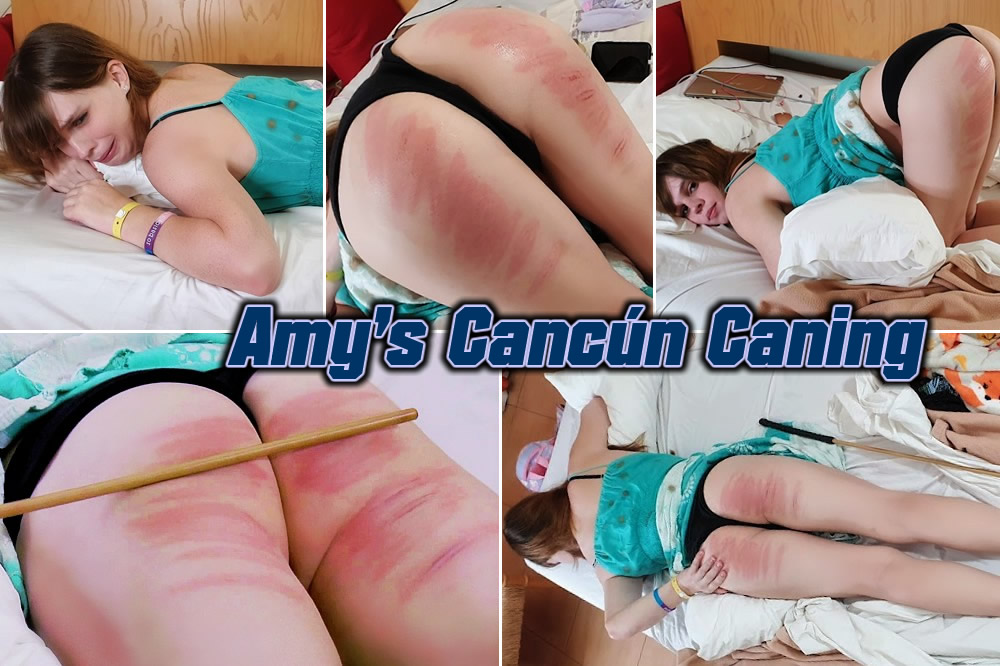 The following film is based on actual events from a couple of years ago on a getaway vacation to sunny Cancún in Mexico. Amy, John, and Sarah shared a luxury villa apartment and despite Amy's promises to keep her area clean, this soon deteriorated into being a pigsty. John had warned her a few times as it ruined the feel-good factor of being in such a nice place. Amy, as you will know, is a super brat… who delights in answering back to him when threatened with "sticks" (their favorite name for canes). Well, the sticks are coming out whether she believes it or not, and her smirks and joking soon disappear when he tells her he means business! Laid out on "her pit" (the messy bed), she receives 2 sets of 12 hard cold cane strokes in a no-nonsense punishment. Watch gorgeous Amy take her caning in this amusing but eye-watering punishment that not many girls like Amy can actually take. See for yourselves, do you think she deserved this caning?
[jwplayer mediaid="65365″]
Download the full-length film HERE – or view as part of the AAA Membership site HERE
Willow is taken aside at the latest cheer practice by her new coach, Miss Matthews, who can see who is the weakest link in the squad. She is going to nip Willow's bratty and shoddy behavior in the bud with a method of discipline that this young lady should have received a long time ago… with a spanking! She takes the miscreant over her lap, on a bench, and proceeds to spank the naughty girl who kicks and struggles, complaining that she doesn't deserve this! Unfortunately, for Willow, this only makes things worse as the coach removes what little protection her tight shorts offer to spank her on her reddening sore bottom. The spankings can be heard in the yard as they echo loudly, Willow feels ashamed as she knows the other girls will be able to hear this. Once her bottom is swollen and sore, she is told to stretch and get back to practice! This short sharp shock spanking is a reminder that her poor behavior will not be tolerated in the future.
[jwplayer mediaid="65379″]
Download the full-length film HERE – or view as part of the Cheerleader Spankings site HERE
Angelica has been a very naughty girl to the staff of the house and mommy has had enough. After a good scolding, she is taken across the maternal lap for a good old-fashioned spanking. She is spanked over her dress, then on her cotton bloomers before they come down for a painful spanking on her bare, exposed bottom. Mommy uses her hand followed by the hard, mean Mason & Pearson hairbrush to teach the naughty brat a lesson that rudeness has consequences. Her punishment only ends with 10 hard swats with the carpet beater. Angelica is left alone to rub and soothe her sore, red bottom better.
[jwplayer mediaid="65397″]
Download the film at MOMMA SPANKINGS
or view as part of the Sarah Gregory Pass website HERE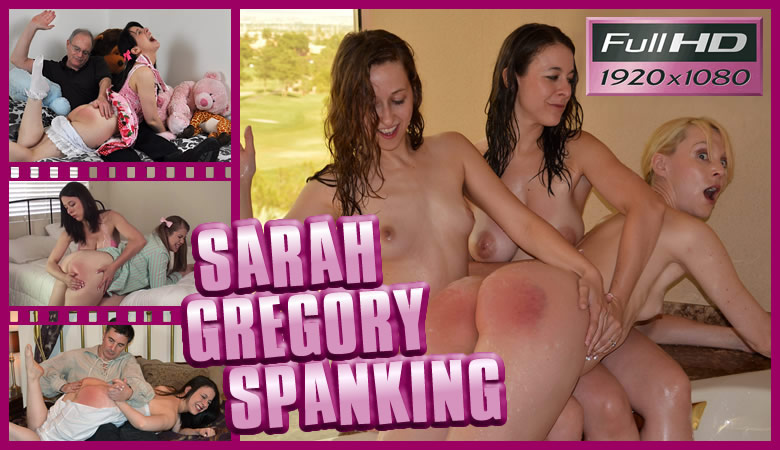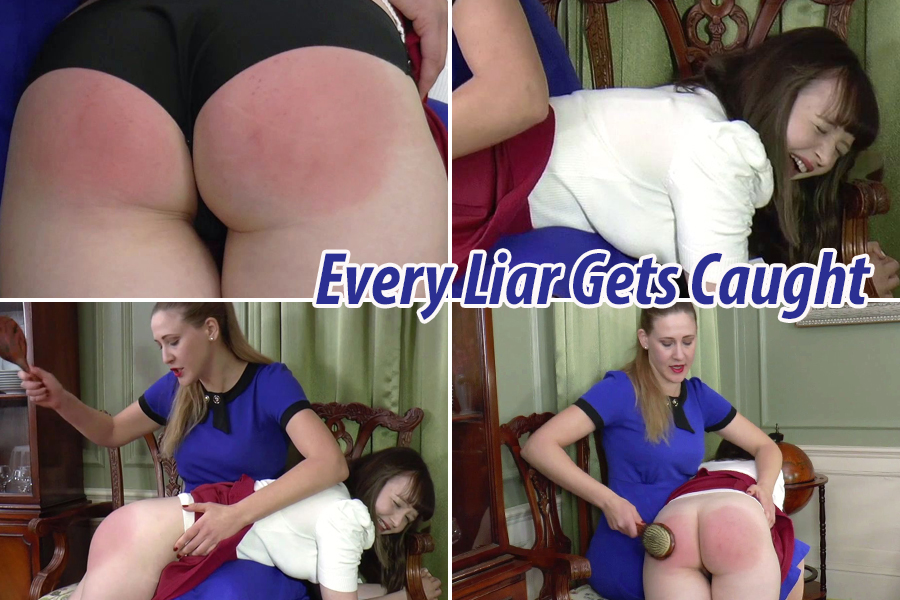 Miss Sky Terrapin is looking for a personal assistant and after going through all the resumes, she finds Ella. Ella's resume is perfect and it looks as though she has worked for many top names. However, these are all lies after Sky checks the references with phone calls. She invites Ella over to her house for what Ella thinks is a straightforward interview. Sky has other plans and confronts Ella about the obvious lies and tells her that unless she wants to be reported to the authorities, she will be dealt with and corrected the old-fashioned way. Ella hesitantly goes over Miss Sky's lap for a long overdue spanking. Ella is spanked with Sky's hard, unforgiving hand and is given correction on her bared buttocks which embarrass her further. This punishment is far from over, as Sky produces a wooden hairbrush and spanks Ella's bare, quivering globes of shame until they are red, swollen, and sore. She is left to nurse her aching bottom and is one very sorry young lady who won't be lying anymore.
[jwplayer mediaid="65412″]
Download the film at SARAH GREGORY SPANKING
or view as part of the Sarah Gregory Pass website HERE
Sarah and I wish you and your family a happy and carefree 2022!