In case you were unaware, we just spent a wonderful few days up in Scotland filming the latest Strictmoor film. Behind the scenes, trying to organize such a large-scale event is always stressful, especially with Covid constantly trying to thwart our plans… but Sarah is the best at organizing for unexpected mishaps and we navigated our way past the initial problems we encountered. The manor which we filmed in was truly amazing… a perfect setting for the academy to open its doors for the first time north of the border.
I have to stress that the images you are about to see are either taken from various phones or Dave's camera… these are early shots that are largely unedited, save for cropping and such. As with the familiar Strictmoor storylines, the plot follows how Miss Baker (played by Miss Matthews) and Miss Honeysuckle (played by Dilan) have an opportunity to open up the academy in Scotland due to the demand from many mothers who have unruly daughters. We see many flashbacks to the pasts of both educators and follow their story to the "present" day of the early 1960s when they welcome the initial intake of miscreants.
Strictmoor in Scotland Preview
Ladies & gentlemen… please welcome Miss Baker (left) and Miss Honeysuckle (right).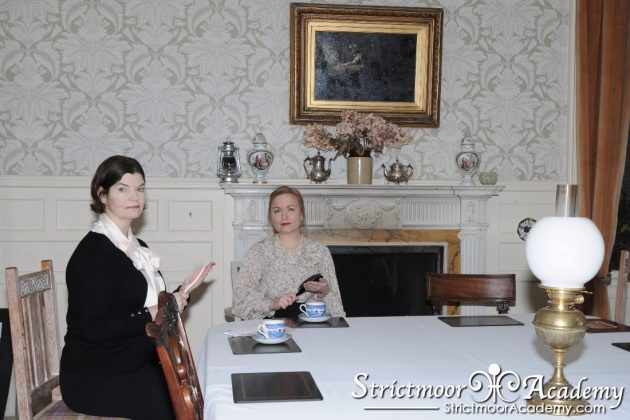 Taken from a scene where the good ladies discuss who to accept from the multitude of letters received from distraught mothers. This scene is typical of the detail and settings that are to come throughout the film.
Classroom Scenes
It wouldn't be Strictmoor without the iconic classroom scenes… so we get a feel of the teaching staff and the girls who are to partake in the course where the poor miscreants will be learning in a classroom setting, with any letters of apology written for bad behavior, plenty of stair walking scenes, anticipation and humiliation in front of their peers, and additional classes of Deportment (held in the Library) and Singing Lessons in the Ballroom where the finale of the now wicked format of canings (and wooden spoon spankings after the canings) will be held.
I have linked the pupils and teaching staff's Twitter accounts so that you may see who they are (in no particular order of naughtiness!) – so if you are not following these lovely ladies, then please do! Clara Matthews – Dilan – Faerie Willow – Ash May – Mila – Bella – Violet Haze
The girls had kindly provided more behind the scene images throughout the film shoot, so definitely go check them all out (I took a few images from them to put here too).
More images from the classroom set!
Remember that you can click on any image and they will go to the larger file that you can save (if you so wish).
Deportment Classes
NEW to Strictmoor Academy! 2 of the girls were unable to act and hold themselves like a young lady, so were suitably punished in the Library, with the Slipper, by (well, it sounds like Cluedo) … but the pictures are self explanatory! LOL!
Bedtime Spankings
Bedtime spankings are also prevalent throughout Strictmoor… as the girls learn that a spanking during the day means a spanking at bedtime. Miss Matthews and Miss Honeysuckle do not let the miscreants who are punished earlier forget this important rule! Of course, some naughty girls had been caught outside the grounds attempting to steal from the local shopkeeper, Miss Devonshire (not pictured) … so we have some great scenes where some of the girls fill in these roles of spanker or "aggrieved shopkeeper" with what Sarah & I refer to as the Mrs. Chater hats for various roles… you can see Mila playing one of these from an image below. Heh heh… We love these scenes!
The last picture above is really a BTS shot as in the film you would not see who the spanker was (it is, of course… Mila) – as this was a flashback scene. As was the "Victorian style" spanked in bloomers shots. Remember this is just a taster of what we produced, as I, Sarah, or Dave were too busy on camera filming… we also had 3 or 4 cams at some points during the production (to ensure we got the angles required).
More shenanigans & scenes/images from the film… oh, & cute Shakira (Dilan's long-haired dachshund)
Lines had to be learned  (as well as lessons – naturally!)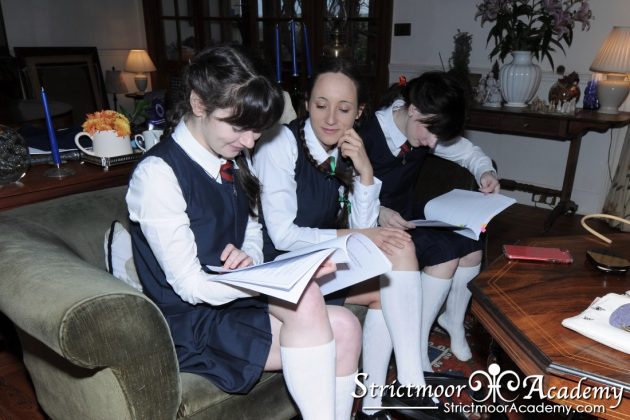 Approaching the finale of the film, Singing Lessons with all the girls, I think, were very popular. The ballroom setting was awesome, and with the sun shining in, the natural light was fantastic… again, here are just some tasters from these scenes! (below)
Caning Scenes
This led to the caning scenes where all the girls were surprised to learn that their demerits over the duration of the course meant they all received appropriate strokes of the cane whilst looking at themselves in a mirror and also receiving further stinging swats with a small, nasty wooden spoon over Miss Honeysuckle's lap.
"This is what a naughty girl looks like before she is about to be caned…"
"This is what a naughty girl looks like AFTER she has been…"
I'll leave you with some more behind the scene images…
We don't know when this will be released as of yet but wanted to let you all know that this will be appearing soon(ish). You may notice across our membership sites that these lovely ladies will be appearing in other independent films we made over the course of our stay at The Manor. You'll be seeing some of these ladies appearing this week across our sites.
When I have time (as it is woefully tight at the moment – we are due to travel back to the US a day earlier to avoid the upcoming storms) I will let you know how the second part of filming took place.
P.S. It is Sarah's birthday on the 5th of this month – so if you haven't already, go to her wishlist HERE and buy her something nice. She is a Queen who deserves to be pampered after this hectic schedule! I'll be covering this in a blog post too as we have a few people coming to help celebrate her birthday… I better get the wine in!!!!