Time for a light hearted look at what's out there alongside some stunning images of sweet girls getting some much deserved bare bottom spankings! But what's this? What am I drivelling on about with the "Grannies" headline? Don't worry, it's not "Ceiling Grandma" with her stern gaze and disapproving cluck-clucking as she sees you getting spanked… OMG, imagine that!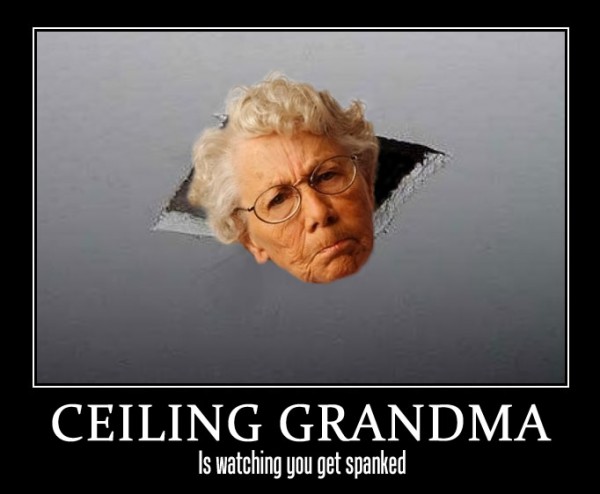 Nope! This is the basis for my first update today and it comes from the somewhat tortured soul of Mike at Spanked-in-Uniform.com who I reckon must have some sort of ongoing issues with GiLFs and Grannies terrorising his neighborhood, and if there's a police officer like Caroline Grey in charge of collecting much needed evidence to put these decrepid scumbags away… then don't for goodness sake lose the evidence on the way back to the Police Station as she did!
For the past six months the city has been terrorised by a ruthless gang of Grannies. These pensioners had become a real menace and they had to be stopped. The cookie incident was the last straw! Finally some crucial evidence was discovered and PC Grey was ordered to take it to the station immediately but she stopped off for a burger and the evidence was stolen. Chief Johnson gave her a long hard spanking over his knee and 12 hard strokes of the cane on her bare bottom.
Beware, the gang of Grannies are still at large but you can see MORE discipline spankings HERE
***********************************************
Now the next movie update (it's out in full and is as good as these images will show you) is all about "Spanking the Seniors"… now someone has to do it (it's a tough job) so step up principal Paul Rogers with the ardous task of spanking not just Sarah Gregory, but her fellow high school miscreants, Kat & Carissa… who I reckon are just PERFECT complimenting Sarah in this movie, just check out the hard job Mr Rogers had below…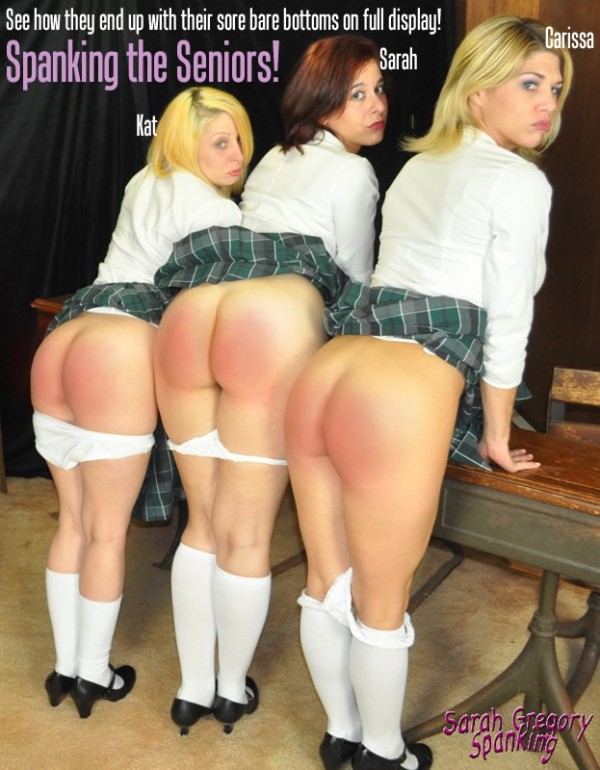 Sarah, Carissa, and Kat are seniors and had decided to skip school together. Well, apparently their teacher had a very special punishment in store for all the seniors that skipped school. Not only were these girls breaking the rules, but the were drinking on top of that! After bare bottom spankings over their white knickers and bare bottoms in front of each other including a rather nasty hard wooden paddle punishment, you will see the results of 3 very sorry schoolgirls red bottoms!
You can see MORE Previews of this excellent multi girl punishment HERE
**********************************************
I thought I'd once again delve into my archives of Spankedcallgirls.com and check out some very naughty spankings by Clare of her new girls at the time who had come to work at her brothel! Of course, Clare *must* inspect the goods and see the new merchandise and if she's able to whore out blonde Kylee Reece and her brunette buddy Claire Dames who both get a nasty shock as Clare of course insists on seeing if they can take a spanking as she knows these girls will misbehave… so best get this outta the way early! I can't tell you how much I enjoyed seeing these set of movies again, and of course there's a whole load of decent images that accompany these films as you'll see below which pretty much represents what happens… including a great OTK spanking of blonde Kylee followed by Claire's turn… including a butt plug… oh my gosh! I wanted "wood"… I got it!
The actual video inside for members plays perfectly (I sometimes have issues converting files if I use Flash, so don't let that put you off – Clare is far too professional to have videos out of sync) Incidentally if anyone knows how to correct Real Media format to Flash or using a new app/plugins for WordPress, then please do let me know. Anyway, the images below should also let you know the full story!
Now if you thought seeing the innocent looking Kylee getting spanked was worth looking at…. Clare wanted one of the girls to take anal for one of her clients… and her brunette friend Claire Dames was chosen… "Momma Clare" had a novel way of seeing if she could take this top paying sexual act by inserting a big fat butt plug up her ass and giving her an OTK spanking too… I'll let you discover MORE of this amazing double punishment of these girls HERE but I think the 2 images below says it all!
The full movies and further punishments of these 2 hot hooker babes can be seen HERE
****************************************
Finally as I had featured a 1st spanking for the girls above, I noticed that there is a brand new audition movie (which I have just downloaded and it's very hot!) It's of a glamour model in the UK getting her very first online spanking! This stunning beauty didn't quite know what to expect but she took a far harder spanking than it looked possible as many of these girls will never just do anything like this without having a little interest in our kinky subject… so please welcome Elle at English-Spankers.com
This is what Rem, the lucky spanker… had to say about Elle's debut:
Our latest spanking audition features glamour model Elle, this is to be her very first spanking and something totally new for her. After a revealing chat about her we soon got down to the spanking, starting with her over the knee. She has a very spankable and firm bottom and as this was her first spanking it soon started to turn red. There were some protests but, well we had got her this far so we carried on and she ended up taking a real good over the knee and standing spanking.
That's an "Elle" of a girl… *groan* (sorry about that!) Have a good 'un and don't go too far, I'm planning a big Friday Update with lots of spanking sites reviewed for the coming weekend!
Regards, Chief.