Just one site in today's post, I hadn't featured Pandora's excellent site in a while so here are 2 amazing films, one with my good friends Alex Reynolds & Paul Kennedy at their place in LA… and another featuring an interesting update that Pandora co starred in with her good friend, Adele Haze in an original piece of spank art (more on that in a moment!)
Thanks to harder economic times or just the fact that many of us "rival" producers actually get on when we meet up… we are all collaborating and helping each other far more than say a few years ago. It's especially true over the past year or so as many more of us working together on shoots can be found socializing at parties and events, either helping out, doing some trade work for each other. This example below sees just that, Paul, Alex and Pandora traded their time to help each other… it's what I've done in the past and sometimes we might hire each other instead. I'm hoping that I can work with Pandora next month when a few of us will meet up in Vegas. That should be fun, it always is. Anyway, I am digressing. I like nothing better than helping out fellow spankos or producers and I know it's a nice feeling to have that back (example: Paul and I are filming end of this month before we both head back to America) so will be helping each other out – which reminds me I better ask if he needs my lighting and cams… this is how we all work, lol. I do find it amusing to see what the community think of us outside of our little bubble… if only they knew – yet some things should always remain between friends and those we have a lot of time for! I like the suppositions and (often) off the mark guess work I see on Fetlife etc. It's always nice to meet people at events. Some of them reading this here are members of my site or now just friends because of the parties – thank you!
OK, back to today's update as I do have a tendency to waffle: Check out Paul & Alex in an edgy film I'd only feel comfortable asking partners to play out and film (as I think Pandora did here) – called "Playing Truant"
"I can do EXACTLY what I like," explains truant officer Paul Kennedy, as he strips naughty schoolgirl Alex Reynolds, then beats her with a tawse. Cowering from Paul's harsh, terrifying character, Alex begs him to stop.

Alex's favorite role-plays often involve non-consent, and very cruel punishments. This one delivers, as the truant officer abuses his authority to make Alex cry out in pain, promising that she'll do anything if he'll spare her further lashes with with the tawse.
Check out a FREE Clip of this punishment HERE
I love asking partners and those who know each other well to play out roles which they might not ordinarily… as you'll see early next month when I asked them both to roleplay as they'd do at home for my site that they also do together often for their own lovely pet spanking project at Kitchen Sink Spanking Productions – as that also helps highlight their store too!
Another fascinating update just added to DreamsofSpanking.com involves Pandora finding any excuse to spank her friend, Adele, in this canvas/calligraphy spanking special. "Sing, Muse".
Two topless women are engaged in a sensual game: one plays the canvas and the other the artist. Adele Haze lies on cushions, exposing her breasts and bare back – and it's the latter that her lover will write on. Pandora Blake uses black ink and a brush to adorn Adele with intricate Greek lettering.
As Pandora's calligraphy winds around Adele's gorgeous curves, Adele must stay completely still, hardly breathing to avoid nudging Pandora as she writes her lines. In a Victorian school, ink smudges would mean a punishment for the writer. Here, the responsibility to avoid error falls on the writing surface. Pandora weaves her spell in words, and the magic of the moment mustn't be broken. For each smudge, Adele will get a stroke of the cane.
See all the very latest films & beautiful photography at Dreams of Spanking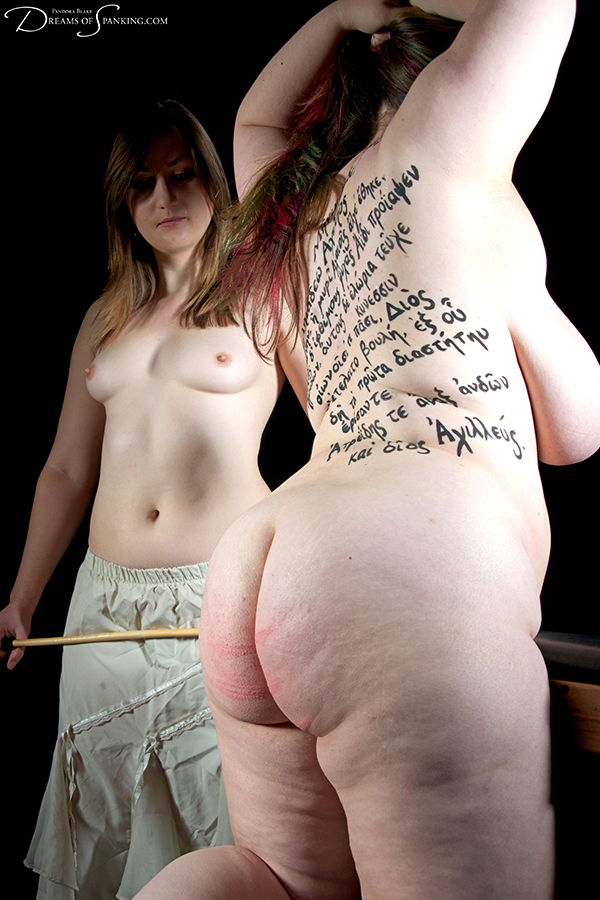 *********************************************
I hope that you are enjoying what remains of the weekend and for most, a return to work again after the Holiday period! Make the most of it before the return to reality once more!
If you haven't already, don't forget that there are still 2 categories to vote on in the Spanking Awards. Check the top of the main blog page (at time of writing) to check on Most Improved and Best Site nominations. Thanks.