Here's some quality stories for "Throwback Thursday Spankings" and site updates from the past that I think you guys should check out while I get together my latest post, this is a high quality collection of spanking content from many varied sites over the last 3 or 4 years! Enjoy!
Beautiful redhead Amber Dawn from spankamber.com shows us how she spanks her fantastic girls she finds, like this submissive blonde called Anna… as you'll get to see many parts of Amber's site network with one set of codes, you can see Anna teasing and showing us what she is made of in the more "vanilla" solo girl section… and of course then there's the hot spanking… I'm featuring this one today where Anna get's spanked for continually eating phallic shaped candy… a perfect excuse for Amber to spank her… and of course get to grab and feel this natural girl's body, perfect little titties and admire just how red her bottom gets… I loved the hair pulling and Amber's lecherous demeanour throughout this film, she really got off on spanking this girl… it shows and it's HOT!
Anna teases us and strips for the camera…
…then she is punished for eating too much naughty shaped candy!
See MORE HOT images & films of Amber showing us her spanktastic charms
Only from SpankAmber.com
**********************************
A couple of really hot girl on girl updates coming to you from Punishedbrats.com now with some real fave spanking stars of mine, what is there not to like seeing Audrey, Joelle and new girls Adrianna & Cadence? I have filmed and been fortunate enough to work with Joelle and Adrianna a few times already and am hoping that I get to work with Audrey and Cadence too at some point soon… I am definitely filming with Adrianna next month away from any parties anyway and am really looking forward to that as she is infectiously funny and is one of those girls that can take quite a thrashing as you'll soon discover on my site (coming soon) but today, let's start with Audrey & Adrianna here in a film called "Overheard"
Audrey overheard her daughter Adriana speaking disrespectfully about her on the phone. She wastes no time in disciplining her and takes puts her over the knee on the spot.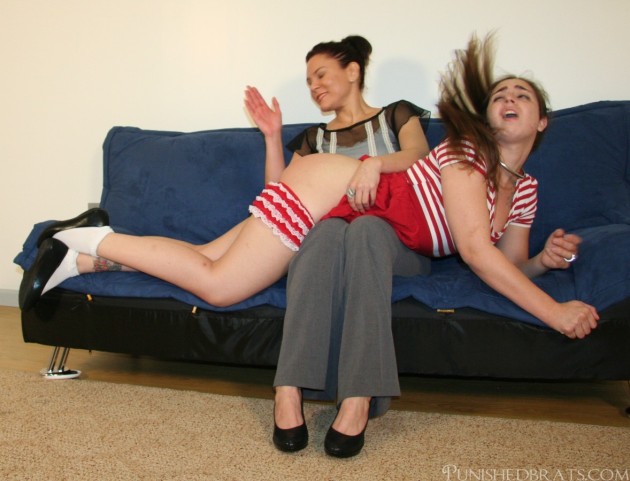 & a great schoolgirl film with a rare chance to see Joelle take on the role of being more dominant… I know she was nervous about this role on film, but seeing it, she is superb and should switch more in my opinion… I will try to get her to switch at some point for my site, though of course I love seeing her long legs kicking and wriggling when she is getting a good hard OTK spanking!!! With her most hated implement… the hairbrush!!!
This film is called: "As the hairbrush falls"
Joelle arranged to have her little sister attend a prestigious prep school in an effort to repair her academic situation so that she can return to college the following September. When Cadence misbehaves at school by calling her instructor a name, Joelle realizes that little sis needs a lesson in manners. Cadence finds herself over her big sister's lap and having her bare bottom spanked with a hairbrush.
As the hairbrush falls , time and again, upon Cadence's bare bottom the tears begin to flow. She promises to be respectful of her instructors from now on. After giving her little sister the spanking she needed, Joelle makes her sit on a hard chair that was painful to her freshly spanked bottom.
CLICK HERE TO VIEW THE LATEST BRAT PUNISHMENT CLIPS
**********************************
Next up, a great new film from my wonderful baby's site… Sarah Gregory Spanking and it stars 2 other people I have a lot of time for… Amelia Jane Rutherford (I will be filming with her soon too, I can't wait for that!!!) and Johnny… a good friend of Sarah's and Fetlife stalwart FLApaddler … he's a great guy and I will be meeting him at the BBW event in around a month… good times! I loved this inventive storyline and of course as it has Amelia, there's plenty of drama and some (naturally) amazing spanking scenes!
The Mischievous Maid – this title was thought up by Justin… or J_ Doggg as some of you might know him on Fetlife – & I am mentoring him and so feel  naturally protective towards him too… "I Dom because I care!"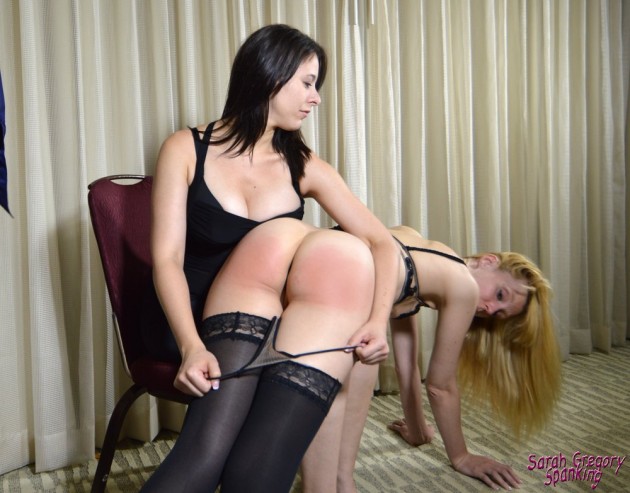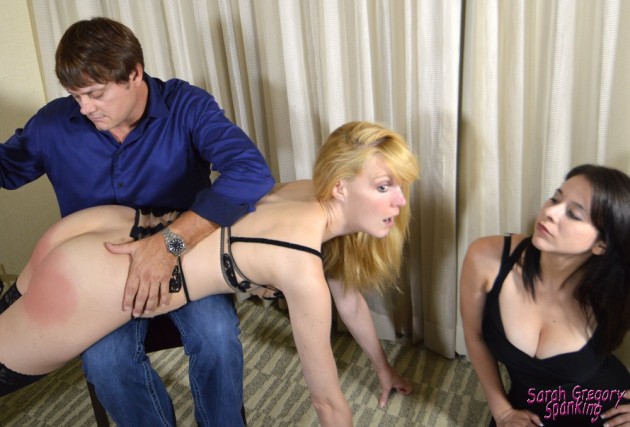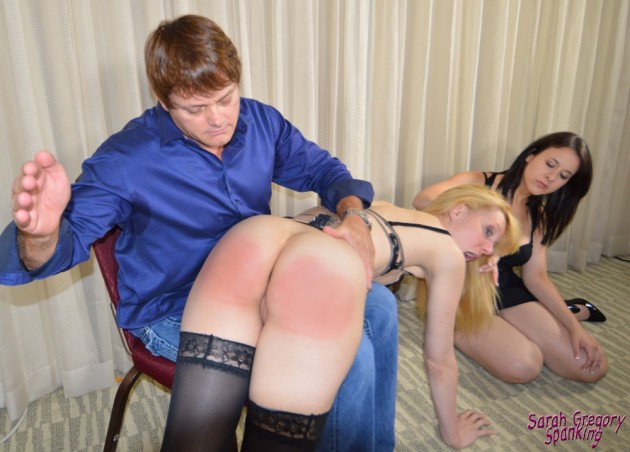 Johnny and Sarah are not happy at all to return to their hotel room after a nice evening out to the maid trying on Sarah's expensive lingerie. Johnny threatens to call security and Amelia doesn't want that and says she will do anything. Well, I don't think she knew that taking a hard spanking and strapping was what she was in for.
Click here to see the next updates from this new film HERE
************************************************
Finally today, I had to include this old line up with Dani Daniels… she really is stunning and her recent appearances as a top at Firmhandspanking.com (for which she is doing a great job) hide the fact that she has been a sub a few times for Chelsea Pfeiffer… this punishment was a little harder but she gritted her teeth and accepted everything that Chelsea gave her… and she  didn't hold back with the paddles… Dani is gorgeous and I hope that she decides to bottom again… she's a lovely top but after you see these screen grabs… you will want to see MORE of her like this, I know I would!
Click here to see this EXCLUSIVE film only from GoodSpanking.com
*********************************************
As you know, this saying is legendary. Indeed, what happens there, stays there! I love Vegas, it's just so sinful, so naughty, so in your face! & until I saw this latest offering from Northern Spanking, I had no idea they had filmed with Zille de Feu AND Bailey Sullivan (who I was actually about to do a piece on and also thought she had kind of backed off from the scene…maybe not!!!) but anyway – I have been totally stopped in my tracks with this film so had to add this here NOW to let those who don't know about it see just how good it already is and WILL be when it's complete within a week or so!
This film promises paddles and canings (members get to see this), which are great, some really delicious F/F action on the bed by both girls… made to do it by the out of pocket casino owner, Marcus Black! How did they end up in this situation? Read on….
Zille & Bailey have individually racked up considerable debt at "BLACK JACKS" – One of the huge Casino chains owned by mobster Marcus Black. Having no money to pay, and no idea how they got into this mess, Mr Black has the girls taken to an exclusive suite in the hotel by his henchmen and stripped to their underwear. Left wondering what fate might await them… these 1st preview images give you an idea (below) or the sort of humiliation that awaits as both girls are watched by Mr Black who instructs them to spank each other…. and you just KNOW worse is to come!!!
Both girls are full of shame but they know they have no choice…. members can see the unravelling storyline as they next face a sterner test as Mr Black involves the use of paddles and canes! I can't wait! neither should you… members can view this great new HD-MP4 film HERE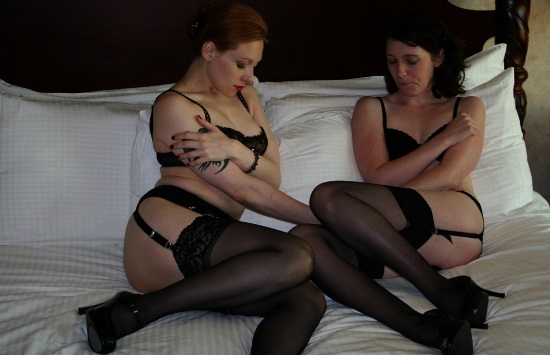 ***************************
The image below gives you an idea of what is going on, don't you think? these are also full size images too if you click on them, they are bonus images that members get to see alongside the film images and the 1st long play part of this 3 girl spankfest!
Some promotional images below best explain what and how the girls ended up with such sore bottoms!
The Official site blurb is shown below:
This is the 1st of our multi girl films recently taken in the USA and there are stunning tearful debuts for Nyssa Nevers & Ashley Graham alongside Joelle Barros! The girls have been annoying other customers of the high class and much sought after Gym Club where new memberships are difficult to get approved and they are brought into a back office to meet the Gym Club owner, John Osborne. He issues these brats an ultimatum when he senses a chance to show them some old fashioned British discipline values. They accept a humiliating punishment in front of each other or he would have no hesitation expelling them all! The girls love this place & realize how difficult it is to find somewhere else half as good so they reluctantly accept their fate to learn to behave like proper ladies!
Here are some behind the scenes info on this film: This was filmed early on in that particular shoot, it was Joelle's 3rd film and both Nyssa and Ashley's 2nd of the day (as they had arrived a little late caught in traffic from DC to Philly) However, as you'll see from the images, both Nyssa and Ashley's bottoms were reddening up quite quickly and Joelle had a tight pair of buns that refused to glow as red (to start with!) Nyssa was also the loudest to react to her punishment and started bawling and blubbing, which I have to admit I found quite a turn on… she was fine as she later confessed she was a bit of a crybaby (in the nicest way, of course). All the girls bottoms were showing those telltale speckling signs that bottoms were under severe duress, the film syill ends up being nearly 18 minutes long and has 3 distinct sections where each one gets the same treatment as the others watch!
For those of you who can't wait and want to see some of the films from this shoot NOW rather than wait longer you can view the Clips store and download the full film or clips of your favourite spanking model from this film (each girl has many charms) … Nyssa is just gorgeous and THAT ASS and her tears! … Joelle takes a good hard punishment and THOSE LEGS that go on and on lead straight up to one of the trimmest butts known to mankind! … then there's Ashley Graham with her smouldering looks and unbelievable figure, THOSE BREASTS! Oh my… and DAT ASS! jiggling under duress…. It's a tough decision to take, of course you can wimp out and view the full film… your choice is below!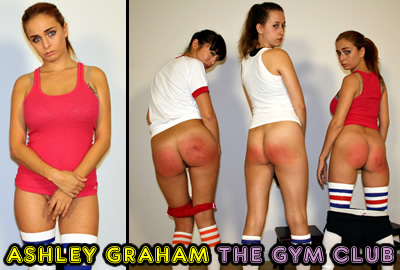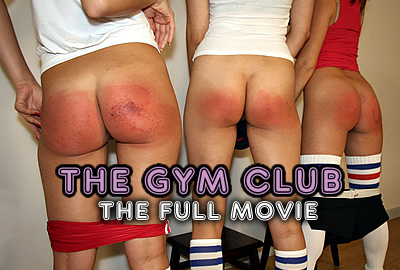 You can also see the amazing intro of Nyssa Nevers
getting a OTK spanking in some very sexy lingerie!
of course the fantastic spanking intro of Joelle can also be viewed here too!
MORE MOVIES at the AAA CLIPS STORE HERE

************************************
Remember these interesting films from Danielle Hunt who I worked with again (in 2012!) but this time it was to make harder and more explicit films that I'm sure many of you will have already seen but here is a reminder… as well as blurring the boundary lines of what "Uncle" can and can not do and how to treat a never ending yapping schoolgirl by ball gagging her into silence then thrashing the hell out of her! This was one of my faves of that day! You'll see the images referring to what I am on about below, we also did some great PJ films, including a dropseat spanking with Dani's big dark bum protruding from the white cloth accentuating her ass even more…. some naughty toy play and a rather severe caning and carpet beating that followed with more raunchy storylines and a hilarious but rather severe film where farm help, Dani, is late to go milk the cows! Images below are unedited and far smaller than the originals but it is a nice reminder of what is out at the site from this time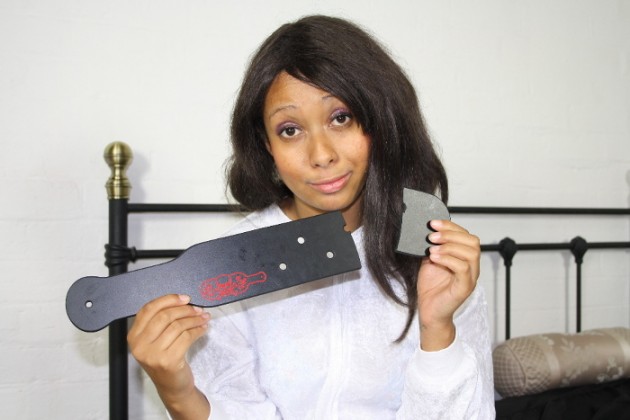 Oh… & Dani's bottom broke my favourite composite paddle
That ballgag sure did keep Dani nicely muffled and subdued!
The dreaded hairbrush, the one implement Danielle HATED!
and below some more films of Danielle in various naughty and painful poses!
There's plenty more but for now I think you get the idea of what went on, right?
Check out all this at AAA Spanking
For those that like to download the odd movie… there's a special movie sure to tempt those that love to see girls in school uniform properly thrashed with the leather strap and cane! It stars Sara Bergmann, she has always been one of my fave spanking actresses, it has been remastered and there's some extra HQ images as well as the usual vid grabs which complimented the movie!
If you click on this link HERE it will take you to the actual preview page where there's a description and a FREE caning clip so you can see precisely what the film is about! I have also added some images below from the film. There's not much to add really, it's a good length film, about 15 minutes and there's no lengthy monolgue, it just quickly gets into the action with Sara leaning on the cold concrete slab in the cellar for her strapping over her regulation kncikers and her already throbbing punished bottom is then revealed for a bare bottom strapping and a final assualt with the cane! Sara really can take quite a punishment! I promise if you've never seen this movie before or wanted to buy just one this month…then this is definitely worth a peek for the strapping and caning content!
THE FULL DOWNLOAD LIST FOR ALL MOVIES IS LOCATED HERE
& here's what I liked too… This film is a classic! (includes FREE Clip)
"Thank you for smacking my bare bottom!" with Alexandria.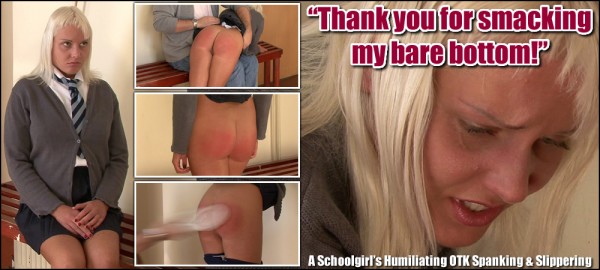 *****************************************************
Adrienne Black at FirmHandSpanking.com – she is possibly the tallest girl in spanking right now, outdoing even gorgeous Brit babe Amelia Jane Rutherford and I'd love to gaze at Adrienne's bum and long…oh so long legs in person…but til then, I can do so with my membership from FIRMHANDSPANKING instead and it's currently worth every damn penny as her first naked punishment in the bathroom at the hands of the diminuitive Earl Grey (did they deliberately cast him against Adrienne?…she must be 6 feet 4 at least!) See for yourself.
[jwplayer mediaid="38949″]
or download the wmv clip (below)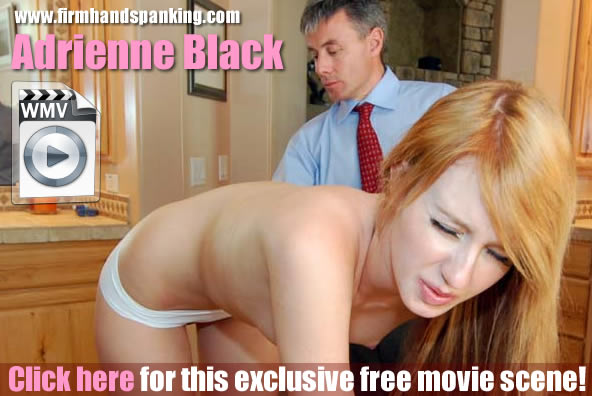 Then I have a few Hi Res images also here for you, if she doesn't blow your mind viewing this amazing new talent and make you want to see more at FirmHandSpanking then sadly, I think you may be dead from the waist down and my deepest sympathies go out to you – please be aware the HIGHEST Trouser Arousal Ratings apply when viewing Adrienne Black, thank you in advance!
This movie can be viewed in full only at Firmhandspanking.com
*******************************************
& Finally, check out the latest movers of the latest movies from my Spanking Theater (below) some real Throwback Thursday Spankings here. Enjoy! Chief.
***************************