Updates and schpannnkings galore continue at the sites operated by our Dutch schpannk-meister, Mike, who I must say, I'm upset he's not wearing his stripey polo shirt as often…is he more aware of it since many of us noticed? I think I may start a campaign to ask him to bring back the striped shirts at his REAL LIFE SPANKINGS
One thing we are grateful for are the return of many a popular girl like Lynn (below) who has an amazing wobbling butt that turns red and speckles beautifully once Mike's hard hand starts to do its work!!
Lynn regrets coming back as she really screams loudly feeling the plain shirted Mike spanking her plump cheeks hard until her eyes well up with tears! Mike had this to say about getting Lynn back over his knee again:
Lynn was sent to us again by her sister and she told me that Lynn has no regard for time when it comes to going out and she wanders in at all hours of the morning. She also dresses too wild for her sister's liking. Time to turn the little madam over my knee again and give her another sore bottom. And that is exactly what she got!
This punishment is typical of the many he dishes out to snivelling brats like Lynn and is completely exclusive to the very original REAL LIFE SPANKINGS

*********************************
I also noticed that the very spoankable Amelia Jane Rutherford (AJR) is again featured at SPANKED IN UNIFORM in the very latest episode of the Police Uniform section with is the SOUTH WEST POLICE STATION.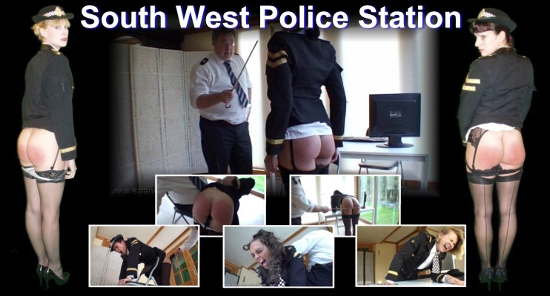 I'm beginning to really love this site, why? Well, all those gorgeous Brit spanking stars like AJR are rushing over the Channel to Holland to star in this, maybe it's the unforms they love getting dressed in, recently we've seen established girls like Leia Ann Woods and Pandora Blake in various uniforms from the shocking pink of the Airline Hostesses to the delectable French Maids outfits or nurses uniforms…anyway I digress, today is AJR day at this particular police station!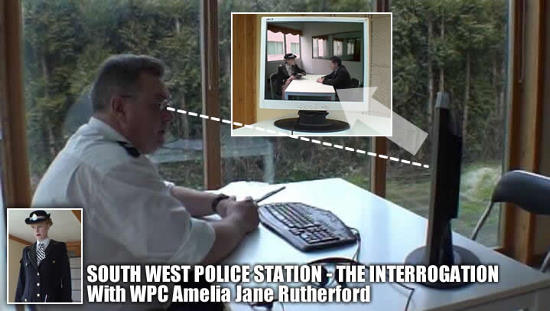 This is the latest episode called "the Interrogation": Mr Lambert, a civilian who had been caught speeding, was being questioned by PC Amelia in interrogation room 2. Police Chief Johnson was watching her on the security camera in his office but he was shocked to see that PC Amelia was treating him like a common criminal and even tried to seduce him to pay the fines. He soon had her in his office, over his knee for a good spanking. Then she got a sound leather strapping and Mr. Lambert was called in and she had to show him her sore red bottom and apologize. You can see some choice images from this movie below:
Remember that this is just one section from the Spanked in Uniform site and I've already covered other recent updates not too long ago and they were also starring Miss AJR (school uniform and French Maids outfits ring a bell?)

(Back very soon with more SPECIAL OFFER NEWS and when they are removed!)
Chief.