I am gethering photos and will be giving you an insight into the last Lone Star Spanking Party which was held recently. I know there are those who have been to this party before but I honestly think that, from the opinion of other guests, as well as myself… that it was the best one yet. Add to that an attendance at approx 360 people, it didn't even feel like that many which was an added bonus!
Anyway, more on that soon… I am helping to film yet another Strictmoor Academy series very soon and am looking forward to that as well, these are always hectic but very rewarding affairs. there are also lots of new girls coming to the academy , as well as a few naughty returnees. Expect lots of panty gussets, authentic 50s and 60s style ritualist schoolgirl punishments, tearful faces and quivering, red bottoms on full display.
But to today… here's a recent selection of hot spanking updates from across many websites. I love all of these and the first is one of many filmed at the Lone Star Spanking Party – it was also nice to know that The Cameraman and Clare has a fab time there too!
Clare received a spanking from rival Madam Samantha B because Adriana Evans snitched that Clare was recruiting her. So now Clare gives Adriana the spanking she deserves, taking a hair brush to that curvy booty. But Adriana gets a spanking on Clare, too, so both are left with sore, red bottoms.

with All Cruz & Ashley Lane
All Cruz catches who co-worker Ashley Lane masturbating to their boss's photo in her office. Ashley is so upset at Alla for barging in that she puts her over her knee and spanks her right in the office. But after this, Alla threatens to tell if she doesn't get to give Ashley a spanking of her own. So both ladies end up with sore, red bottoms. But Ashley still can't stop pleasuring herself, despite the discipline.
These 2 sites make up part of the Clare Fonda Pass giving you a choice of up to 5 premium spanking sites combined for a fraction of the cost. CLICK HERE for more details.

Legs high above her head, panty clad bottom in the air, Delta Howser yelps as she's spanked long and hard for lying – and part payment for a loan to fund her cellphone bill. It's part of her Artist Discipline: she has the talent, but not the motivation. Agent John Friday aims to get to the bottom of her problems – literally. Perfect position for her booty!
This next film is a little bit special… with an awesome spanking and diapering pairing of Sarah Gregory and Dana Specht – this really is a fantastic film if this is your thing. I was genuinely surprised when filming this as Dana got the whole humiliation angle perfectly, definitely one of the best spanking/diapering films out there by far! *crinkle crinkle crinkle*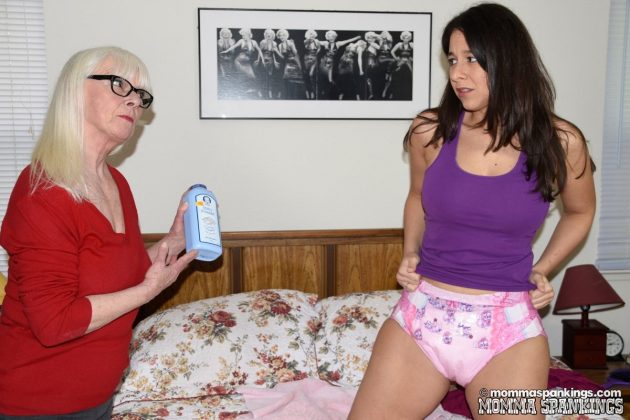 Sarah was acting like such a childish brat at the grocery store with mommy. When mommy gets her home she gives her a good scolding and tells her that "you wanna act like a spoiled child, I am going to treat you like one" Sarah is humiliated as her punishment not only entails a hard hand and hairbrush spanking, but being diapered as well. She can't believe that her mother is putting her, a grown woman, in diapers as punishment. But if Sarah is going to behave like a baby, she will be humiliated and treated like one!
This site makes up part of the Sarah Gregory Pass giving you a chance to view both sites for less than the combined cost. CLICK HERE for more details.

The second in a series of four films exploring the one element of corporal punishment that survived the ending of the practice in UK state schools in the early 1980s: The Slipper! It was always common knowledge, although rarely talked about, that PE Mistresses (and Masters!), kept a slipper for on-the-spot motivation or punishment during PE classes, or sometimes afterwards in the changing room. The slipper itself was a plimsoll or gym shoe, almost always a large, gents example for maximum effectiveness and coverage.
& finally for today! Another film from AAA Spanking and with one of my recent favorite British girls, Belle Calder in a great domestic discipline scenario.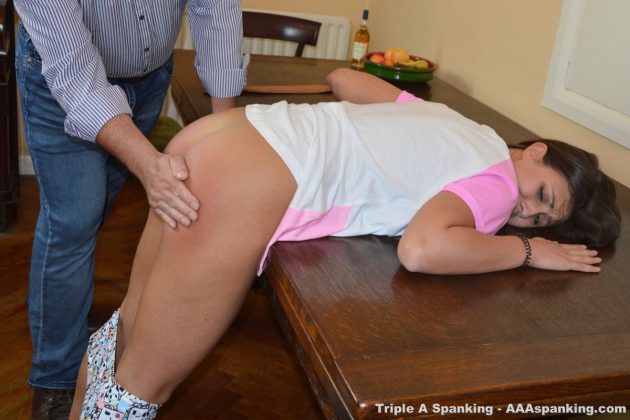 Belle has been sent to her room and grounded for several weeks after her latest punishment at school. So when her father catches her trying to steal his whisky to take to her room, he is upset and disappointed that she is obviously not learning her lesson. Stealing is frowned upon in this family and she is told to bend over the table and take another spanking right there and then. Belle's panties offer little protection from daddy's hard hand and when he is certain she is showing little respect for property, he pulls them down as she protests but Belle is in no position to argue. Worse is to follow as Belle rebels and so she is placed on the table and strapped, both flat down and with her pert bottom stuck in the air. Finally, with the embarrassing strapping and spanking from daddy, Belle admits she is wrong and accepts the house rules on her being grounded. Belle learns not to steal at home and respect authority.
Have a good one y'all!