Before I show you some spanking updates today, I haven't done this for a while, so please sit back or just scoot over the next few paragraphs as the Chief's infamous "Soap Box Rant" is back! & I have darned good reason to let off steam today as you'll discover if you read on…
I'm in a depressed mood, after the relentless onslaught of stolen card sign ups this month (which causes me no amount of grief with CCbill, the online card processor, btw)… these past few days, it seems the pirates have finally got what they came for, all my latest films and some never shown before. No doubt these will be posted on various site rip threads which really kills my site off. Are they under the impression the AAAspanking.com is some huge ripe website ready to be plucked? Nothing could be further from the truth, I have just filed my tax returns for the year and it makes depressing reading, I actually lost money in the 1st year making movies, this will reflect in next year's returns, but this year I had to pay extra as I pumped in a lot of my own and borrowed cash, some of which I haven't been able to claim for. The reality is that it means a film shoot I was intending to do in a few days or so has had to be postponed and the Tax Man to get his cut instead. Anyway, I have already spotted some of the new films appearing on the usual suspects boards so they are already reported, and as long as I can reduce the idiots to private posts and messages then so be it as my site is not there to provide them with a stable income, let them feast off the others that can't be arsed to protect their hard work (and it IS hard work!) Copyright infringements are finally a serious business under scrutiny as larger film studios and such have rightfully had enough… for without any income coming in at my site, then I can not hire new girls, pay for editing, locations and all the other expensive stuff that making films is about and of course that is on top of me doing it all for free my end to start with, the promotions, the time spent uploading stuff and so on when I'd rather spend it with my loved one in my little remaining spare time… this year will be a defining year whether I continue with blogging, and being a webmaster. I have to say that this past month's experience has been draining and upsetting to say the least. If the pirates that rip off my site ever read this, please take note:  You are killing it and making me ill with worry about why I should continue at all! This month, personally and workwise, has been dreadful, I'm glad to see the back of it.  January is traditionally a month of lower sales, but even so, it hasn't been great this month 🙁
Anyway, to recap, I have every right to try and protect what I have made, as surely anyone would if the tables were reversed. Amusingly, in a dark way,  I had noticed on some messageboards that there are those who got upset if another pinched "their content" and posted it as their own… no honour among thieves, I guess, lol. Well triple how that would feel, my pirate chums, and you might then start to understand what it feels like for me, and the despair when a site rip or whatever appears, the odd film or 2, yeah ok… I understand – but a fucking site rip? It's fucking disgusting.
I have also decided, since I am English, to write in MY English (you'll see "honour" instead of honor), For me, it is tiring to guess how it should look in American English, so please accept this quirk, I am, after all… a no good Limey and should be expected to write it in my own language… OK rant over 🙂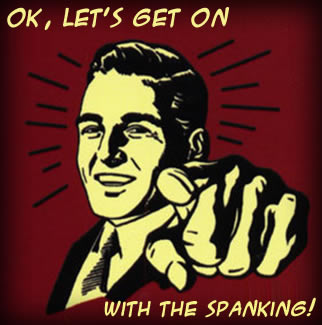 To those who have skipped my rant, welcome… and here are today's spanking updates from the Chief's perspective! You'll see naughty girls and those in dire need of a spanking, whether it's a punishment spanking or a little more sexual, I think I have some interesting updates and stuff I have been viewing these last few days to amuse and arouse you all 🙂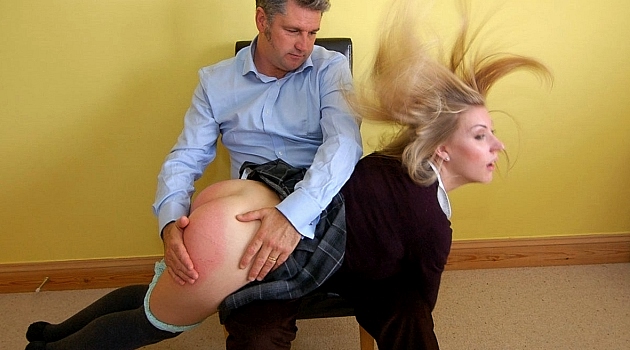 Private school can be tough when a girl's grades are down and she fails exams. Richard Anderson puts pretty blonde senior Belinda Lawson back on track in End of Term. Belinda proves her bare buttocks can take a harsh 265-smack spanking: "It stung a lot, but I got through it."
Do not miss your chance to see a preview clip of stunning schoolgirl, Belinda Lawson HERE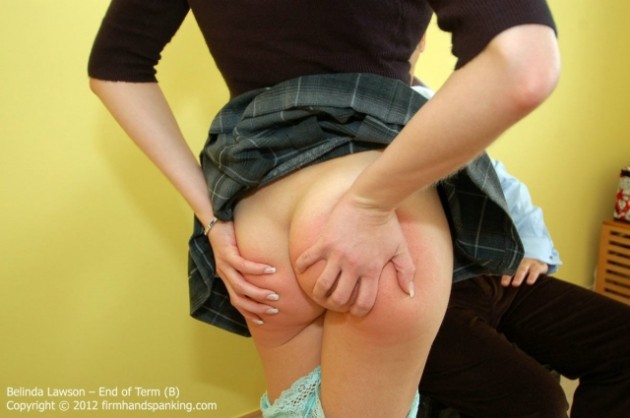 ******************************************************
 A brand new series of home discipline films has begun at GirlSpanksGirl.com with Momma Clare the concerned mother of schoolgirl Elise Graves in this typical Fonda production we all love so much! Clare is the ultimate scarey "Mom!" for any of her girls as you'll see below, she doesn't tolerate Elise's behaviour one little bit and even after the 1st spanking punishment, she is walked upstairs for part 2… the mouthsoaping (which I absolutely love watching) and a further spanking over Clare's knee!
Elise is back from college to stay with her mother for the summer. Mom (played by Clare Fonda) reminds Elise that she has slipped in many ways and she has decided to do something she hasn't done in years, and that is to spank her daughter when she misbehaves. There are many traditional spankings that take place over this summer, and even a mouth-soaping that.
See all of the Concerned Mother series at GirlSpanksGirl.com

*********************************************
Another new movie update at the spanking soap opera that is MySpankingRoomMate.com is now out and has 2 of my favourite girls together for the 1st time and it's a real winner! Sierra Salem (remember her?) and husky voiced Kay Richards (mmm!)
Sierra Salem was trying to move out on her sugar-momma Clare, but Kay helped to track her down. Kay spanked Sierra to convince her to stay with Clare. Sierra finally agreed, but only if she could spank Kay too! Yup… mad, bad and crackers… but as usual, it works! How could it not with these two?
There are now nearly 100 full length movies in a story arc that covers the main characters Kay, Madison and Chloe with many guest spankee and topping  appearances from many of America's best known spanking stars! See more HERE

***************************************************
Finally from Clare's group of sites, her wonderful Spankedcallgirls.com continues to entertain and tittilate in all the right sleazy spanko areas as her girls face yet more humiliation and punishment! As you'll see below, whenever the super slinky Alice Wonder and her naughty real-life friend Nena are in town… Clare is gonna need a hairbrush and some solid OTK chastisement to handle these real hussies! I think she does a good job with this sexy twosome, don't you?
First it was Nena, then Alice is told to strip and get over Clare's lap!
I cannot recommend this naughty OTK spanking movie highly enough! Just what I needed to view 😉

& don't forget that you can see these 3 sites together if you so wish as part of Clare's best value CLARE FONDA PASS network which gives you access to 3, 4 or 5 sites of your choice at a fraction of the combined monthly cost! Check out the site and options below!
*******************************************************
I'm staying on the west coast of California, but gonna concentrate on 2 models who come from further up north, San Francisco, to be precise… and many of you will instantly recognise both ladies I'm featuring… as I prepare how the hell I can go and live out in the Bay Area as if these 2 amazing spankees are anything to go by then… OMG, are all the woman in the Bay Area as gorgeous and hot? So, to my current crush and long term crush… starting with Zille Defeu and I thought I'd remind you of this great set below with her in our glorious English countryside when she first visted the good folk of NorthernSpanking.com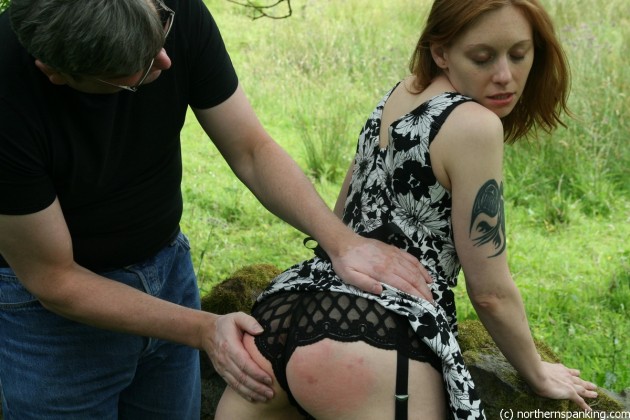 If you go down to the woods today… You might be lucky enough to spot gorgeous Zille Defeu showing her underwear! But I doubt it. Stephen however enjoys just such a treat and, not only that, the naughty little minx encourages him to spank her! So you can imagine that they were proud to present to you Zille… a delightful person and a well-known fetish model and photographer, as well as a dedicated San Franciscan spankee!
This was the 1st of many Zille Defeu updates that you can see exclusive to Northernspanking.com
******************************************
& as promised, my long term spanko scrush, Amber Dawn, a fellow San Franciscan and all round naughty pain slut by her own admission that now has an amazing offer:
See all 3 of her sites, in effect – A Special AMBER PASS including her naughty nude modelling site where she just can't help showing off her amazing 40″ bubble butt ass, here you'll see more flawless images of her butt but of course you can see her thrashed at her regular site or her dishing it out in her unique fashion spanking and fucking so many pretty exclusive young newbies and she's been online for nearly 5 years! Unbelievable… I remember the moment she went live all that time ago and was hooked from the start… er, perhaps because she's a redhead and you *know* how I dig redheads… right?
Below are a few selected images from her "Purple Panties" collection at Amber Dawn Nude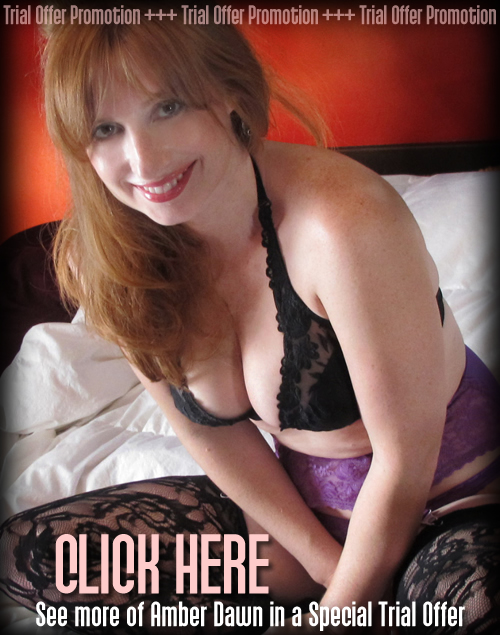 CHECK OUT THE SPECIAL OFFER –  ACCESS ALL 3 SITES FROM JUST $4.95!!!
***************************************
& with that, I bid you "goodnight" as I contemplate scraping ice off my car windscreen early tomorrow morning – in the dark… will it snow? It's been forecast again *groan* so I'm looking forward to work as always 🙂
Have a good one, what is left of your weekend, everyone! Chief.
*************************************
Hey! Don't forget, those who don't want to sign up for memberships… I have just uploaded in full the latest film currently out at AAAspanking – Usual Suspects! It is at the Clips Store – check it out below!