To be honest, any movie starring Jadie Reece will always grab my attention, she is just so naughty! But play her alongside Andi Switch who plays the older very attractive woman who is having an affair with Jadie (who could resist such female temptation?) then add this to the mix when the girls are caught making out in Andi's bed by her actual girlfriend, Alina, who arrived home early to find this going on… then , ladies and gentlemen… we have a spanking film you mustn't miss!
Alina is a well known disciplinarian anyway, she'll thrash anything… man or woman that crosses her and this sexy Swedish lady takes no crap from Andi and the bit on the side that is the scrumptious Jadie!  To be honest, it's an excuse to see some hot female making out action, naked bottoms shown and spanked for the cameras in the bedroom… and guess what, I'm not complaining!
One of the many MUST SEE movies currently available for download at SpankedCheeks.com – see the images from the movie below and decide for yourself if this is hot… or not!
See MORE of this hot movie HERE and what is on offer at SpankedCheeks.com
*************************************************************
So from pure naughtiness to more traditional discipline – this time in Army Uniform as one of the very latest updates from the aptly named Spanked-in-Uniform.com has new recruits Amelia Jane & Pandora getting themselves into a whole heap of spanking trouble… as you'll see below! Attennnnn….. Shun! 🙂
Two new girls arrived at the academy. Amelia and Pandora were sent to the academy by their parents because they were kicked out of 3 schools and they had become uncontrolable. Their disrespectful attitude became quite obvious to their commanding officer who soon had his cane across their bottoms. After they changed into their uniforms, both cadets were taken over the knee for a hard military style hand spanking! Hup! Hup! Hup! Bend over ladies…. this is gonna hurt!
You can see all the military style & institutional punishments from this site HERE

*********************************************
& talking of uniforms! The latest movie from SpankingSarah.com is both hilarious and frightening as Sarah hits new femdom highs punishing this cracking new "girl next door" type called Honey (I bet she is…)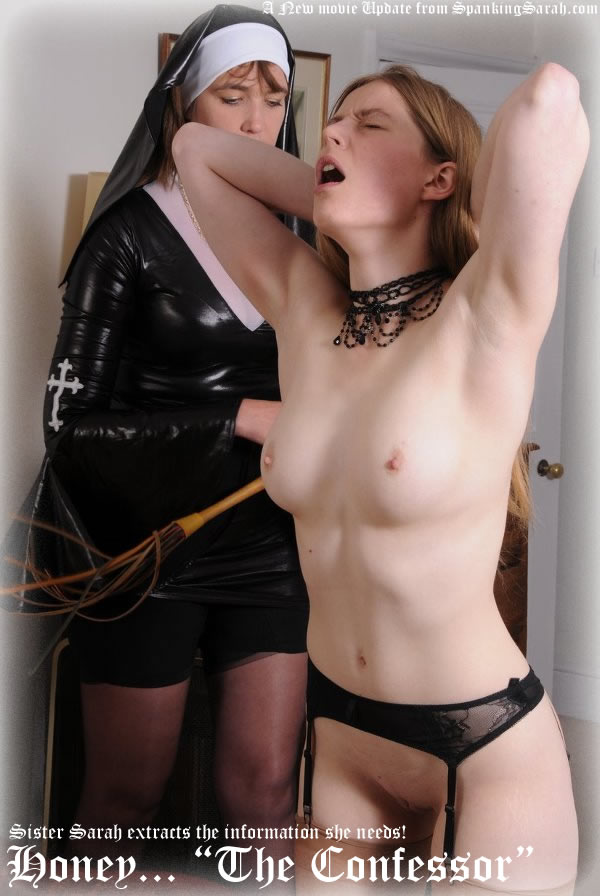 but hang on… Sarah is dressed as a nun, but dressed in a fetish black rubber/latex nun's uniform? (ahem!) & with her forlorn maid, Katie, looking on in the background? This sounds corny, but it's a hell of a visual treat as you'll see below and Sarah is awesome as a fearsome Domme… she is mean as hell when she wants to be! "Blessed be the poor innocents that cross her path!"
CLICK HERE TO VIEW A FREE PREVIEW OF THIS LATEST F/F MOVIE

*******************************************
& finally, check out the relative newcomer to Firmhandspanking.com – Alisha Strauss, who looks stunning and is very well endowed up front, so to speak… and with this womanly curvature comes a very shapely spankable bottom… (OMG it really is!!!) and she wears glasses which appeals to my pervy side as I love to see these book wormish types receive a good thrashing! Which is what you can see below from her latest installent.
As well as new girls like Alisha you can see free movie previews of some of my all time faves like Adrienne Black or Samantha Woodley in brand new films just released as well (which I shall no doubt be availing to you in due course) So you can cruise on over to Firm Hand's preview pages and see for yourself  – CLICK HERE for their extensive tour pages!

Hope you all had a good weekend, I'll be back tomorrow with a spanking movie review and will be updating my other blogs.
Have a good 'un. Chief.