After yesterday's humungous effort I am still trying to catch up with all the spankings going on so you are in for a treat with yet more fantastic updates from some of my favorite sites I frequent outside of the SG Network & AAA (of course). Please feel free to check them out from the links I provide as there are often free videos and clips that I won't have shown to you here: These are basically just the latest films from each site. Check them out for more detailed descriptions of what they are all updating with recently! There are some nice surprises!
As always, there are requests for any offering of the now retired Amber Pixie Wells… so members at punishedbrats.com had a nice surprise most recently when an old as yet unreleased film surfaced from one of the earliest shoots they ever did (we are talking 2006/2007) David got the footage re-rendered and edited to the best possible quality from the original raw files and it's not half bad! Pixie looks fantastic! You could almost imagine she never retired and hope that punishedbrats.com have more hidden gems like this one to compliment their growing library of spanking erotica!
The latest release: Pixie & Veronica Bound – Staring at the Floor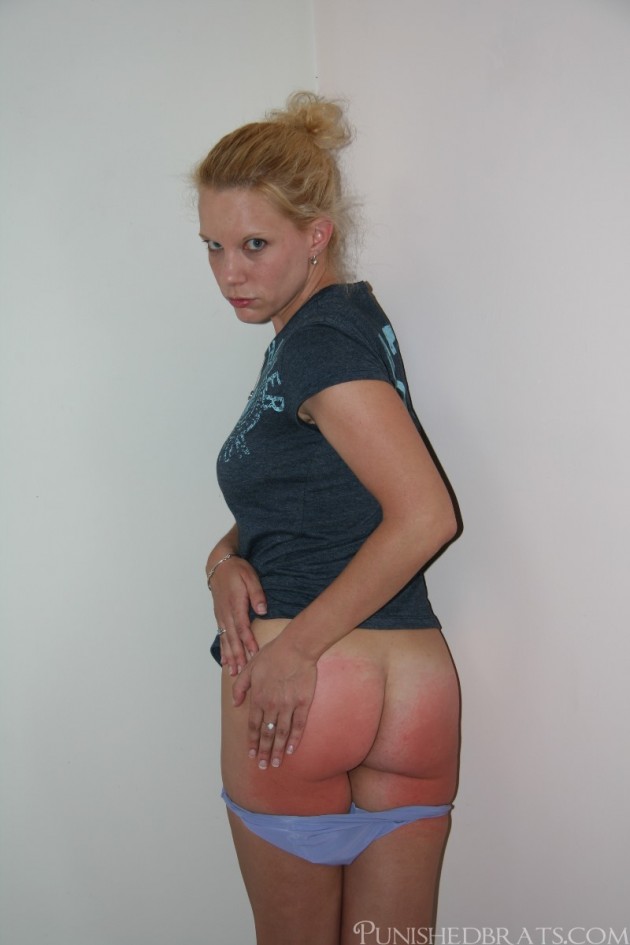 Pixie was called home from school after receiving several speeding tickets. Her mother informed her that she had earned a spanking. Pixie protested, as she was a college student not a child. However, Veronica instructed that she was dependent upon her for her college tuition, living expenses, and even to pay the tickets. Pixie's spanking started over her shorts and she was mortified when she was made to take them down so her mother could continue her punishment on her panties. Soon things got worse and her panties were lowered. After her punishment the physics major found herself in the corner with her red, sore bottom on display.
Click here for your chance to see MORE wonderful films of Amber Pixue Wells


Angela Sommers will be featured in great length at Sarah's sites (incl some fantastic F/F films at AAA coming soon) – but in the meantime, you can see her here in action spanking Amelea Dark in the 4th installment of the "Bad Plumber" series.
Amelea Dark is back to fix Angela Sommer's pipes for free as promised. But when she can't fix them, she gives up and also gives a bad attitude. Angela is not having any of it. She puts Amelea over her knee for a long, very hard spanking with her hand and a wooden spoon. Oh, and Angela is wearing the shortest shorts EVER!

The 100th episode to come from Spanking Sorosorority Girls is a little special – it's a fantastic outdoor location with some of the finest girls I'd love to see in a spanking movie. It's called "Lost in the woods" but I can see (from the days when I used to work there…over 20 years ago  – sigh) that this is in the St Tropez hills on the Cote d'Azur coast of southern France (it's beautiful there!). "Go down, girls… St Tropez is that way!"
The Sorority 100th Episode Spectacular! 
The sorority girls are lost in the woods and when it is determined that Veronica lost the map, Teacher Snow Mercy spanks her right there in the outdoors with the girls watching and assisting. But Teacher Snow must take the ultimate responsibility and the girls decide that she must get her bottom bared and spanked in the woods as well.
Each of the sites shown above from this network are massive in their own right, however, these sites do make up part of the Clare Fonda Pass network – Giving you up to 5 sites combined with one set of codes for a fraction of the overall cost. CLICK HERE for more info.


& finally, I just wanted to show you a very special offer from Spank Amber and her network… I think the video below explains it better than me waffling on! This is rightly so one of the hottest domestic spanking sites out there and I can never praise her work high enough! Both Amber and her Daddy who helps her on this project have amassed quite a cult following over the years with their many spankings featured so see what you get for your money … link provided AFTER you watch the vid clip… deal?
[jwplayer mediaid="48284″]
Click here to access the site for $9.99/month or $75 all year! (that – is – a – deal!)

& do NOT forget… the BIGGEST Party is coming to Houston – SOON!