If you haven't checked out the latest new film at AAAspanking.com this week and love all things "girl on girl" in this niche, then you are in for an absolute treat! Stunning & beautiful fetish model/performance artiste, Angela Sommers, is the showpiece stopper this week with Sarah Gregory as the lucky spanker. In fact, both ladies LOVED making this, Angela actually DOES enjoy spanking but wanted something less "roleplay" and less "punishment" so I came up with a showcase special to highlight the beauty of these two girls enjoying each other. Angela has played roles as a top but she is definitely more sub and loves to have others take control in a situation like this. Angela enjoyed Sarah pushing her to her limits and also taking a more sensual spanking with Sarah having an amazing range to bring Angela to her peak tolerances before taking her back down with erotic play in this film (it's about 25 minutes long with no intro and gets down to action from the start!).
Angela hails from San Diego (another reason I love that place!) – she describes herself as:
Mistress of the Erotic…  Self Expression, Exotic Dancer, Newcomer Entertainer of the YEAR for PlayBoy, CyberGirl, PenthousePet. Also Pet of The Year Runner Up!
Angela has her own naughty and very sexy website (visit the banner below) and of course you can easily follow what she is up to along with her huge Twitter following HERE (& yay… she follows me!)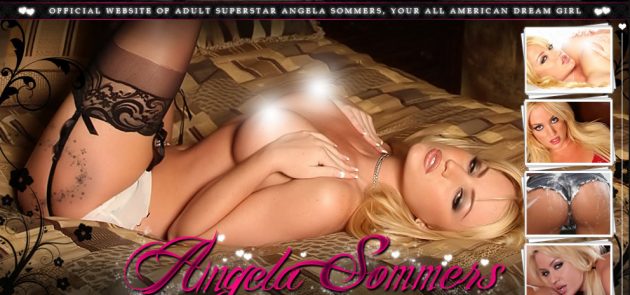 & back to the reason we are here today!
The Spanking Showcase of Angela Sommers!
Some behind the scenes info on this film: We were fortunate to even get Angela this day, it just happened that between our busy schedules our paths crossed when we were in Los Angeles last year… and Angela knew a mutual friend of Sarah's (which really helped break the ice) so the shoot date was arranged and she did NOT disappoint! I remember seeing her at one of the Fetishcon events a few years back and she was one of their "Guests of Honor" … and she is as stunning and beautiful in real life (more so, I'd say) – and very down to earth. I hope that Sarah & I can work with her again in the not too distant future – as she is rather special!
This film is in 3 distinct parts as you'll see from the images and official site description. Honestly, if F/F spanking is your thing, then this week's new film update (always in super clear HD1080) is a "Must See". Check it out for yourselves. 
Stills images from Angela Sommers: Spanking Showcase
This is a very special showcase starring one of the fetish world's beautiful stars, Angela Sommers. Spanking her throughout this 24 minute sensual and erotic video is "Female Spanker of the Year 2016" (third year running), Sarah Gregory. She knows exactly how to push Angela's buttons and take her to her limits with a wide range from sensual and erotic to relentless bottom burning. Sarah keeps Angela guessing how each stroke or swat will play out in three wonderful positions. The film is divided into three distinct parts: The first covers the OTK spanking and a fantastic warm up. There is no dialogue or story, we just witness the spanking of a beautiful young lady in very sexy lingerie getting spanked by an equally alluring female spanker! In Part Two, Angela assumes the Wheelbarrow Position, sprawled out on the bed. Her bare bottom and pussy are fully exposed, our camera angles capture all the action in detail including Angela's wonderful facial expressions. The final scene sees Angela spread on All Fours, as she is given various leather implements. This includes a sensual cropping, leather paddling & a stinging slippering. All parts come with bonus footage & slower motion captures making this a visual treat – a "Must See" for lovers of beautiful female spanking erotica.
Below are some screen images and a GIF from each scene:
The OTK Spanking
Wheelbarrow Spanking
On All Fours – Leather Implements
If you just want to download this movie right now as a one time option, then you can do that at the link below (via the AAA Clip Store).