The new film out this week at AAA Spanking is rather special, it features two of my favorite spanking stars, Audrey Sugarsmak and Miss Elizabeth! They have great chemistry together and I genuinely think this is one of the best FF spanking films I have seen Audrey in… and I am not saying that because it is from AAA. Miss Elizabeth plays the mommy role so well and we all know she can deliver on her threats of punishment. Audrey… is Audrey. Possesor of one of the finest spankable booties out there, period! So, with that said, here's a special feature today showcasing this fine movie available for members of the website and also in various formats at the AAA Clips Store. Links for this will follow, I hope you enjoy these screen grabs and GIFs taken directly from the movie!
Caught out by Mother – at AAA Spanking
Featuring: Audrey Sugarsmak & Miss Elizabeth
Audrey has been hiding from her mother where and how she works at an underground club and that this is her main source of income. She knows if her mother ever found out it would be hugely embarrassing! So it had to happen eventually that she would get found out… and this is where we find Audrey sneaking in late only to discover her mom is still up and awake downstairs (reading a book). Busted! Miss Elizabeth is shocked and upset at her daughter's slutty appearance and quickly finds out exactly how she earns her money in a kinky underground club called Destiny's Chamber – Hearing how Audrey spanks and gets spanked at this club, she decides to dish out some punishments of her own for having such a deceitful daughter. After a long scolding, Audrey is taken across Mom's lap and it is all rather embarrassing for her grown up girl, exactly what mother wanted! It gets worse for Audrey, as Mom pulls down her panties and smacks her bare, jiggling bottom harder and harder, making sure her bouncing cheeks turn a shameful red. The hairbrush that Audrey had been playing with earlier is also used and she is soon yelping in disbelief that even grown up, it seems she is never too old to go over Mommy's knee for an old fashioned, bare bottom spanking. Audrey is sent to her room and told to go upstairs with her bare, sore bottom still on display.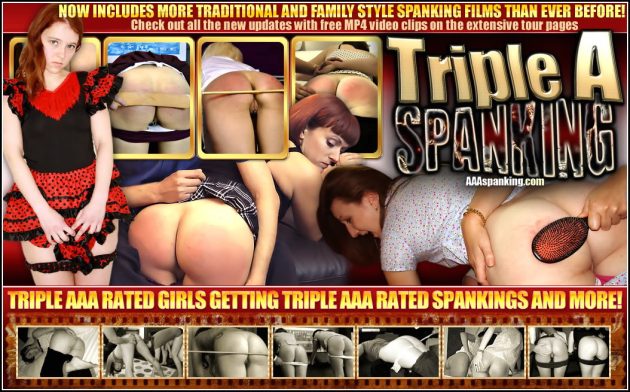 You can also view this film as part of the AAA Clip Store, download it and keep on your device (to playback as often as you want). CLICK HERE or on the image below: