Hello… sorry for the delay in getting back here. It's been a busy few weeks, lots of travel, filming and lots of sightseeing. We're on the last leg of our trip before we return to New England so as I checked my vanilla social media I realized that "back home" it is the last "bank holiday" today as everyone takes advantage of the extra long weekend at the end of August (traditionally it is a local joke that it is usually wet and miserable but I think it is actually very nice there, for once!). I thought I'd get you some updates of what WE have been up to. We had just filmed at an AirBnB in Los Angeles, two films we made there you can now see below… and the other from our recent sojourn at the Fetishcon event in Florida. So there are lots of images and stills and links to some awesome free clips including some fantastic debut or rare exclusive performances at our sites from Christina Carter, Clare Fonda (aka Jamie Foster) Chrissy Marie and Apricot Carson
We decided to keep her last name "Carson" from her debut performaces at Northern Spanking as we wanted to maintain continuity as this young girl is fantastic!
Rebellious Apricot – at Momma Spankings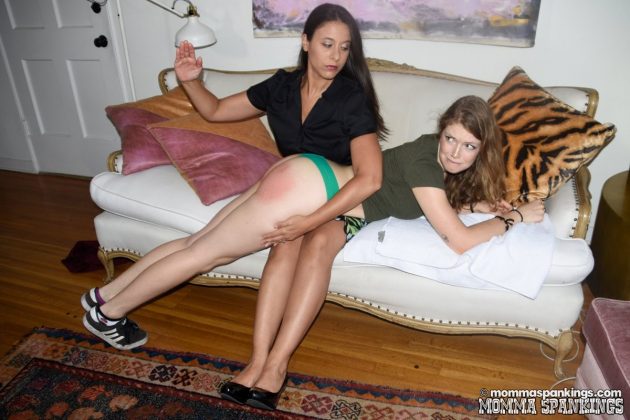 Mommy is very upset with her daughter Apricot. She was given permission for her 18th birthday to go and get her ears pierced, but in addition she decided to get her nose double pierced as well. Mom is so upset as she knows that grandma will be shocked and upset by this as well. She also disapproves of the short shorts and crop top her daughter is wearing. She didn't raise a slut or a floozy. It is over mommy's lap for a spanking over her shorts, and then on the bare bottom.
Here are some screen grabs from the movie:

Spanked by her Sexy Principal – AAA Spanking
This is a stunning "double first" for Triple A Spanking. Chrissy Marie makes her debut as a smitten schoolgirl besotted with her sexy Principal, played by beautiful Christina Carter (in her first role as a "Top" at our site). Chrissy is called in from her gym class over a highly inappropriate note that she had written about Miss Carter's breasts! She is not amused at all and is infuriated by Chrissy's smirks and giggles as she is told she will be punished there and then! Chrissy appears to enjoy the attention of her principal's hand smacking her bottom (first over her panties and then with them removed). When Miss Carter realizes what is happening she is horrified and uses a stinging leather strap which is far more effective and painful in holding Chrissy's attention to the gravity of the situation. Christina and Chrissy made an awesome pairing and we at Triple A feel that we are very lucky to be able to film this for you, thanks to the recent Fetishcon 2017 event.
Here are some screen grabs from the movie: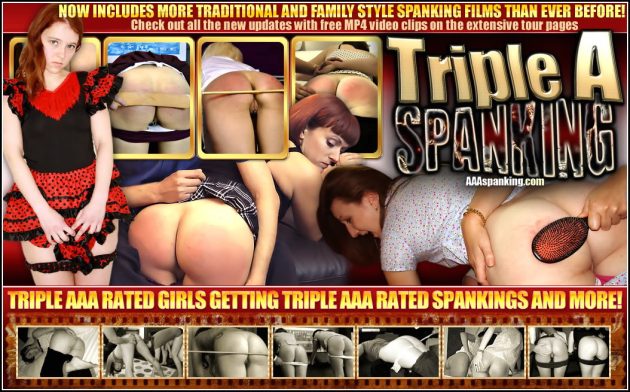 Cheerleader Revenge – at Cheerleader Spankings
We are proud to announce a very rare opportunity to see Clare Fonda in a Cheerleader Spankings "special" alongside Sarah Gregory. Clare & Sarah are old friends but when it comes to cheerleader duties and the smooth running of the squad, friendship comes a distant second. New assistant coach, Ms. Fonda, has upset her with the spanking punishments that she has been carrying out without informingh The Head Coach. So, back at the Sorority House, Sarah invites the assistant coach over for a showdown meeting. The Head Cheerleader threatens to tell the Head Coach that she is spanking the girls without informing him first unless she takes a spanking herself. He would no doubt "fire her" from the position if he knew. So this is why we get to see Sarah spanking Clare's bare bottom over her lap! Witness the tables being turned on this cheer coach cougar with the awesome pairing of Clare and Sarah!
Here are some screen grabs from the movie: