Howdy! Here are some different spanking updates for you today, they are varied and cover many websites I love to catch up with. If you like what you see, please go check out their tour pages and see the other latest content from the links I have provided for you to view! Have a good one… and here's hoping this makes for a better start to your coming week! Enjoy!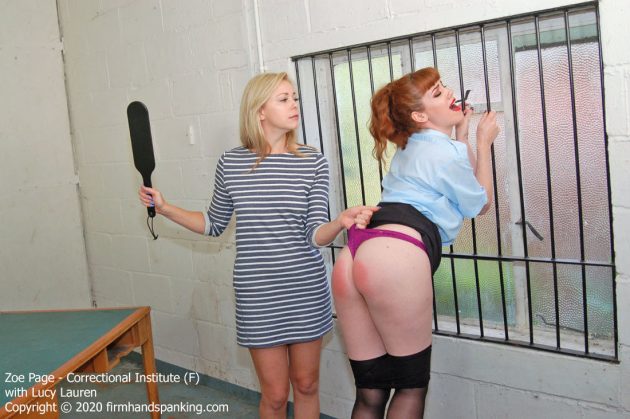 Prison officer's bare ass paddled as revenge: red hot punishment scene! The painful, stinging smack of a wooden paddle across prison officer Zoe Page's bare bottom can be heard outside her office as inmate Lucy Lauren exacts revenge for months of abuse in Correctional Institute. Awesome 20 swats counted out, plus many more before and after, leave Zoe's bottom red raw. Check out the slow-motion bouncing booty replays!
See more of this preview & series only at Firm Hand Spanking
After a friend's night out, Veda comes home alone. Refusing to rat out her friend, she is soon bent over the bed for daddy's belt. Still refusing to talk, her pants are pulled down for a spanking across his knee. Veda whimpers as her bottom gets spanked swollen and red.
See more of this movie only at Assume the Position Studios
Jill Kassidy and Britney Light, the two prettiest women in spanking today, are caught spanking and playing with each other by Daddy who spanks those pretty naked bottoms hard and gives Penalty Swats too.
See the full-length movie of these sexy girls at Worst Behavior Productions
Michael receives an email that Kiki had been paddled at school, so upon her return home, he demands to see her bruised bottom. He then follows up with a bare bottom whoopin' that she will not soon forget.
See the latest hard domestic punishments featured at Real Spankings
Or visit Real Spankings Pass – offering you THE BEST value (8 sites for a fraction of the combined cost)
Bambi is an industrious school girl who has started running a small business from her dorm room. Unfortunately, some of her stock was intercepted by a concerned mail room staff member…since one of the boxes that arrived for her was clearly labeled as coming from a sex shop. The headmaster has come to Bambi's room to have a word with her. Bambi seemingly has no idea why her new money making scheme of selling vibrators and lingerie to the girls in her building should be a problem…but the headmaster definitely thinks it's a problem!

Bambi is about to learn the limitations of on-campus commerce via a sore spanked bottom and a taste of the Headmaster's strap.
See more of this film & Bambi's other features at Northern Spanking