The last Monday of May is always a holiday, it's Memorial Day in the USA, a perfect way to celebrate those who help protect and serve their country in the military. In Britain, it is a Bank Holiday (which makes Sarah laugh when I tell her that as she is far too literal and thinks that the Brits are celebrating banks (ha!) or honoring them in some way!)
However, my best way to celebrate today is to provide you with some top booty spanking material, all mainly new releases this week, for you all to check out! For those in warmer climes… please enjoy your day and celebrate wherever you are with an outdoor grill, picnic… or celebratory meal and get-together with friends and family. I know I intend to later 🙂
No Daughter of Mine (Pt 1) from MommaSpankings.com
Features humiliating scolding, face slapping & real hard spanking discipline by Momma…
In Part 1 of this lone play film, Sarah was sent shopping for school clothes but comes back with an outfit that is not suitable for her Momma's taste. "No daughter of mine will be seen wearing clothes like that!" Momma says, and turns Sarah over her knee for a hard hand spanking. Momma isn't convinced that Sarah has learned her lesson from a hand spanking and takes the slipper to her already sore spanked bottom for more punishment.


Next – from Sarah's main site is a different film starring myself with the wonderful and super bratty Erica Scott. She is a real handful and spurs people on to punish her with her deliberately poor behavior… oh my!
The naughty Wife – starring Erica Scott at SarahGregorySpanking.com
Erica is late coming back to meet her hubby for their night out. She has been out "shopping," yet comes back with nothing. He suspects she has actually been gambling. Regardless he is pissed that she is late and he has an array of implements laid out for her to choose from. She chooses a short strap, a riding crop, and the nasty hairbrush. John spanks is naughty and sassy wife with all three of these implements in this domestic spanking film.

You can also join Sarah's 2 sites for less with one set of codes – Sarah Gregory Pass


One of the finest booty spankings I have seen recently comes in the shape and form of Karen Hughes from FirmHandSpanking.com – she is slightly older than the typical model you'd find at this site (which is why I probably like her more as she is different) but perfect in a spanking role alongside Jonny Stockton… so without further ado, in yet another shameless plug for Karen (who has one of the jiggliest spankable bottoms of any newcomer I have seen in a while!) – check out her bare bottom spanking!
Bootylicious bare bottom strapped for partying: Karen Hughes feels leather
[jwplayer mediaid="40995″]
It's party time for House-sitter Karen Hughes – until boss Jonny Stockton finds out and decides to give his new leather strap a taste of Karen's juicy rear. First on denim shorts, then panties, finally bare, her cheeks take a licking to remember…no more parties!
See the full series of Karen's films HERE


I couldn't ignore Veronica Ricci in a booty spanking special, so here she is in the latest film from Sorority Girls Spanking in which she is the major star appearing in approx half of the videos… which also has Snow Mercy (another major star of this site) carrying out the spanking and hard paddling punishments, this is a HOT spanking update!
Miss Snow (Snow Mercy) calls Veronica into her office to talk to her about becoming the new sorority leader. But Veronica lacks discipline. So Snow teaches Veronica a valuable lesson first over her knee, then bent over her desk with a hard wooden yardstick and finally with the large pledge paddle. Veronica learns a valuable lesson that leaves her bottom bright red and bruised for days. Veronica must bend over and stick out her already sore and hot red bottom for Miss Snow for swats with the solid paddle, watch her beautiful bubble butt jiggling and glowing cherry red!
See this excellent sorority paddling video with Veronica Ricci – in full – HERE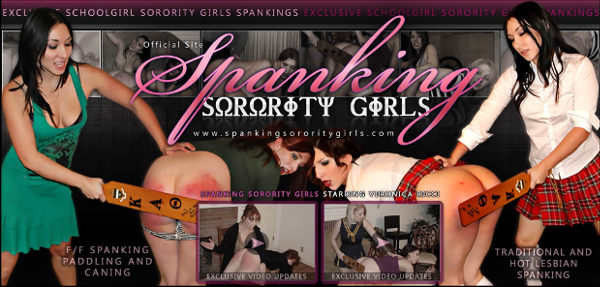 This site can be viewed as part of the Clare Fonda Pass giving you access to 5 premium sites for a fraction of the combined cost – see more info on this amazing long standing offer HERE


I have always been a huge fan of Leandra's which was why she appeared at AAA (there are still MORE films to come from her that I haven't seen her portray in such a way… but you'll have to wait for those) in the meantime, the largest collection of films with Leandra in can be seen at Spanked in Uniform – here she is a sexy maid getting punished for wearing "granny knickers"
Sexy maid Leandra was sent out to give a strip tease but the next day the agency got a phonecall from the client saying that she wore unsexy Granny Knickers and that spoiled the whole strip tease. Leandra was called and she got a good scolding followed by a sound OTK spanking. She was then told to go back to the client and this time, with no knickers on, she was to play the naughty spanked maid!


Finally, one of my favorite bubble butt ladies, Audrey Sugarsmacks – who appears almost exclusively at Punishedbrats.com stars in 2 recent spanking roles… you might want to check this out… a fitting end to today's "Booty Spanking Special!"
The Contest – Audrey's handspanking
Audrey thought that her ample bottom gave her an advantage in the spanking contest between she and Bianca. She had underestimated the power of the tall red head. After being spanked by the tall redhead, Audrey realizes that this contest will be difficult to win!
See the full film of the contest HERE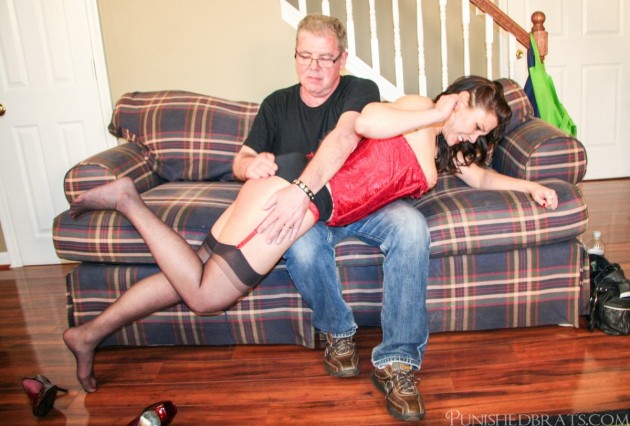 This is the 2nd part to "Pin-ups" – featuring Audrey exclusively in this scene!
After Audrey and Mandie left the pervy photographer's studio, Audrey's agent brought her back to apologize and get paid. When she refused to do so because of the photographer's questionable behavior, she was taken over the agent's lap for a lesson in showbiz.
see the conclusion to this film HERE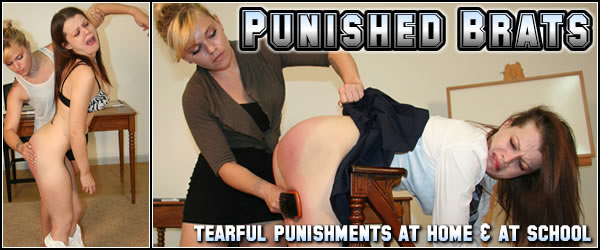 Later this week… the BIGGEST Spanking Party to hit Texas finally takes place!
The biggest state in the USA (okay, 2nd biggest behind Alaska!) hosts a typically humungous spanking party in The USA's 4th largest metropolitan area of Houston, with easy access from either of Houston's 2 largest intl airports – Hobbie or George W Bush … you'll be impressed to know that the party has secured 3 full floors and sold ALL suites in the hotel for the Lone star Spanking Party. We look forward to seeing you good folk there from Thursday until after the weekend! This is the 1st of what promises to be many more great parties in this great city!