To everyone in the UK having a flutter on the biggest horse race of the year – The Grand National, over half the population, it is said (including me but I will only tell you if I win, lol) – Good Luck to everyone!
… & they're OFF!
The Grand National – One of THE most gruelling & competitive horse racing events in the world!
Some of the notorious fences & jumps  now have a safer internal structure if the horse plows through them.
***********************************************************************
OK, not much time… so no messing today, let's just get you your spanking fix so I can get on top of my updates. Here's to a great weekend… starting with Mike and his girls at Spanked-in-Uniform.com in this latest yarn from his sexy "50's Diner" waitress uniform series.
Chef Mike hired a sexy mature maid Melanie from the Sexy Maid Cleaning Agency to clean the restaurant but she did not do her job properly and was quite lazy. He phoned the agency and they told him to deal with her himself. Chef decided to show Melanie first how things were done at the diner and as little Loni had a spanking coming anyway, he spanked Loni in front of Melanie who was quite shocked and appalled…
Melanie watched little Loni get soundly paddled, with disgust and astonishment, then she was given the option. To take the same paddling and get paid or leave right then with nothing. With much protest Melanie agreed to the paddling and she was soon across Chef's knee getting her lady bottom paddled good and proper! You are never too old to be spanked in this Diner!
Check out this and all the other 13 fantastic uniform spanking themes HERE
**********************************************************
I can't believe I had never seen this next film before in the vast archives of NorthernSpanking.com – it is a stunning film with Amelia jane Rutherford, and the lovely Syra Garcia who has a hand (and bottom) in this film with Mr Lewis being very displeased about his resulting haircut at Amelia's salon… read on and see the fantastic pics from the film.
Mr Lewis rocks up to Amelia Jane's world-renowned hair salon to have his "film-star looks" toned down a little. Unfortunately, his first encounter is with Syra, whose deconstructionist approach looks more like straightforward demolition! Amelia has told Syra before about doing things she should not, like cutting hair, and punishment is swiftly applied to her bottom, once her slutty leggings have been removed!
Yes, that really was one of the rare times Amelia punished another girl on film… afterwards, Amelia Jane attempts to rescue Mr Lewis' haircut, with limited success, prompting further punishment, this time on her own posterior, with a paddle!
This is just one of many outstanding films with both these ladies that you should not miss! CLICK HERE
*****************************************************************
There was also a fantastic clip with Autumn, who, for some reason was wearing a blonde wig, but I guess it worked, as she did look pretty damned hot in her spanking punishments… this one is taken from Real Spankings Institute and this is just one of the many she had at this schoolgirl punishment site.
Autumn waits for the Dean, Mr M… to arrive to give her a punishment for slacking off
The below are actual screen images from the film
This gives you a better idea of what really happened during her punishment!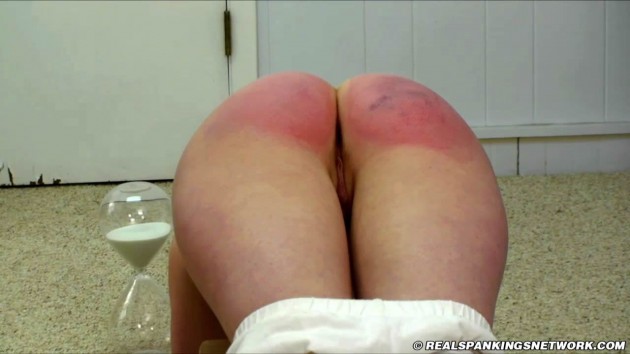 Autumn is punished for slacking off in Gym Class so her yoga pants are pulled down and she is strapped hard and without mercy and left to think about her punishment with a burning bottom in the plank position.
CLICK HERE to view the full film & MORE of Autumn's punishments
*********************************************
OK, that's it for today, I will be back tomorrow with some more outstanding material for you to peruse over… I now have a race to watch! "Tally Ho!"