Storms in Scotland so severe that winds in the highlands were recorded at 165mph, wind turbines that can't handle the wind? Yup, you couldn't make this shit up but it happened… (see below)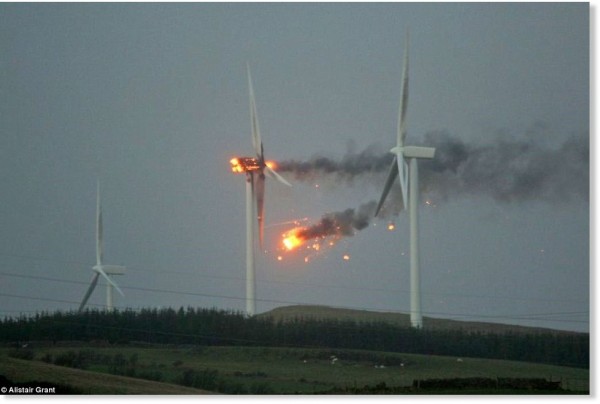 A wind turbine that can't handle wind? *groan*
Then torrential rain across much of Britain yesterday, I even got caught in conditions so miserable it took me 5 hours to drive 150 miles and most of that on the motorway network… I have been watching the hilarious "snub" by Sarkozy to Cameron after the latest Euro Crisis summit when Britain once again becomes the most despised country in Europe (I won't elaborate as this is… after all, a spanking blog!) So as I nervously celebrate us being an island nation let's check out offerings from around the world and I am going to choose Amber today to kick start this off as she is delightfully escapist and just the spanko tonic I need as you'll see in her latest offerings and you get a bonus feature as a member of her sites which I will elborate on in a mo.
A couple of naughty spanking web cam shows and some of the hottest self spankings ordered by her paying customer are in order, first fucking herself with a dildo on the pole then paddling her beautiful bottom so we see it turning red! Next up, a request for Amber in a schoolgirl uniform as she lists the things she has done wrong which means she has to punish herself in front of the webcam… and her customer isn't happy until she is close to tears! & he (& we) get to see it all!
Amber's members also have access to her cam shows when she is online, a fantastic bonus as she is VERY naughty , gorgeous and worth viewing! Check her out HERE
*************************************
Punishedbrats.com has some amazing new films and a full update of one of my fave new girls they are featuring, plius a bonus with another return by Beverly Bacci who knows how to give naughty girls a hard thrashing when needed and here we see her teaching Pi a lesson. Pi is one of those girls ith an incredibly sexy body and wiggling bum that is difficult to take your eyes off once her cheeks are bared for punishment!
Another girl from this site in a brand new film is Lily Anna and she looks amazing in this OTK spanking film as you'll see below!
Lily Anna is horribly jealous that her sister is getting all the attention from friends and family having been away at college. But when Veronica focuses all of her attention on Lily's backside with a leather paddle she learns it can be quite painful to be in the spotlight.
See the very latest updates unique to Punishedbrats.com
*************************************
I voted for Sarah who you will see next as one of the best Brit spankers and you can see why at her own site as she takes time off from getting her ass thrashed by Mr Stern to dish it out to Holly in a revenge punishment!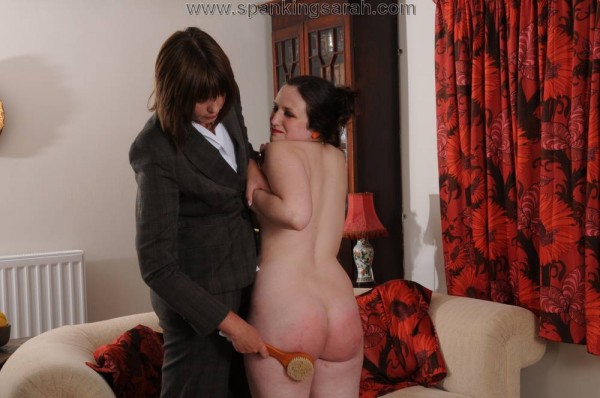 This is the start of a new series of Unladylike Manor. This one is called Partners in Pain and it brings together the joint spanking talents of Mr. Stern and Sarah. Between them they hope to have fun spanking and punishing as many pretty young ladies as they can. Before they can get on with that Sarah has a score to settle with Holly, she was the cause of Sarah getting an extra hard caning and now she will suffer. Sarah wastes no time, she takes the girls clothes off and then making her display herself in just the most humiliating way she beats her very hard with a nasty wooded paddle.
*******************************
You can also see Sarah's work now showing from her recent trip to Holland at Mike's site Spanked-in-Uniform.com and here is a rare F/F film, but you know this is just part 1 and as her poor spankee, Jolene… runs off blubbing to Mr Johnson! oops!
Jolene, the daughter of a local well known Baron attends the cheerleading class at The Rockford School Of Dance but her parents have given strict instructions to the school that only they are allowed to spank her.  Her coach Miss Bright finds this unfair and when she caught Jolene slacking during practise, she decided to take matters into her own hands and give Jolene a sound spanking. Jolene however went to Mr. Johnson and told him about the spanking. You just know she's gonna get it in the next episde, don't you?
See all the very latest episodes, there's plenty more featuring Sarah as well as Mike's unique Dutch girls getting a hard good old fashioned "schpaaaanking" CLICK HERE
******************************************
Finally, check out these beauties, the movie is far better than the images here as they look a little staged (and they are) but the girls are gorgeous… and yes, Ms Law is back and as mean as ever!
Gym teacher, Ms Law, walked into the locker area and overheard Becky talking about how she gave a killer blow job to her boyfriend. The teacher got really angry at this boasting blonde slut and wanted to teach Becky a lesson. She bent Becky over her knees and started to spank her bottom. She then pulled her panties off and spanked her harder and harder! Watch as she gets a lesson she will never forget.
Badtushy's newer films are all HQ-wmv and downloadable to your PC. I am only recommending this site as I only really view their new films but some of the older stuff is DRM protected which is a apin in the ass as once your membership ends then you ose access to those, but you don't with all the newer content, thankfully.
Anyway, the site is still worth a look, especially for some of the sexiest looking girls who get a bare bottom spanking!
****************************
& on that bombshell, from hated Great Britain… I bid you goodnight!