Hi everyone, just a quick update to keep you going and it won't have been advertised anywhere else yet as it was only released a few hours ago…. Today's post features a TON of images for you to ogle over… the reason this update was a little late at AAA was because Sarah was busy and I couldn't help her get this out on time either as I had been visiting relatives before the Xmas  period gets under way and they were in the middle of nowhere with poor internet connection (oops!) – However, it is now out for members at AAAspanking.com and stars the beautiful and very sassy Lola Marie getting a pretty severe discipline session (you only have to take a look at the Preview clip of her hairbrush punishment to see what I mean & I'll let you know where you can see a free preview of that later).
This video comes with approx 150 screen grab images (there's a lot of action) and about 60 High Res Stills which compliments the video so it's a good sizeable update for members to view! I have some sample images, all reduced in size but you'll get the idea! I can remember this film like it was yesterday… it was a hot summer's day (July 2013, the day before Dodgy Dave & I left for our first trip to Las vegas and Nevada/Arizona) and we had been filming outdoors and these were the last vids of the day and I mentioned to Lola that the last film was going to test her… and that it did. It might have been a video with a lot of banter (Lola Marie can't help her sassy attitude, of course) but there were scenes, especially with the wooden implements that I guess she was a little uncomfortable taking but she did it through gritted teeth…. otherwise it would not have been a punishment, would it? The hairbrush, bathbrush and a hard wooden paddle were used as well as some stinging strokes with a carpet beater, six strokes of the cane and I believe there was also a heavy double stitched leather strap… all in all, poor Lola took quite a spanking punishment!
Read on and you'll find out why…
Lola Marie was a specialist Personal Trainer at a Kink Friendly Gym Club. She was aware that as well as exercise, club members would practice discipline sessions in the basement. She had been called to the basement before her shift one morning so knew something was wrong! The Gym Owner needed to confront her over an issue brought up by some of the members. She had been mean & working some of them too hard so they had requested that she be disciplined to teach her a lesson. Lola was aware something like this could happen & was paid a lot of money within this kink friendly environment. Her attitude got her into trouble with the owner & she had to accept the consequences… she was spanked to start with then placed on the bench, mouth gagged to keep her more compliant and then a variety of implements, both leather and wooden, were used across her bottom including the dreaded bathbrush, carpet beater & a horrible looking tawse! Finally, Lola Marie was caned on her already sore bottom & told to reflect on the error of her ways!
Images below are taken directly from the video…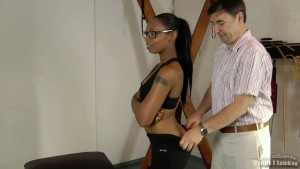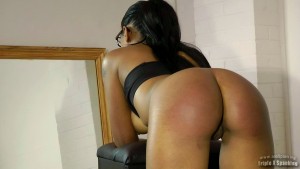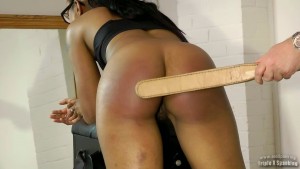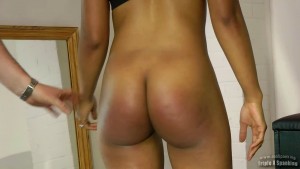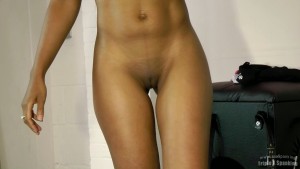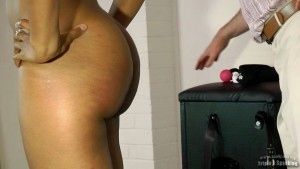 Lola needed some aftercare and reassurance after this punishment.

This video can also be downloaded at the Clips Store HERE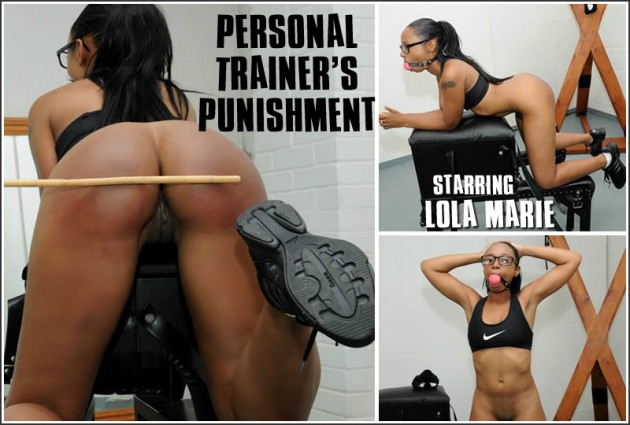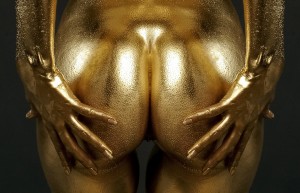 Don't go too far… as I will be bringing you news of the next category to vote on in the Spanking Awards as well as results of the Best Facial Expression in a Spanking. Laters!
You can still vote in the following categories at the time of writing: