Here's a fun recap of a spanking (cum) porn star from the Uk I like a lot… I have done some fantastic custom shoots with her in the not too distant past and she has also appeared at AAA Spanking and POV Spanking (and I will recap that another time) but I wanted to focus on one site she brought some naughtiness and fun to… which is usually quite austere… & that is Bars-and-Stripes.com – the infamous girls prison spanking site that follows them from their intake to the various punishments, spankings and beatings that goes on behind closed doors and in the cells. Being an all girl prison, lesbianism is often rife, or girls have nothing to do but think about their freedom, I like the dream sequences that they come up with too… anyway, let's focus on Chessie's progress from the day she arrived to where she is now – still incarcerated at Bars-and-Stripes.com
New inmate Chessie Kay arrived at the prison. She has been sentenced to 18 months for soliciting. Officer Dodge was in charge of her intake and he soon had the cheeky little madam over his desk spanking her when she wouldn't co-operate properly. Soon after he ordered Chessie to change into her new prison tunic and then she received the rest of her punishment. She tried everything to seduce him to avoid his painful hand but she only ended up getting more hard spankings on her ever so inviting, spankable ass!
New inmate, Chessie, was later summoned to the Governor's office but when he got there the little madam was bent over the desk, bottom bare, fantasizing about being spanked again! He decided to oblige her and gave her a good spanking but he soon realized that she really enjoyed having her bottom spanked and this wasn't really a punishment! (Good viewing for us, though!)
What goes on in the cells is just as naughty… I am actually wondering if she was the naughtiest slut to ever visit this prison, she'd have to be right up there with the best of the bad girls! (Which appeals to my perv loving nature).
You may have seen this already, but I'll show it again as part of her ongoing story…
Officer Zoe Page caught inmate Chessie masturbating openly and provocatively in her cell and chanced some intimate playtime for her own amusement. Zoe decided to play some naughty games with her which involved spanking Chessie's sexy pert bottom and paddling her cheeks red while she made Chessie play with herself. This was a lot of naughty private fun which they kept their secret!
The Governer decided to pay inmate Chessie Kay a visit to see if she was behaving herself. The little madam decided to try and flirt with him and she acted like a little slut to try and get out of the spanking she knew was coming. No such luck, of course. Her bottom got exactly what it deserved and this wasn't playtime!
Hmmm, I am getting a theme here that Chessie is a bit of a slut (LOL) – well, the latest update pretty much confirms our worst (or best depending on how you see this) suspicions as she is STILL brazen and defiant. This girl can't keep her fingers away from that wet aching pussy of hers! Check out the very latest in this ongoing story…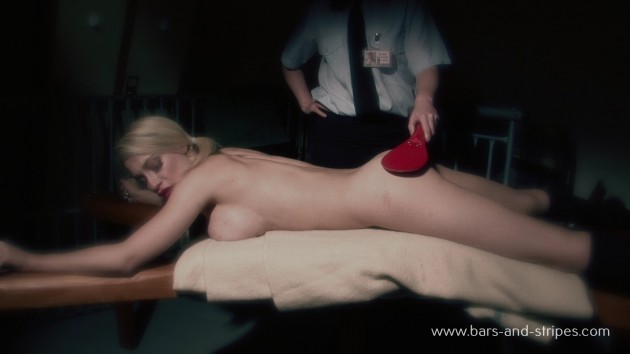 This latest 22 minute long video features the lovely and incredibly sexy Chessie Kay who masturbates and orgasms while fantasizing about different Officers and implements used on her bare bottom as she imagines them turning her luscious little bum a fiery red.

You can follow all the going on of Chessie Kay at her well followed Twitter feed HERE