This film was great timing… it is the latest new full HD release now at AAA Spanking and stars the amazing Lily Swan – I had just finished filming with her and Joelle Barros yesterday alongside Sarah Gregory in our 1st joint venture of the year… and what a day we had (even if I got a little grumpy, ahem – tell you later). Anyway, this film featured here today kind of reflected the nature of what Lily requires from time to time… and something she doesn't always get. She admitted to us that she is a painslut and wanted lasting marks from our shoot yesterday (who were we to argue otherwise?). I am pleased to say that she got them alright… and how! She informed Sarah this morning that the previous day's filming and severe play were still there, which she loved! As I said, I'll try to get some images of that at the end of this post… but right now, this full HD film is out for download with a screen grab gallery and a bonus stills set which highlighted just how red, swollen and sore her buns of steel got at the previous shoot we worked together on! I really liked this short, sharp, shock film… not much build up dialogue needed, this was what Lily wanted, a thrashing… she got a leather paddling, a wooden paddling and a caning bound by cuffs, naked and vulnerable on the St Andrews Cross! I'm not sure if this is to everyone's taste, but it looked awesome… and what with the impending "50 Shades of Shite" film coming up, why not have a little kinky bondage/spanking maintenance play for once, eh?
All images below are courtesy of AAAspanking.com
"Pain Slut Maintenance"
It's a tough job, but someone has to do it! Lily Swan requires a routine of various spanking and maintenance punishments to keep her rebooted and she is never happy unless her bottom has a constant reminder of further consequences in her private life if she strays from her disciplinary path. We join both Lily & John in one of their typical short sharp shock sessions as Lily is tied to the St Andrews Cross, naked and vulnerable, the way she likes to be punished! Today Lily feels John's strap, wooden paddle and a cane in order to redden her bottom back to full crimson glory! Not much is needed to be said once this session starts, just see how a beautiful young woman needs and takes a good hard discipline session at her own request.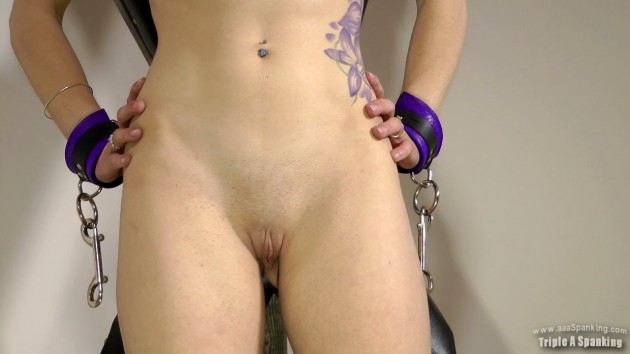 CLICK HERE TO VIEW THE MOVIE CLIP
**************************************
Also available as a full one time download in the format of your choice HERE
*******************************************
As I mentioned, both Lily & Joelle filmed with myself and Sarah again yesterday and it was a long but very fruitful day with some amazing stuff shot on the cams. I wanted to make some more traditional stuff (which I got) as well as a very sexy girl/girl 2 part spanking film which I know will be just amazing when it gets edited. I also made some new style POVs which Lily rocked! Joelle very nearly didn't make it as she was ill at the weekend and was so sweet and apologetic that she might not be able to make it, but I am so glad she did. Likewise, Lily battled through the terrible snowy roads here at the moment, and the poor thing had a flat tyre on the way home so had to wait over 2 hours for AAA (not me, Americans will know what I mean, LOL) to come help her out! Actually over 2 hours to wait for roadside assistance is pretty poor as I know in the UK they promise to try and get to you within an hour TOPS (unless you're on a mountain pass in Scotland, of course). Oh, and for some reason, I got a little grumpy near the end of the shoot, I think this was because I was STARVING… I'm on a new diet and fitness regime… so I think that started to show (and with that, I will be off to the gym in a mo for a long workout!)
I have got a few behind the scenes images from our films yesterday of Joelle & Lily… all this to come at the SG Group sites soon!!!