I have news of the 2 most recent movie updates now showing at AAA Spanking and they both feature 2 new girls including one not seen on any spanking website until now! As well as the updates, I have a series of early show images taken from 2 recent film shoots that I had just complated in the UK. These 2 separate shoots are the first of many planned in the UK for this year so watch our for lots more amazing content that we are known for – coming soon.
But first here are the very latest films now showing at the site, with the most recent showing first! So please welcome Kali Danes in her first showing at AAA Spanking in a special 3 scene feature that has her spanked in 3 positions, by hand, Compliance Discipline strap (made by renowned Ouch UK) and a thick leather razor strop for a fitting finale. Kali can take quite a punishment and welcomed one of our favorite male tops, Johnny Lake, to turn her bottom an angry red… a challenge Johnny relished!
Say "hello" to Kali Danes. Please welcome another stunning debut performance at Triple A of a real lifestyle player. Nothing entertains submissive Kali more than pleasing her male tops – showcasing an amazing tolerance level that she possesses during impact play. She chose to work with one of our favorite male performers, Johnny Lake, at a recent party. You will watch her take a hard spanking and strapping in three seperate scenes and each one is packed full of action. No long introductory dialogue or storyline, just the spanking from the start between a couple who make for wonderful viewing.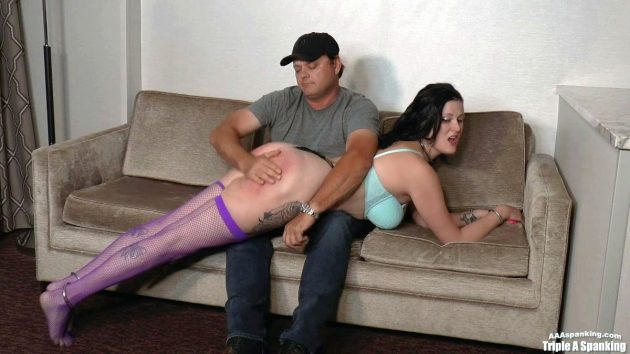 In Scene One: Kali is spanked over Johnny's knee, her bottom is already glowing as we join them mid flow, no warm ups, no talking, just good old fashioned hard,hand spanking. For lovers of OTK this is a must see.
In Scene Two: Kali is bent over a couch, her bare bottom exposed to the hard administrations of Johnny's leather Compliance Discipline Strap. This strap stings like hell and it is used a whopping 200 times without stop as Kali takes each and every swat given to her.
In Scene Three: Kali has her bottom stuck out and her back fully arched. The cheeks of her bottom are stretched more in this precarious position as she is given a similar relentless tempo of 70 measured, severe follow through swats with Johnny's trusted thick double edged Leather Strop.
Or download the full length film at the AAA Clip Store (click image below)
Fae is new to any dedicated spanking website…  she is best known for being one of the best known cover girls at ABDL Dreams – naturally, over the past few years, both Sarah & I have really loved the crossover of ageplay and especially age regression/humiliation scenarios that spanking and diapering brings during a punishment roleplay! Fae is local to Sarah and is available for custom work! Just take a look at this stunning debut performance as Fae gets a spanking and diapering from her mommy, played by Miss Bernadette, in this delightful late 1960's style. Wetting her knickers at school to get out of schoolwork has dire consequences… as you'll see (below).
We are proud to bring you yet another new first time performance from one of the ABDL world's best loved performers, Fae. This is a fantastic debut as she is dressed in a cute authentic school uniform, in a believable late 1960's setting. Naughty Fae has been wetting herself at school, and mommy finds out, believing that her daughter is using this excuse to get out of exams, tests and leave classes. She confronts her after school and gives her a chance to own up but Fae tries to cover up her obvious shame and lies to her mother. This doesn't bode well for her as mommy explains that she knows everything, telling her what will happen next.

Fae receives a humiliating over the knee bare bottom spanking as her regulation knickers, with double cotton gusset protection, are pulled down. Soon her cheeks are burning red as the hairbrush is also used to properly tan this deceitful little madam! The final part of this punishment involves severe age regression as her private parts are powdered and she is placed into a large, old fashioned white diaper. She can not move without the embarrassing sound of the padded outer layers crinkling… she can barely look at mommy! Then Fae endures a final scolding and embarrassing spanking on all fours, still wearing her fresh diaper, to remind her not to act like a baby. She should learn to grow up when she is at school or she will endure more punishments like this at home!
Or download the full length film at the AAA Clip Store (click image below)
If you haven't seen my recent tweets, then you will have missed some early preview shots (these images are taken with my phone but they are pretty good as you'll see). many of these shots were taken as we were filming and not staged, so this is what you'll see… some images are naturally some fun images that show you what we got up to behind the scenes!
Film shoot with Zoe Page & Lucy Lauren
What can I say? These two ladies were simply awesome! Zoe has worked with us many times but Lucy made her first appearance and they produced one of the most visually stunning spankings I've filmed in a while from a new uniform series called "Spanko Air" this will chart the lives of various flight attendant spankings scenarios… in believable uniforms (not costumes, which are just tacky… I hope you appreciate the effort we put into this!) – We also shot scenes outside for our other sites with yet another real soccer uniform… anyone care to guess which English professional team this was loosely based on and why? & of course, lots of other amazing stuff filmed including schoolgirl spankings and more content for our forthcoming Intimate Spanking site (coming soon!) – Enjoy!
A few days later I filmed with Lola Marie once more, she is one of my favorite ladies to work with and she did NOT disappoint… including a first time mouthsoaping and some pretty hard canings at the end with her restrained in a humiliating naked caning punishment! We also filmed a cracking outdoor/indoor two part schoolgirl discipline movie… with a great new uniform! Check it out!
So plenty to look forward to, I think you will agree!!!