A few spanking updates to start your week, the first is an old series of a hot model from Firm Hand Spanking called Ashley Thomas. She could take a good spanking. I'm showing you some of their archived stuff as I hate to be negative – but recently it has all been bloody Alison Miller on nearly every update. This site is so much more than all about her. I refuse to ever show anything with this clown so that is why updates recently have been sparse from FHS as far as I'm concerned. However, things are looking up as a new series of Dani Daniels (without Miller ruining it for me) is starting, so more cause to celebrate! Also, the archives at FHS are awesome and worthy in their own right as I demonstrate here!
Life Coach series featuring Ashley Thomas & Patrick Bateman (from 2013)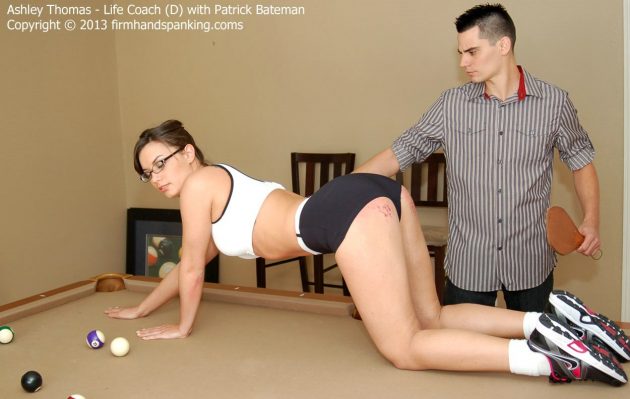 "A very stern lesson about time management and responsibility," Patrick Bateman tells tardy Ashley Thomas in Life Coach. She nervously lies flat on a pool table for a 75 swat paddling on shorts, panties and her red, bare bottom. This scene also includes a hot "Reaction Cam" slow-mo replay!

A brand new hard and severe punishment film has just been released in the "discipline section" of Girl Spanks Girl and this is really rather good! Maddy can take a hard spanking and Bella can dish one out! I liked this storyline and it features lots of things you don't always see in Female/Femdom at this site like face slapping and far more humiliation including use of ropes. Check it out (below)
Punishing Maddy The Spy – with Maddy Marks & Bella Bathory
Maddy Marks is a spy who will not give up the name of her contact. Bella Bathory is the dominant woman who is assigned to get Maddy to talk. She punishes Maddy severely for nearly an hour, with hand spanking, hairbrush, whip, paddle and cane – even face slapping. Will Maddy give up the name of her contact? Tune in to see! (I won't spoil it).
This site is part of the Clare Fonda Pass network giving you access of up to 5 premium sites for a fraction of the combined cost of them all. See more details on this HERE or on the banner below:


I thought I had covered this strumpet model at Bun Beating Fun but obviously I hadn't so please let me rectify this immediately. Below are some awesome facials and some fantastic hard hand spankings making her wobbling bottom speckle in shame!
Vanessa Vixon – This week's featured Red Hot Video Productions model.
She spells her name with an "o", but the definitive vixen she most assuredly is.

vixen (vik-san) n.
1:  A sexually attractive woman.
2:  An angry unpleasant woman: SHREW

Vanessa here fully fits the bill on both counts and as an added bonus, we were quite pleased to discover that her's is a very, veeery
sensitive bottom indeed.  Even her own agent wanted us to spank this disagreeable shrew's bottom red raw!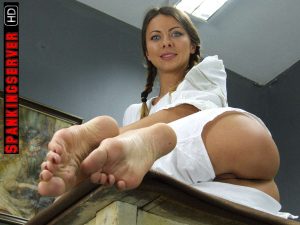 Here's a gorgeous model I've not often featured from Spanking Server – members will have seen Tyron this past week taking the birch dressed in white bloomers. She is also placed into stocks (I LOVE their contraptions). Needless to say she can't rub her poor stinging bottom until she is removed from the stocks. It's a lovely short sharp, shock film which is one of 10 new short clip updates every week at this site. You will also be able to view Tyron in their archives with many varied spankings including a pussy strapping in the Gyno Chair as well as canings and more traditional hand spanking scenarios. I'm not sure where she is from (Hungary or Slovakia at a guess) but she is striking and worth the entrance fee alone! See some screen grabs from the latest clip now showing (below)

Finally today, the adorable Linny Lace takes her final session with Chelsea Pfeiffer at Good Spanking in the "Spanking Ranch" series. Wow, Linny is a perfect naughty bratty spankee. Beautiful! See the results of her wooden paddling, caning and switching punishment across that oh so spankable butt (below).
The Spanking Ranch – with Linny Lace & Chelsea Pfeiffer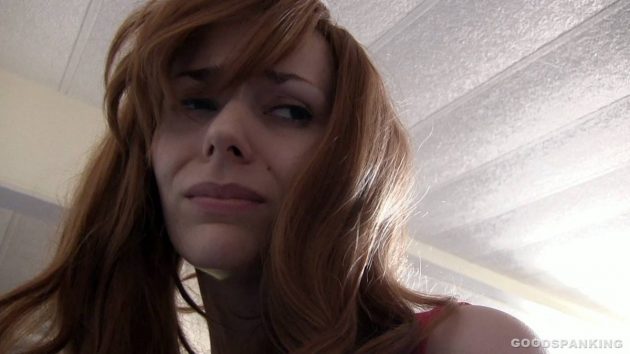 Linny takes her final and hardest discipline session on her last day at Chelsea's Spanking Ranch. Lovely Linny takes a very hard paddling with a very large wooden paddle. But, it's the final caning with a switch that really stings!


I'll be here waiting for you to update more spanking updates!