An exciting new film was released earlier today at AAA Spanking starring Sarah Gregory & Miss Bernadette. It's probably one of the most explicit and erotic spanking films released at this site thus far… and although the main theme is the wheelbarrow position it comes with the added anticipation and act of sarah receiving her first buttplug on any spanking site. To be honest, I was surprised she decided to film this but her releationship with Miss Bernadette is such that she had the power of persuasion… and the other unexpected thing was just how excited she got during the spanking itself… oh my! The full film comes with 240 images at the website and some of these images are way too explicit for me to share here… the images and Gifs that I have for you easily showcase this 15 minute film. However, I'm not going to give away all the best bits for free, of course, and there are so many, but you'll get the idea, I'm sure!
I hadn't seen Sarah so excited about editing a film in a long time… she also came up with the film title and was rather proud of her very obvious "excitement" during the making of this… so who was I to complain? See for yourself (below):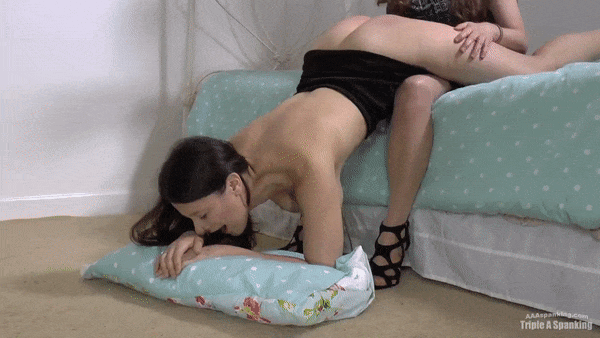 Witness the sensual and very sexual side of Sarah Gregory as Miss Bernadette not only spanks her in the wheelbarrow position, but Sarah is aware that she is going to be butt plugged as well! She is apprehensive and excited at the same time. This video features amazing multiple camera angles and this spanking film doesn't miss a thing! You'll see Sarah's reactions, her embarrassment and growing excitement as this spanking is also turning her on. You'll see up close and personal as her pussy glistens and Miss Bernadette spanks this too in that most delicious, vulnerable position. Add some implements to grab Sarah's attention, such as a leather paddle and hairbrush, then there is the slow deliberate plugging. When it is inserted, her bottom can feel the cold metal as she has no choice but to hold it as she is spanked further. Her pussy is again exposed some more to reveal that she is secretly loving this spanking despite her feeble protestations! If you only ever want to view one sexually provocative wheelbarrow style spanking film between two women, this one has to be your choice. This is seriously hot!
Also features wet pussy play/slapping, ass and finger play/spankings, buttplug insertion & both a leather paddling and hairbrush spanking that reddens Sarah's bottom perfectly…
The FULL HD film can also be downloaded NOW at our Clips Store HERE
Alternatively, this film, and more than 420 others – at the time of writing – (with their image galleries etc) can be downloaded as part of  the membership site starting at approx $25/month (the Annual Rewards membership works out at just $12.50!). This is fantastic value considering the content that is produced!
SEE FOR YOURSELF HERE