Hi everyone… while Sarah and I are on vacation, I just had enough time to bring you a couple of the latest site updates which feature her both as a top and bottom. I think you will like these! I think we also annoyed the people in the room next to us as I gave her a long "good girl" spanking last night, something I haven't done in a hotel room for quite some time. We were at friends recently and that was different as they are kinky and big spankos it wasn't a problem there! I don't know why… but I guess it's my British reserve creeping in and I felt sorry for whoever was trying to sleep near to us… well, maybe not *that* sorry, lol!
The first update is a really hot girl on girl spanking video and it stars Candle Boxxx, a very well known and very sexy fetish model who I had the pleasure of meeting at last year's Fetishcon (she didn't go this year). Sandle was everything I expected and more… she had already filmed at Sarah's main site HERE so this was a great introduction at AAA Spanking – and how! Sarah spanked her naked, OTK on the bed… and then spanked her in the wheelbarrow position for a very revealing and humiliating first time experience for the lover of Puns… Miss Candle Boxxx!
Candle's Intimate Spanking – with Candle Boxxx & Sarah Gregory
This is a very sexy spanking video starring legendary fetish model Candle Boxxx. She met the equally alluring Sarah Gregory (who was voted Top Female Spanker, 2014). It was filmed at one of the recent Fetishcon Parties and they made this entertaining and hot spanking film with a twist. Candle thought it was just a naked OTK spanking, which it started out that way… however, Sarah changed tactics and insisted that as she was filming for Triple A – her man John loved wheelbarrow spankings and that she should try it out too! Candle had never been spanked in such a revealing position before and she had no idea how embarrassing or humiliating it would be until she was actually getting spanked like that. Check out the close, beautiful chemistry between the ladies and how nothing was left to the imagination in this erotic girl on girl intimate spanking & paddling video.
Check out the FREE spanking preview of Candle's spanking HERE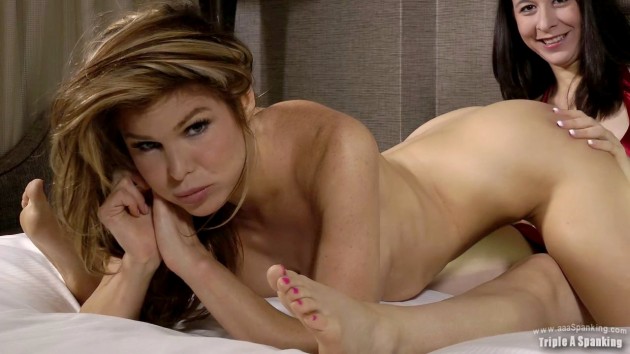 This video is also available in the format of your choice to download as a one time HD1080 film from the AAA Clips Store located HERE (or click on image below to locate the film exactly)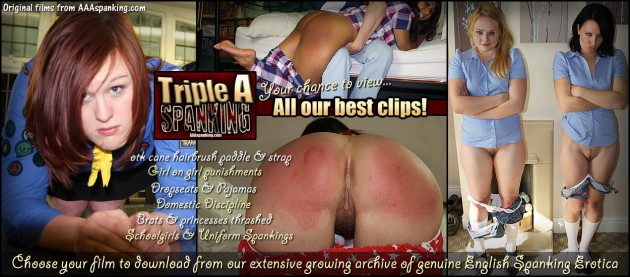 The next film sees Sarah doing what she first did on the scene… getting spanked for being a brat! This is the latest film to appear at Sarah Gregory Spanking with her daddy, Paul "Tubaman" Rogers – and it's a return to a good old fashioned hard (and this was hard!) OTK spanking of sassy schoolgirl Sarah. See for yourselves… I watched this movie to learn how to deal with her brattiness as – I have to admit – I am not good at taking crap from those that give me undue sass in this way… I tend to turn mean and punish them hard and swiftly to stop it. I know Paul's style is different and I enjoyed it…. he allows Sarah to dig ever deeper holes from her poor behavior and then takes it out on her bare behind which makes for good viewing if you like to see a brat get what is coming to her!
Sarah is back bottoming with just as much sass as ever. She has been sent home because of her skirt being too short, but she interprets this as "sent home for being sexy." Daddy is not happy with her, but she continues to brat and talk back the whole time he is trying to reason with her about why she was sent home. He has had enough and takes his naughty daughter over his knee for a long hard discussion with his hand and her bottom.
See this new HD1080 video of sarah getting a much deserved hard hand spanking HERE

For the best of both worlds – see all of Sarah's films from her 2 signature sites as one


I couldn't leave without advising you of a recent addition to NorthernSpanking.com – Harley Havik is back in a delightful costume spanking period piece of bygone Americana… I really loved this and I have a few images for you so you can see for yourselves, description and story credits go to Alex Reynolds.
This is a delightful little film, written by Alex and capturing the spirit of an almost-disappeared part of American tradition; the County Faire.
Harley is writing in her diary and looking forward to the County Faire later that day at which, everyone has told her, she is sure to win the Faire Princess crown and be recognized as the prettiest girl in the County. Everyone, that is, except Alex who has been pipped to the title three years running and is in no mood to see it happen again! Her writing and her happy mood is interrupted by Alex herself. She has decided to ensure her victory over Harley, by means of a spanking, a hairbrush and a very bad attitude!
To see the full update and MORE videos of Harley Havik spanked – Click HERE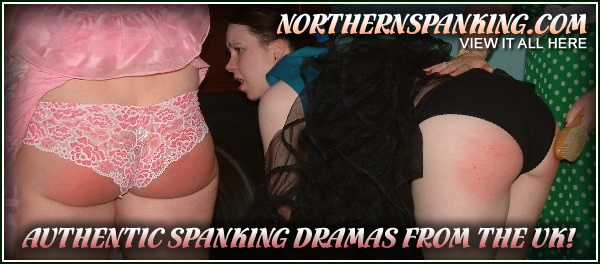 & I had a few people ask via this blog when Stevie Rose would be making another appearance at any of the SG sites… well, it just so happens that her next appearance is at AAA Spanking next week in a hard humiliating OTK spanking and leather strapping next week (it might be sooner on their Clip Store) if I see it there I will let you know in advance! Sarah provided these teaser images for me from the film (which I remember well of course!)