I've been busy at my other job so unable to devote as much time here as I'd have liked to… but that's the way it goes, sometime, eh? I have also been seeing signs that Spring here in the UK is kind of coming, we already have ligher evenings, which is a blessing… even though it's still far colder than normal, the sun has been shining, and mercifully no rain!!! That has been the main bugbear for me these past few years, due to the climate changes… and there IS something significant happening here in England… we are unfortunately getting a far wetter climate. I HATE rain with a vengeance, I hate seeing a wet, grey, soggy day… and that has been the main theme of our ever depressingly familiar weather these past few years – GREY, COLD, WET! So I cherish every blue sky I get to see… those in sunnier or far more temperate climes without the deluges or prolonged wet periods…. please never take for granted that beautiful blue sky colour above and that warm bright orange thing in the sky… it is indeed a natural aphrodisiac, a real "pick me up" that makes us all feel good. Now us English peeps love to drone on about our miserable weather… so I'll stop, but of course, some of us like to talk about, share and discuss all things  spanky… so lets look at a few updates that maybe other blogs won't have today in between some you may have seen recently! I'm in a jovial mood… so let's start with some gorgeous Japanese ladies in various revealing and embarrassing spanking positions – who just happen to be dressed in very cute PJs!
"Naughty Teddy!" The new film from hand-spanking.com
Hmmm, I feel a theme going on here with Teddy Bears at the mo after my much loved F/F  Naughty Mr Bear film with Zoe and Alex recently! Well, this take on a very cute story is just as good with the typically perverse Mommy/Daughter Japanese twist I like so much… check out the images that showcase this movie below: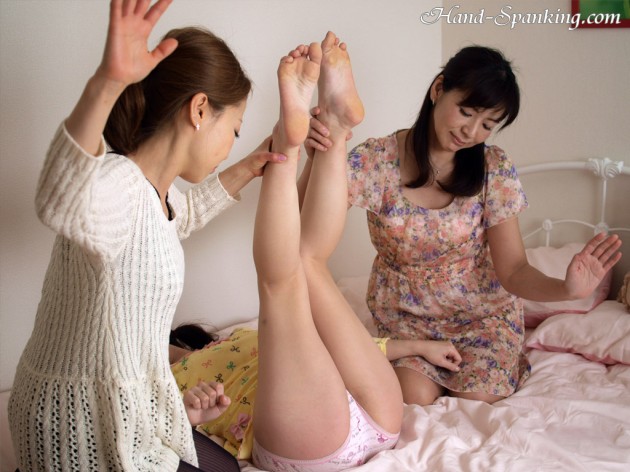 Maria likes to relive her childhood with a severe spanking from her mom and aunt. But the two cruel mature ladies go too far. Maria's faithful teddy is there to catch the spanking action!
CLICK HERE for a free preview of this film
& as I had not brought you news of what is happening at this site for a while, here's another superb recent PJ film, a few images below… of course, one of the girls here is wearing panties underneath her PJs…. I'd have scolded and spanked her so hard for such a shocking misdemeanour! It's also a film about "bedwetting" which I find quite erotic in a perverse sort of way as there are so many possibilities of shame, confusion and control that one can use from the embarrassed party… as happened in this film, check out a few images of this below:
Runa, a student, visits a clinic for her bedwetting treatment. She receives some magical treatments!
sound spankings and hypnotism using an hourglass from the doctor. 
Check out the free preview of this movie from Japan's premier F/F punishment site Hand-Spanking.com
*************************************************************************
In case you had missed it, sacked (fired) teacher, Michael is back at Girls Boarding School (oh no, I hear you cry!) in fact, he's far better and I am guessing time, a lot of time spent with Headmaster Tom over the past 4-5 months has paid off as he has a passion for whacking his unruly girls with a nasty looking carpet beater or cane that has them understandably nervous! There are also a whole new range of girls, sourced from his native Sweden, I think… although all dialog is in English, of course. Check out 2 of the most recent additions to the site – oh, and Headmaster Tom still dishes out his well known brand of discipline too 🙂
Check out new resident Vanja (pronounced van-ya)
Thsi is one perfect girl next door type I so love seeing punished
the above smaller images enlarge to screen shots from the film and as you can see they are now in 1280×720 HD resolution which means we get to see more detail of the spanking and punishment action… as well as some fine image stills that accompany all the movies, you won't miss a single tear of this thrashed schoolgirl!
& if you want a contrast then check out new girl Penny from the very latest film now showing (their 663rd film at the time of writing which is a MASSIVE archive of data and all downloadable with one membership) – Penny has proved very popular and I can see why! She has that quirky unseen girl next door look… and she is deservedly naughty too, so warrants punishment, that is for sure!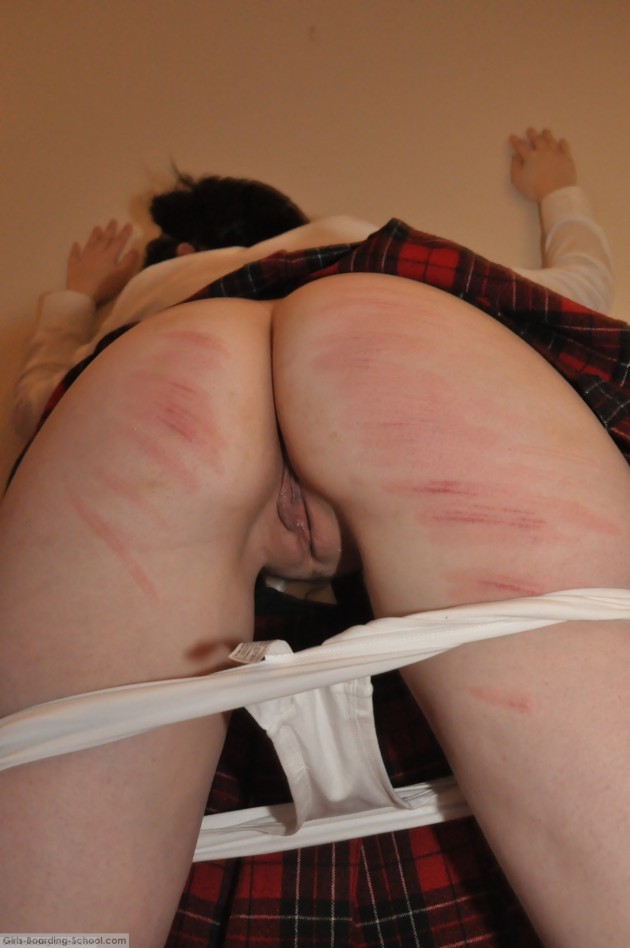 Check out more of the latest hot schoolgirl punishments HERE
***************************************************
I can not believe that I haven't shown you this yet… yes, I know that every blogger and his dog have probably shown this, but in case you are just returning from the planet Mars and have missed other updates elsewhere, please do check out these superb screen grabs from the POV style gaze movie with Alex Reynolds (on her most recent successful visit to us here in the UK) and one of Pandora's partners, and popular top, Thomas Cameron.
Reflected in the mirror, Alex can see Tom's hand rising and falling; her bottom bouncing under the smacks. The glimpse strengthens her determination to obediently submit!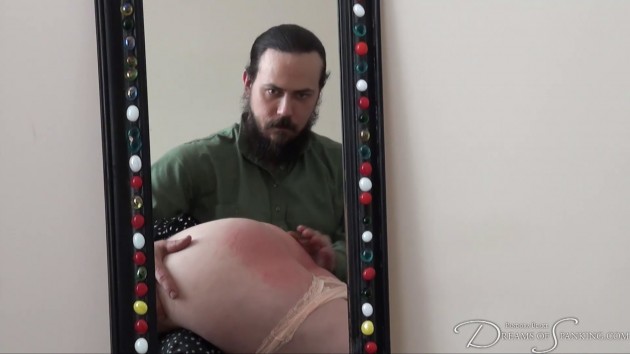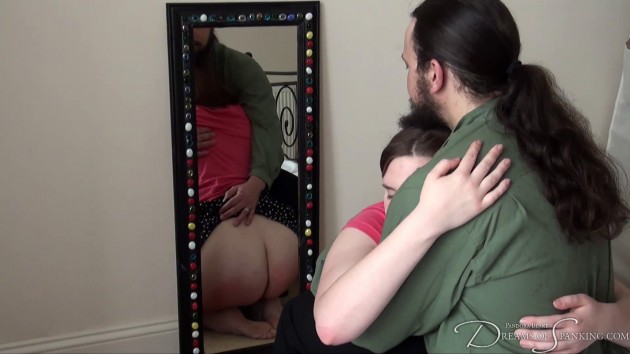 Check out this FREE preview and also a chance to view the latest offering starring Caroline Grey & Amelia Jane Rutherford in an Edwardian style spanking romp at the hands of Pandora herself (as you see, I have been EARLY this time so I hope that visiting my blog you have seen the error of your ways, lol!)
Seriously, this is a beautiful visual treat as you'll see (below)
Amelia and Caroline are sneaking out to a dance in town, hoping to have a little fun, and perhaps meet some officers. Unfortunately for them, they are caught by Amelia's stuffy governess Miss Blake before they even make it past the front door. She hauls the pair of them upstairs and shows Caroline what happens to young ladies in this house when they misbehave. The governess takes each girl over her knee and gives her a firm, no-nonsense spanking with her hand and leather paddle.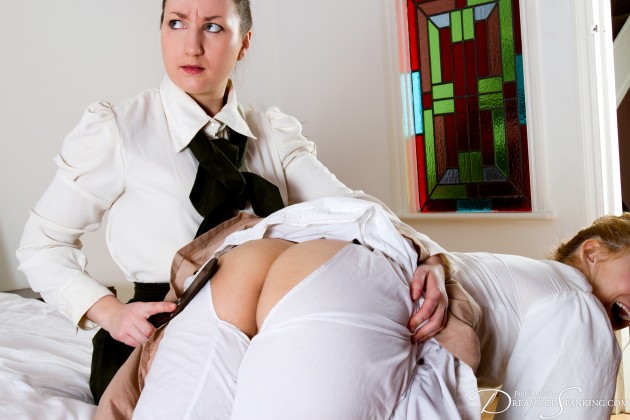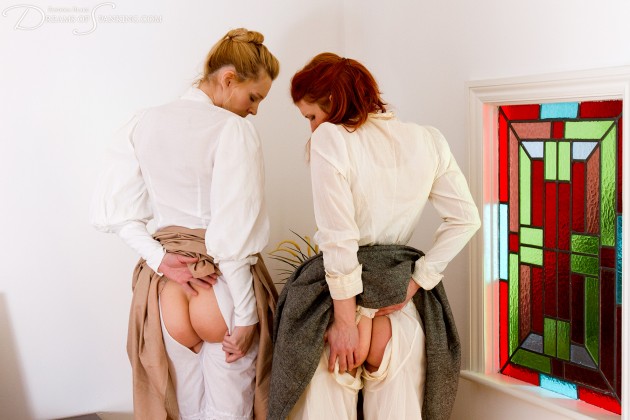 Check out all the most recent updates at  Dreamsofspanking.com HERE
************************************************************
Almost at an end now… here's a chance to see some more unusual and provocative spanking punishments from Spanking Server – with clever use of their contraptions and implements as well as an old fashioned hard hand spanking from Peter himself!
More unique and interesting punishments and oh co cute east European tearful girls can be seen HERE
***********************************************************
Actually I just wanted to end on this image set I have for you as I updated my site end of last week with a massive image gallery that compliments the "No respect" movie (from the "Uncle knows best" series) and these images are reduced in size but you get the idea… and both Jenna and Aleesha certainly get a good whacking in the end to suppress their giggling and smirking…. but I fear this is NOT enough as Uncle Dave has told Uncle John about their poor behaviour & he was far from impressed – so watch out for 2 short sharp shock films coming in the next month or so that ends this series which will see the smiles completely wiped off their faces… that is all I'll say for now!!!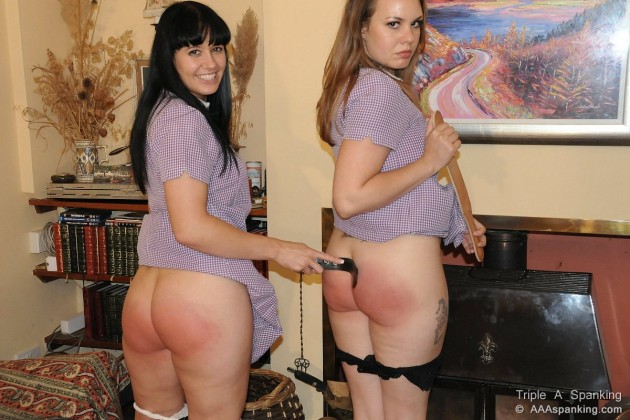 The full film (and this massive image set) available for members at AAA Spanking
*******************************************
Alternatively, I have some outstanding films, including this one which are popular at the Clips Store… including 2 which have not been shown anywhere else yet (the final 2 which feature wheelbarrow spankings – yay!) Click any image and that leads to the download page with the full description of what you can expect, and a small free clip too!!!
*****************************************************
Bookmark this Clips Studio HERE
OK, I better get on, there is another blog post coming here later today!