The following images of a routine cavity search carried out in sickbay at the Prison Reform Institute of Bars-and-Stripes.com should tell you all you'd need to know if you were a foolish young girl sent here! Matron is a sadistic authority figure reviled and feared by the inmates for her cruel and unusual punishments including many humiliating and intimate searches carried out on their person as you'll see below…
Matron gets ready for another cavity search of the most troublesome inmate Leia-Ann Woods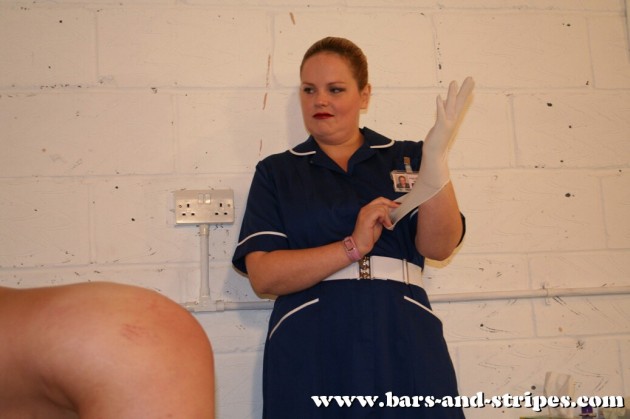 Inmates enter the Sickbay on suspicion of carrying contraband, where the matron strips and searches to find whatever the girls are hiding, to their obvious humiliation… Matron is also capable of dishing out many severe punishments upon inmates who do not obey as you will see below in another incident of prisoner Xela who is close to tears & really upset that she is restrained by guard Jessica Wood as well!
Michael Stamp (the owner of the site) contacted me earlier to see if there was a problem with the CCBill sign up my end as he had received several complaints about not being able to sign up via this method.. and I confirmed (for now) that there seemed to be an issue, however, this seems to have been resolved so I am able to link properly to this site and if you should decide to look a little further into the site and join (and it's well worth it!) then there should be no problem! If you have any difficulty at all, please do let me know at my mail address eubilling (at) gmail.com or leave a comment and I will pass this on to the site owners. But as I said, this should now not be an issue 🙂 Hope you liked my little peek into the murky world and sub section of Matron.  I will be featuring her and many of the unfortunate inmates from now on in a rather exhaustive and investigative review of this site over the coming months which is why this post today only features Bars-and-Stripes.com
Have a good weekend everyone. Chief.