Now, many of you will know that I love seeing girls punished in their pyjamas (or pajamas as you good folk from America spell it) and also the punishment rituals associated with bedtime punishments and spankings… that feeling of dread for a young madam who knows before she gets a good night's sleep, her ass will burn, she'll endure a humiliating and embarrassing discipline session… and lying in bed, gently sobbing as the lights go out… she'll have plenty of time to reflect on this. I also favour those early morning discipline scenarios, where the girl has just woken up, if she got any sleep at all… as she would have been told she would be getting punished in the morning… nothing like a little mental anguish to go with the physical side of the discipline. Imagine her awake at night wondering what the next day would bring… oh," if only she had been better behaved and hadn't got caught…" and so on! I like to think that at my own site, our mind games we sometimes play with the poor girls comes across clearly… I shall no doubt be exploring many more of these themes… under the guise of spanking girls in their pyjamas and underwear *ahem*
Anyway… you've probably had enough of me banging on about my site (although there is a new POV movie uploaded) but I shall let you know about at the end of this post… though it's not strictly POV, since is is a "wheelbarrow film"… and possibly one of the BEST I have ever made! … so don't miss that!!!
Dropseat Spankings are always one of my favourites… Michael Masterson is also a big fan of them over the years as Roxy & Abigail will vouch for when this very recent update of their double dropseat paddling punishment was filmed at RealSpankings.com
See what happens to both girls when they annoy Michael with the continual mess in their room with games console discs and general untidiness bringing out the paddle to re-enforce some strict house rules that they have both foolishly ignored! See the full film and some great paddling scenes of 2 very cute girls only at RealSpankings.com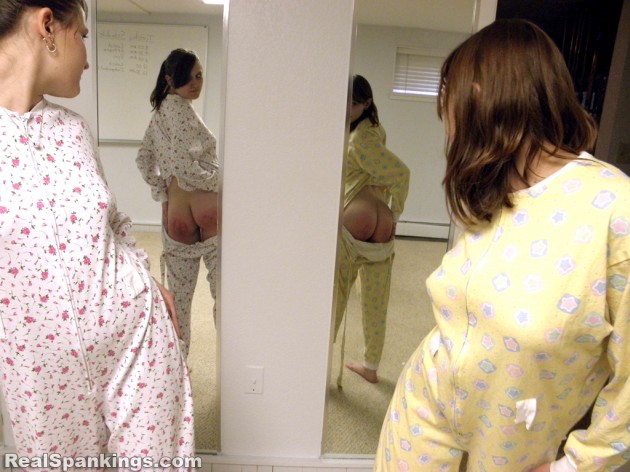 ****************************************************************
Anyone for tennis? Have you been watching the Roland Garros French Open? Clay courts are so much different from playing on grass and seeing this Grand Slam event on TV… it always signals the start of summer for me – even though in Britain we have endured our coldest Spring virtually since records began (global warming? ha!) The French tournament is a fantastic prelude to the next 2 on grass… the warm up at Queens followed by the one and only Wimbledon. So it is fitting that Masie Dee should annoy Paul Kennedy with her and the other girls constantly retrieving their balls from his lawn until one day he snaps and teaches young Masie a lesson about ball control! Images below are courtesy of NorthernSpanking.com
Check out all the very latest spanking entertainment from Northern Spanking HERE
**************************************************
Valerie Bryant from Firm Hand Spanking always does it for me… I love her facial reactions and she has one of the most spankable bottoms on the planet that I love seeing reddened and sore after her punishment! So the latest in the "Learning Curve" series is now out in full… and even though these images are fantastic… for once the movie of Valerie's punishment was way way better than these (I think it had something to do with the fact the natural light was so much better!) take note FHS peeps…do this AND with your kick ass photos – you really do have an unstoppable site on your hands! Anyway, check out the stills below – these set off my "Trouser Arousal" (TM Chief) alarms, so please be careful when viewing any of the erotic spanking pictures and clips that I provide, I can not be held responsible for any such mishaps! Likewise for you ladies, if your gusset overfloweth with joy gazing at such wonderment of erotica… please do not send me the dry cleaning bill. Thank you.
Valerie Bryant's buttock-burning 52 with a leather strap tests her resilience!
Trainee teacher Valerie Bryant has a ripe peach of a bottom! Mr Anderson has her lie over the back of a sofa for 52 strokes with a school strap on her bare skin in Learning Curve. Her teeth-gritting reactions are so powerful, you will see this in the movie too! CLICK HERE for the free preview
****************************************************************
The 2 most recent films added to Punishedbrats.com are carried out by trusted stern disciplinarian, Veronica Bound… she sure has the scolding techniques and firm no nonsense attitude to discipline I most admire in a strong mature woman that knows what she wants… and you'll see that both Pandora Blake and Charlie Skye dealt with in a swift painful resolution to the reason they got punished in the first place!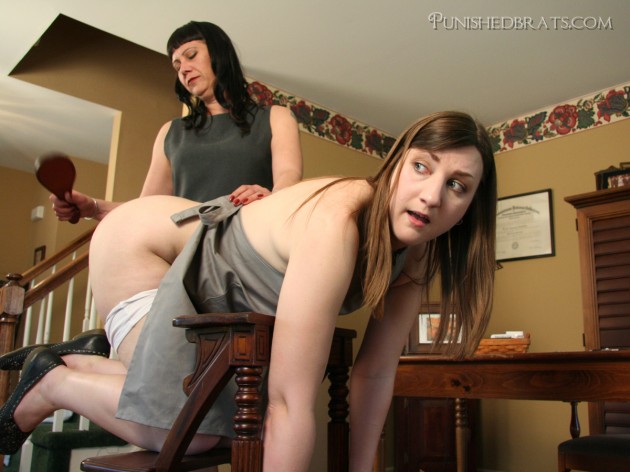 Pandora Blake stars in "Grievances" – the 1st scenes of Arbitration
Veronica and Pandora are having a disagreement over everything from reasonable expectations to the dowdy maid's uniform. Finally Veronica has had enough and declares Pandora may remove the offensive uniform as she'll have little need for it for a while as her bare bottom is paddled! This film was filmed in David's office and you can see a FREE Preview of this latest film HERE
Rules Change – with Charlie Skye (spanked by Veronica)
Nearing the end of the Life Swap experience, Charlie informs Veronica how much her rules suck and that things will be a lot different from now on. But Charlie's demands fall on deaf ears as Veronica spanks her for this rude outburst. Charlie is relieved to think that her Life Swap experience is nearing an end and her bottom can have a rest but Veronica's got something else in mind!
See all the latest HD films HERE for a membership starting from just $17 a month (still at 2006 prices!)
*******************************************************
I've not shown much from Spanked-in-Uniform.com recently… which is a pity as there are updates and new films a plenty… as well as 2 new uniform niches introduced (I'll start with these) and then show another recent fave of mine, so that kind of brings me up to date with Mike's great site. All images below are taken from screen grabs of the films themselves, all filmed in usual HD quality playback.
Below is the latest new uniform niche – The Sexy Maid Cleaning Agency
This is the first of 2 films introducing new maids Julie and Scarlett to the company: "The Complaint" – Sexy maids Julie and Scarlett were sent to a customer John to clean his house. He was not satisfied and sent a letter to the Agency complaining about Julie's shoes and that the girls didn't clean properly and were caught watching soaps on TV. Mr. Johnson decided that both maids needed a good spanking. In part one Julie goes across his knee and gets soundly spanked.
Click here for the 1st film from the Sexy Cleaning  Maids series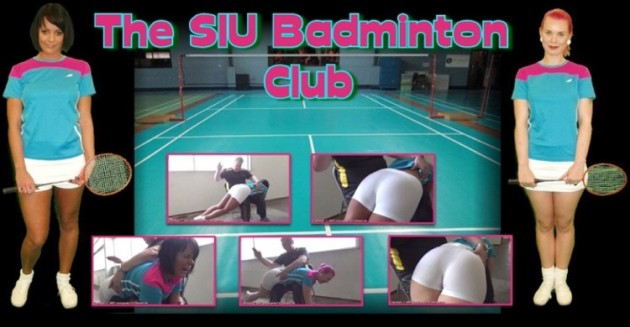 This is the very 1st movie from this series and it is in 2 full parts… this is part 1: Julie and Scarlett were late for practice with the result that all the courts were occupied so they trained inside. Coach Mike saw them and scolded them because they had an important match that Saturday and every practice is important. He grabbed a chair and flung them both across his knee for a sound spanking. They were then sent to his office where their bare bottoms will be soundly dealt with in part two.
You wouldn't want to misbehave in this badminton Club… would you? 🙂
I haven't featured this niche for ages, so enjoy the uniforms and seeing Mike look very smart in his pristine whites. It can only be the Southport Naval Academy!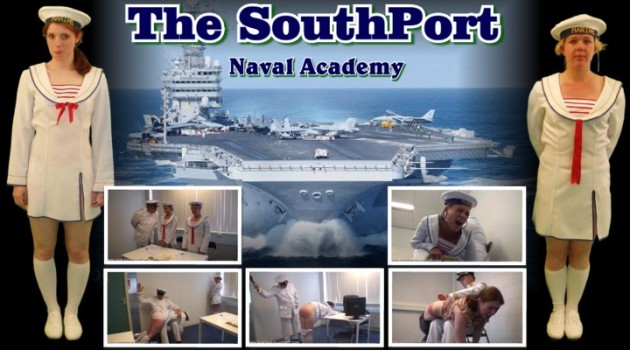 The Competition: It was time to promote one of the cadets to corporal but their commanding officer had a problem. Both Fae and Tiina had excellent records so he decided, in true naval style, to have a birching and caning competition between the two cadets. He thrashed their bare bottoms with 2 different birches and two different canes, six strokes each, until one of them gave up. The winner was promoted to corporal. You can find out who in the full film HERE
To see all the uniform niches currently showing from this vast archive of sch-paaankings – CLICK HERE
****************************************************************
Finally from POVspanking.com – a wheelbarrow position clip "extraordinaire" – this was one WB film I felt I got completely right, we had additional lighting and reduced glare and shadowing… it, like the actual POV scenes are an ongoing project and a learning curve every time we make one of these films as they are a lot harder to do than you may think… but Sophie's… at the hands of Zoe, was an awesome effort and it is showing for the 1st time (and only place on the clips4sale network) at POVspanking.com Check out some images from the film below… this was a 2 part movie… Sophie had already been spanked OTK of Zoe Page and then she had to endure this… the OTK part is now uploading at my other clip store HERE and should be available within an hour or 2 of me posting this 🙂
The full film (both parts) will become available to members of the main site early July (if memory serves me right on the schedule list…) yes, I actually have a list of films to upload about 2 months in advance with any slots free when I know I will be doing a film shoot to get those out too… so if you can't wait until then, these 2 clips are there for you… or if you just want to download the odd movie. then "boy" you're in luck, aren't you? You will get to see this waaaaaaaay before anyone else and it's a good reason for having the Clips Stores to highlight and preview films far in advance 🙂
This was Sophie's only wheelbarrow spanking, and she took this reluctantly after a tearful OTK spanking at the hands of hot bully, Zoe Page which you can see at our other clips store  HERE  – you will get to see in very clear and intimate detail Sophie's embarrassing finale to her cheerleader punishment by coach Page… this film clip makes you feel a part of being there as some of the scenes are so close and naughty with nothing to hide! as you'll see below from the actual screen shots… #HAWT!
Check out the wheelbarrow spanking clip HERE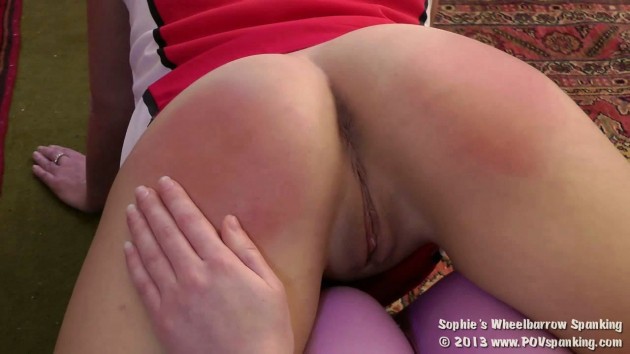 ******************************************************
Have a good weekend everyone! Chief. xx