I hope you are all having a great holiday… no work on Monday for the majority of you, how nice! Of course, here in the UK… bank Holidays mean only one thing… bad weather, and so far today in the London area that is living up to expectations with heavy rainfalls… Sarah and I might just try and do a spot of sightseeing in our nation's great capital later today, we shall see (since yet another of her "sessions" has apparently made a no show).
A few site updates for you today from some recent films showing at these sites featured below today.
Breaking into someone's home results in a tough punishment for new girl Abi!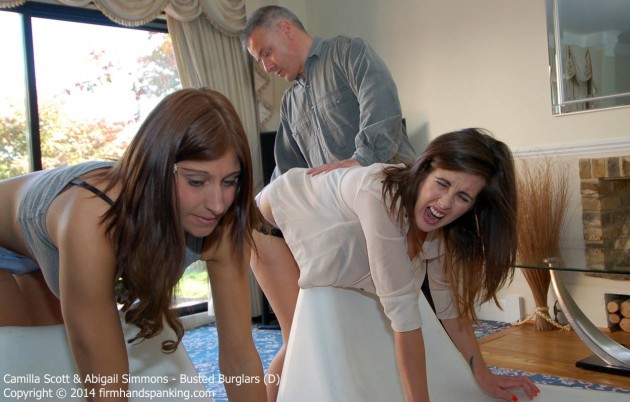 Bent over next to her friend Camilla, Abi Simmons grits her teeth as her butt is turned a mottled crimson by Earl Grey's leather paddle. They broke into his home and have a lot of housework to do! If it's not done right, their bottoms pay big-time in "Busted Burglars"
CLICK HERE for the free preview
***********************************************************
An epic film with Sarah Gregory and Dana Specht (playing both teacher and momma) is out at MommaSpankings.com – I saw this when Sarah placed it up on her site an age ago and loved it… it is what every schoolgirl and strict female authoritarian spanking lover will enjoy viewing… "Spanked at School, Spanked at Home".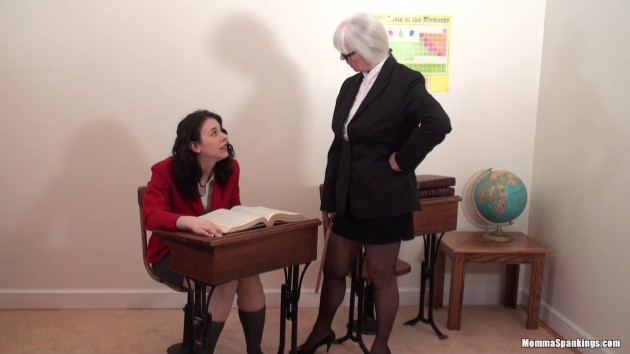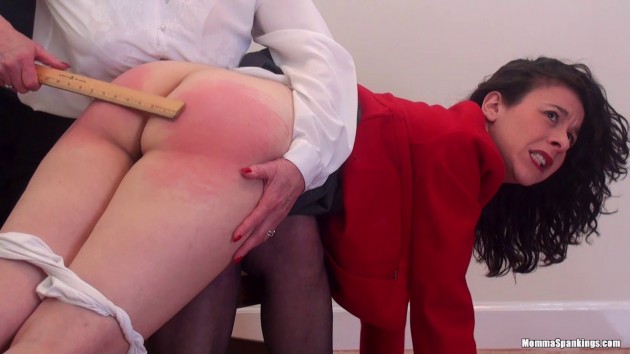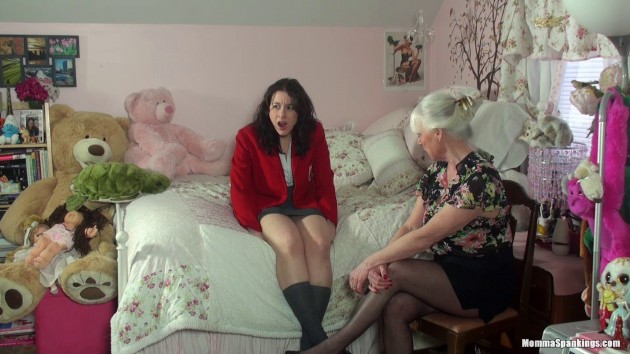 Did you grow up in the era when, if you were spanked at school you got spanked at home? Well Dana Specht did and when Sarah and Dana do a school-girl themed video this is how it is played out. Dana takes the role of Sarah's teacher who finally has had enough of her bad behavior and turns her over her knee for a spanking. When she gets home and faces Momma (also played by Dana) she gets another spanking.
CLICK HERE to see all the excellent Momma/Daughter style  full length spanking films
***********************************************
From SpankingSarah.com comes a great F/F spanking film with the return of Jadie Reece… in her first appearance at this site she makes a memorable debut with Sarah – who slippers her girlfriend! & doesn't Sarah look great??? This is a hot film!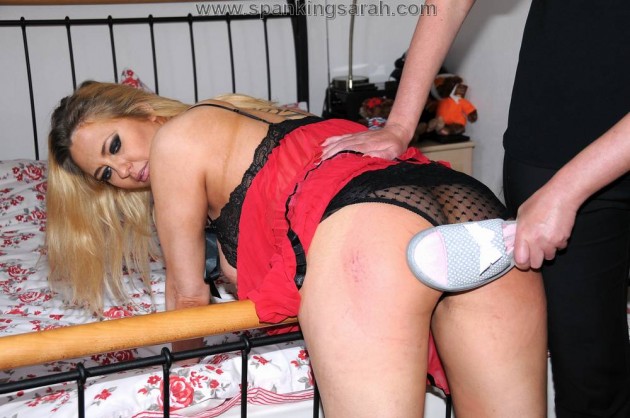 This is what Sarah had to say about this latest film update: Jadie has been spanked by me, her jealous girlfriend and thinks she forgiven but those who know me know I do not let things go unpunished and I think she may have liked the spanking. This morning I woke her from her sleep and made her bend over the end of the bed, I was a little distracted by her big tits which kept coming out of her night dress but that did not stop me from giving her big firm bottom a good slippering!
CLICK HERE FOR THE FREE HD FILM PREVIEW
***************************************************
Finally… The Nurse & Air Stewardess are back at GirlSpanksGirl.com in a raunchy girl on girl revenge spanking fest from the Fonda Group of spanking sites! The images and description of the oh so sexy Australian supermodel, Gigi Allens… and the delicious Cheyenne Jewel make this an addictive F/F spanking viewing experience!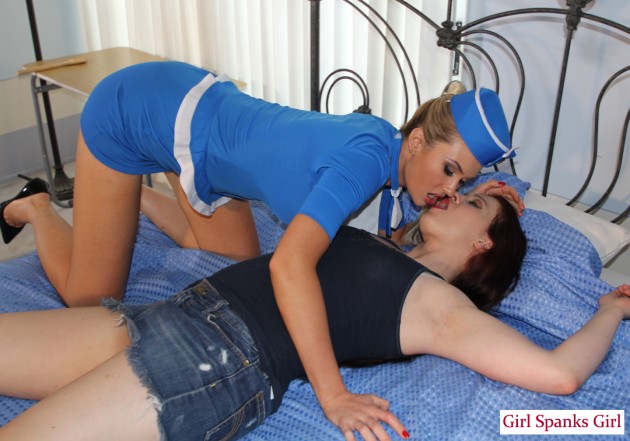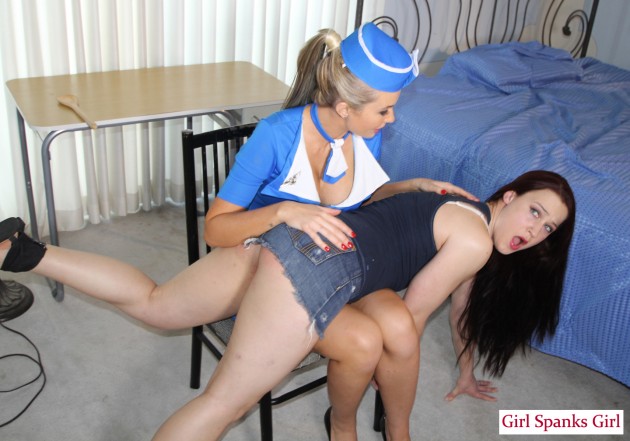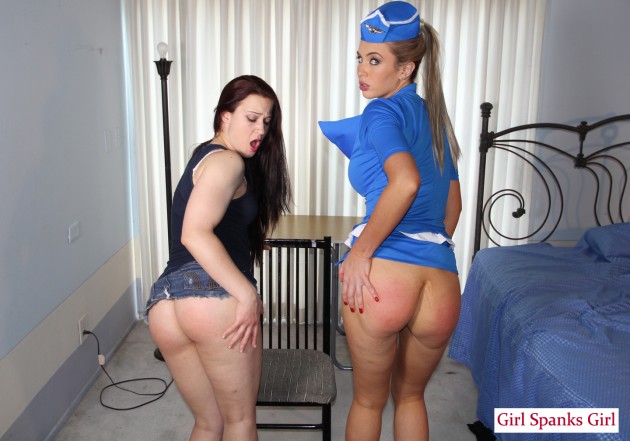 Gigi Allens is back as the sexy flight attendant who this time has found Cheyenne as a passenger on her plane. But Cheyenne claims she has amnesia. Gigi makes out with her, gets her off with a vibrator and then spanks her to help her jog Cheyenne's memory. But with her memory restored, Cheyenne gives Gigi a spanking of her own, even using a wooden spoon. The full length film is over 25 minutes.
***********************************
This is also available as part of the excellent value 5 site Clare Fonda Pass

*******************************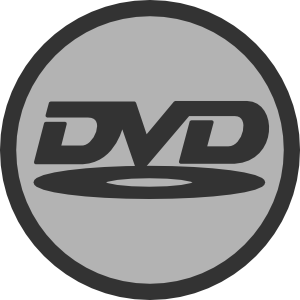 Have a great weekend… and I will be bringing you news that I shall be selling DVDs via American Shipping (as it is never adviseable from or in the UK which has always put me off) – there will be at least 6 great titles to start with and a series of films such as "Wheelbarrow spankings" or a feature on a particular popular model like Kami Robertson or Mishka Devlin etc… these proved very popular at the BBW vendors fair not too long ago… so I shall be making them available very soon 🙂