A quick trawl through the internet today, since my connection seems to be behaving again today! I have plenty of things on my mind as I prepare for our next filmshoot, the things we go through, I'm actually scared about this one as I could get rumbled by the owners of the place I've rented as they live next door… how the hell did I mess that one up? (I thought I had it all sorted, different area codes for phones etc… ) This is gonna be fun as I arrive Friday night and assess the situation and the girls and crew arrive Saturday! Do I spank quietly? Will the walls be thin? I shall be checking the house to see if I can hear anything next door the previous evening and then discreetly getting the stuff in the next day. This could go horribly wrong, but the location inside has some great rooms and the girls I've got coming… well, I'll just let you wait until it's done, but one is a popular girl back by demand and another is a newbie to my site who I know will be extremely popular! I just hope we get to film what we want to do!
In the meantime, members at AAAspanking can now download the latest movie update with sarah Gregory spanked and hairbrushed for the very first time in authentic Dropseat Pyjamas… I love this film… I am sure you will too! Click image for access to a free spanking clip!
*************************************************
& so to my 1st look around as one girl I have always admired, Caroline Grey, gets a wake up spanking in the latest uniform episode from Spanked-in-Uniform.com in the Army cadet section. I just know Mike who owns the site just *loves* dressing up and barking at the girls… I don't blame him one little bit and getting Caroline to do some humiliating exercises and punishing her is the perfect way to wake up a lazy bones cadet, don't you think?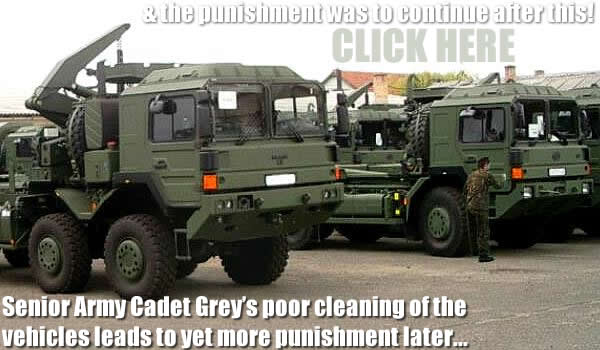 This was a bad day for senior cadet Caroline Grey. She overslept and her commanding officer rudely awakened her and gave her a sound spanking over her bed followed by a brisk painfull special drill caning. Then she had to do some PE before being sent to breakfast. Later that afternoon she was on motorpool duty and she had to clean 3 of the trucks but her work was sloppy so she was soon in the office getting a sound paddling with the heavy leather paddle
In case I've missed any movies recently  – You can check out the latest updates right here!
**************************************
As for spanking crushes, I'm sure you all know how I feel about Kat St James, so pretty and petite, yet able to take a hell of a thrashing when required and at Firmhandspanking.com she proves again just how darned good she is, being able to take a rather sustained and nasty paddling, both with the stingy Lexan and then the evil wooden paddle! Eric Strickman is the paddler so you'll know he takes absolutely no crap off Kat when he punishes her for leading his daughter astray. Why? She was asked to take her out for an evening… and NOT to come home stinking drunk at 3am! Witness some of what is in store for gorgeous Kat below with these amazing images, I promise you this film is one of their best recently!!! Members can download this now HERE!
Click here to preview the free wooden paddling clip
************************************
OK, before I go (I have to go and do my vanilla job… lol) I have just been sent this amazing free set from English-Spankers.com of a classic from a now retired spanking model CJ, in this double you see below she is a feisty girl fighting back against her twisted tormentor who overpowers her and gives her a hell of a thrashing with his hand and a thick cane! I have just watched the movie on their site and it is awesome! Click on both images below which lead to free galleries and really give you an indication of what is about to happen! Enjoy!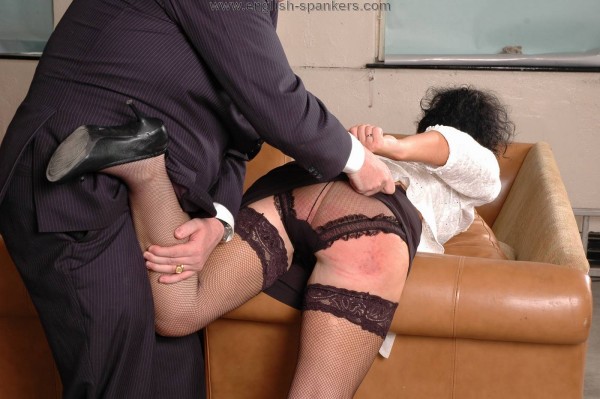 I loved that image above, it shows the struggle… and below this gallery shows the caning!