Fresh off the press, so to speak, I only just uploaded this new film for members a few minutes ago so I thought I'd give you some inside info and of course a few extra images that are not seen anywhere else that were taken with my stills camera during the filming of this naughty severe schoolgirl film! Kami Robertson looks great in her pink Gingham dress… however, those who know Kami will be aware she is rather dinky and trim so I put her to the test with this item of schoolgirl clothing as it was a little on the snug side, even for her! But she managed to squeeze into it as you can see below… and we ended up making a great OTK spanking and a prolonged hard caning film finale where I lost count of the times I whacked her , it was that many! Add to that we shot it in an authentic setting, that classroom was fantastic, and this is a film I'm proud of… what's more, of course, it has Kami looking very cute and bratty in that uniform and, boy, did she get a good thrashing as members can now see HERE

Kami wonders how the heck she's gonna fit into that tiny dress!

Kami somehow squeezes into it ready to start filming!
Kami was very insistent on getting her roles just right, we'd discuss why she was in detention, I'd get her into the mood of it, it helped greatly of course with the realistic surroundings of an austere bygone classroom… and once Kami was ready to be that naughty bratty schoolgirl, stood there waiting… knowing that she was to be spanked and caned, I knew that we were going to make a great film once I had the go ahead from the cam guys that the lighting was ok! You can check out some screen images below from the movie, I must admit spanking Kami in such a tight dress over my knee was a pleasurable sight indeed, as I'm sure you can imagine!
Once Kami had been spanked, her bottom was positively glowing and ready for the second part of her punishment during this detention session which was a caning! As this is a "behind the scenes" look at what we did, I let kami choose the cane to go across her bare cheeks, and I was surprised that she let me use the nasty whippy one we had… this wasn't too long after I had birched her rear so it was a little tender anyway and this cane had a habit of biting into a girl's cheeks… I certainly didn't hold back as you can see in the images below and I'll give you a link to a free preview clip afterwrads…
CLICK HERE TO VIEW THE FREE CANING CLIP OF KAMI ROBERTSON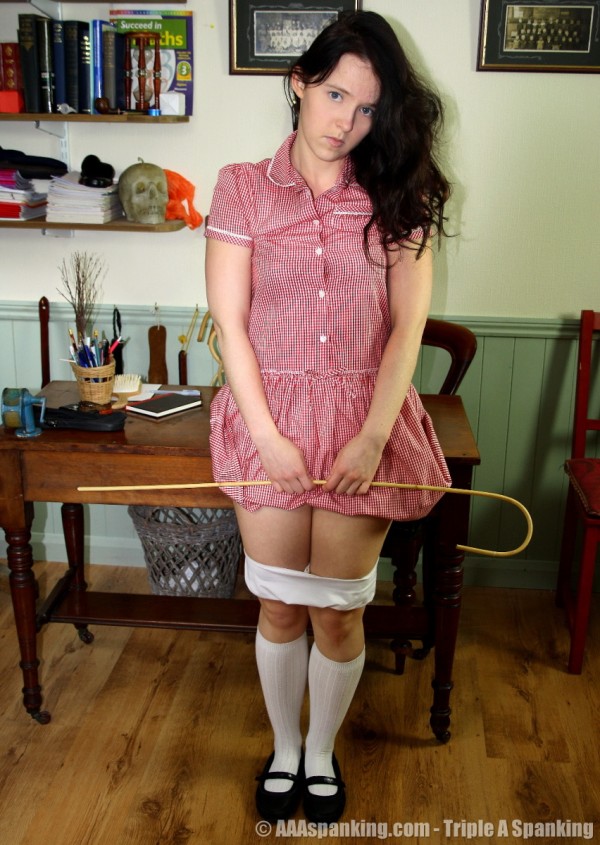 This film will also be available to download as a one off at the CLIPS SITE HERE – showing the spanking and the caning clips (or being able to choose the full film) this is coming soon (probably tomorrow as it's late here and I need my sleep – but I'll let you know when I post again tomorrow!) But it really is 2 films in one so ideal to split for those that either just want to see her amazing jiggling butt spanked OTK and those that want to see her wiggling bum caned – it's ideal! Have a good night everyone… "sleep tight, don't let those bed bugs bite"… 'cos if they do, you need to change your mattress and bedding QUICKLY – as that's just nasty 😉