The latest hot spanking film is now available for members at AAAspanking.com and if you take a look at the images below, most of which are from the film itself (reduced in size) you will see just what a stunning French Maid Joelle makes in this upmarket tale of my preparations for an important dinner party… I trusted Joelle to get on with laying teh table and getting everything looking perfect… but she messes up so of course, there are consequences! This full film has a HD1080 version playable in MP4 whilst the standard HD is set at 1280×720 WMV (which is not shoddy either). The screen images you can view below are reduced in size to 1200×675, taken from the full HD version at 1920×1080
OK, enough of numbers… check out how awesomely cute Joelle looks as a French maid… I had to find ANY excuse to spank her in that, didn't I?
Mr Osborne had a special evening meal planned for close friends and he left his trusted maid, Joelle Barros, to set the dining table with the finest silver, china and crystal dinner service. With time running out he came to check up on her progress and was far from impressed with her tardiness. Joelle was employed as his corporate "eye candy" and she was paid way more than normal maids because he got to punish her in his unique way when she did something wrong! It was part of her very special contract! Joelle's eyes were raised in disbelief when he told her to assume the position over his knee for a short sharp shock OTK spanking on her bared bottom. He didn't have much time but insisted that this would speed her up especially as he insisted that she'd continue preparing the table with her skirt hiked up in shame afterwards, the sooner she took her spanking the sooner her bottom would heal before the party guests arrived!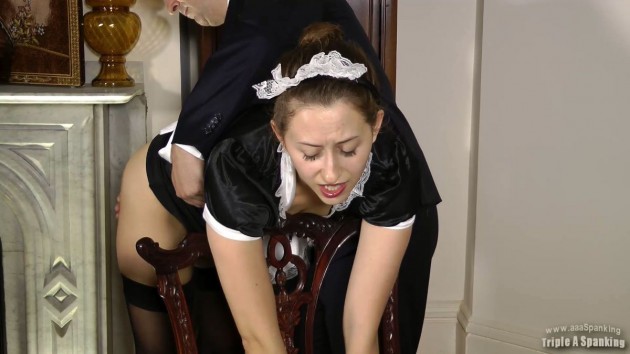 CLICK HERE TO VIEW A SCENE OF JOELLE'S SPANKING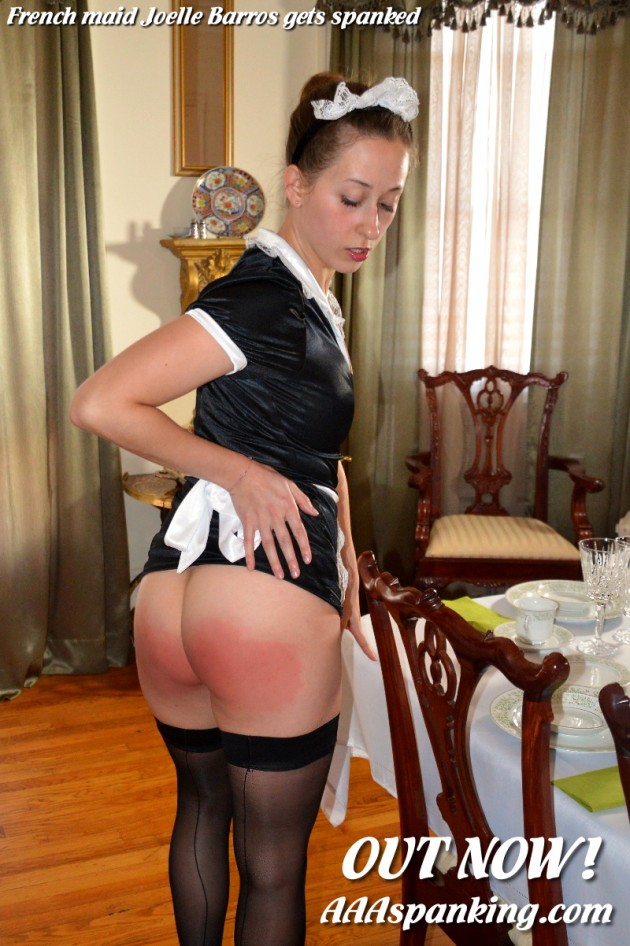 **********************************************************
There's an interesting concept short film (in 1920×1080 HD MP4) at POVspanking.com which stars Chessie Kay making fun out of YOU – it's from your perspective but read the storyline and try to get into this headspace if you can… if you like the idea, then I promise you that the film is worth downloading – there are no actual spankings done by YOU or given to YOU… but this is a provocative, confident highschool girl teasing you and there are threats, hints and even promises of spanking that you, as a younger awkward person… just embarking out on the road of discovery of kink and relationships… finds hard to comprehend… only you are excited beyond words!
This is a fantasy scenario of when you might once remember and imagine how socially challenged it was to be an awkward geeky 18 year old high school college boy… you always found excuses to hang around at your Uncle's place after college had finished because your attractive and sexually active blonde cousin, Chessie, was a very naughty and alluring girl. You've thought about being with her more than once, you've thought what it must feel like to even spank her as she could be so infuriatingly confident and you wanted to take her down a peg or two!, You know she has spanked boys at school for fun. her butt is to for, so here we are… you walk into the kitchen and she is cleaning something on the floor, her tarty short school skirt has ridden up so much that her white cotton panties are on show! You feel yourself getting hard, your mind races with the sight of her in front of you until she catches you staring at her!
She is a little shocked but knows what horny boys like you want but you won't get it that easy – if at all. She's a real cock tease and makes fun out of you. She loves the power she can wield with her sexuality, you know it, you fear it… even hate that she can do this to you! You feel embarrassed that you were staring at her bum cheeks, then she invites you over for a closer look but she is only teasing! You feel foolish and your cheeks redden… she's laughing at you, mocking you, calling you pathetic and even referring to your "tiny" manhood… "damn it, how did she know?" You feel angry now, you feel like you want to spank her, she even teases you to try and spank her, smacking her cheeks for you and then tells you that YOU must go over her knee instead. You're excited and really confused… is this for real? You want to be near her but at what price? As your mind furiously races on whether you want to go over her gorgeous milky thighs, your cock is bursting… to hell with it, you WANT this, you want to have her spank you, you'll probably cum inside your pants you're that excited now.
But – Disaster! Your intransigence has pissed her off – she gets fed up with your time wasting and calls it a day! Ah… the folly of youth and missed chances! Re-live a moment like this when you were younger and wanted that girl you never could have – Goddamit, she was offering to spank you and you hesitated!!! "Next time", you tell yourself… "it'll be different" as you mumble and make your excuses and leave!

This short scene tries to recapture this description, the headspace, those thoughts and the sight of this sexually provocative girl offering something you had hesitated to take! Contains language of a suggestive nature, threats and promises of spanking, some scenes of self spanking and close up shots of Chessie's oh so sexy white cotton school panties – all filmed from YOUR perspective – This version is 1920×1080 HD-MP4 playback,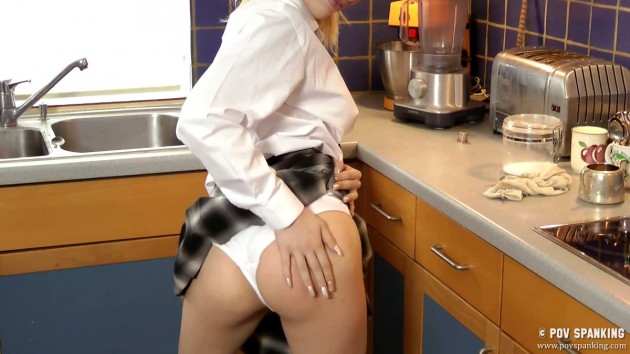 See MORE POV style spankings & scenarios based on various themes HERE