Well, as predicted, the "riots" (well, not riots as such, just mass copycat criminality by those who see a cheap thrill of getting something for nothing and destroying the lives of those who have worked hard to make something of themselves) it has been continuing although once you put enough resources into something like policing the capital city, these cowardly hoodie scum soon disappear! In a way, it's rather like the piracy I have suffered this last month, although I am kind of on top of it (by putting in extra resources) there are still a couple of determined Russian pirates that I'd love to pour boiling hot water onto their gonads… just for fun, of course, rather like the looters have claimed – so despite those distractions of ensuring my hard work isn't totally ripped off constantly, you can view our site now from just $8.50 a month FFS! So taking time away from producing and promoting which really FUCKS ME OFF! Here is the latest film from AAAspanking which I rather like as it has Sarah Gregory in her very 1st detention getting a lesson in how to speak the "Queen's English" and also know what it's like to get a darned good slippering that we Brits like so much to dish out! (When feral scum aren't looting our shops).
Check the image below for a brand new long play FREE Preview Clip
Sarah Gregory stars in her 2nd schoolgirl film & shows us some of her infamous bratty cheek (or sass – as she calls it). Her Detention soon turns into a bare bottom punishment when a simple test on how to talk "proppah! – like wot we duz in England" goes horribly wrong when she can not identify how to say the words & correct pronunciation for simple things like tomatoes (she says "to-MAY-toes" when everyone knows we here in England say "to-MA-toes") then she ridicules our "Chocolate Bars" & hasn't a clue what she thinks are "Chips" (they are "CRISPS" we eat Chips or "French Fries" as she would ignorantly say… with our wonderful Fish) & the list is endless… so a good bare bottom spanking with a good old fashioned leather slippering, the English way, is needed to correct her wayward tongue! Sarah should learn to talk like her English cousins when she's a guest in our riot torn country… & we will hope you find her mastery of our language at the end both amusing & hopefully a lesson to those "cheeky brats" out there that dare mock our accents! The final scenes of Sarah stood up with her hands on her head have to be seen to be believed as she recites the "Queen's English" like us Limeys! What a good sport she is… next she'll be learning the rules to cricket & rugby!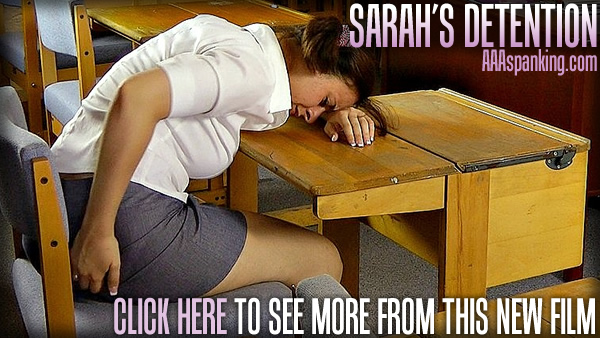 See this and the other exclusive films with us starring Sarah Gregory at AAAspanking.com
************************************************
Now Sarah has a fine bubble butt, so that is my little theme today and what you are about to witness in a new update from FirmHandSpanking.com is probably one of my most under rated spanking stars that I adore, the "butter wouldn't melt in her mouth" look of Corrine Gonzalez – she who has a most amazing bubble butt booty, so deliciously spankable that how could her evil House Mistress, Allaura Shane (who I have to say is getting better at this switching malarky) finds ANY excuse to tan that ripe rump! Oh… and check out Corrine's amazing long hair… impressive, eh? See what happens to Corrine in this latest installment below, actually when you see the story of what happened… she DID deserve it this time! & I can tell you – Allaura really did WHACK her hard with the paddle… OUCH!
You can see more of this severe paddling with a free film preview of Corrine right here!
********************************************************
Now the possessor of the most jiggly, eye-wateringly addictive bubble butt (for me) has to belong to my full time crush and webcam harlot/tease/spanko (delete or include together as applicable) – the one and only Amber Dawn from the Frisco Bay Area… yup, another reason for me to venture to California, one day! You may have seen some images shown elsewhere below from her SpankAmber site – but what you may not have known is that this movie in all its parts is NOW available so I will feature it here. You wanna see Amber get a spanking and a leather belting on the sofa? No problem! Hey… you wanna see Amber give her lucky fella, Daddy, a slurpy, mouth watering blowjob and take his thick wad whilst she rubs and grinds herself off jiggling that freshly tanned butt of hers on full display? No problem… just beware this is HOT naughty stuff between a real life couple, so expect full on nasty & very erotic personal playtime that we are privileged to view! 🙂
That last image I chose says it all "The cat that got the (man)cream" – Amber is an incredibly hot and very erotic lady who looks after herself, loves the attention she gets on camera, members of her site can see some of the shenannigans she gets up to and so much more CLICK HERE for more info…
Finally, from Amberspanks.com – her own take on femdom of other interesting and very real girl next door types you DO NOT see elsewhere, I remember Amber telling me about this girl, I think this was her 2nd black girl or non caucasian type… you know what I mean… I think she was half Swedish/half Jamaican… like the singer Neneh Cherry (who I had a thing for in the 1990s – anyway, I can see why she was so excited with this Rhianna-esque honey, only 19 years old, the way Amber likes her girls… fresh and young and never been spanked on film before! You'll see Amber put her at ease and admire this girl's trim waist, bubble butt and full D+ cup breasts that Amber has a generous feel of before continuing with her mission of turning this teenager's jiggling butt a naughty crimson! You can see part of what is going on and those very naughty cut out pants pushing out Zahara's rump (below)
I hope you appreciate these 1st show images of what Amber has been getting up to HERE
🙂 "One way ticket to San Francisco, please!" 🙂
ah, and as I finally get this post to edit, Amber has made available a whole load of images that others will blindly post without a thought in the world to how it was made, remember here – you get the FULL stories behind Amber's fantastic films! ALWAYS!
********************************************************
OK, as darkness starts to descend here in the UK, please think good thoughts for the vast majority of us here sick to our back teeth of the utter feral scum that are taking away our communities… so it was good to see people of these communities fighting back to protect and cherish what they have built up! OK, Good night everyone and stay safe!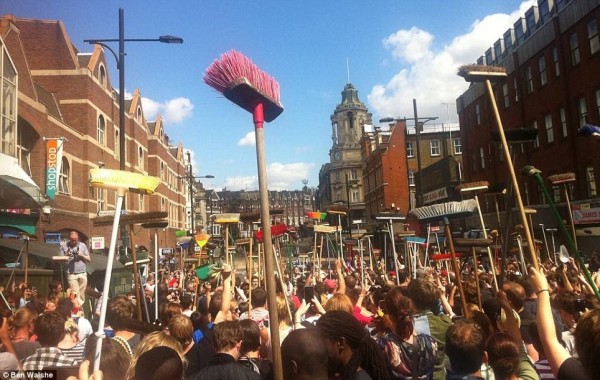 "My point, exactly!" Have a good 'un, Chief.