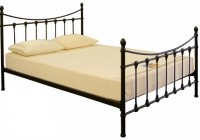 This isn't something I often do… talk about purchases of furniture I have etc… but for some strange reason, I had never actually bought a bed before and thought that they were cheap things. I've seen dozens of ads on TV and in magazines and never really thought about them despite the fact we all spend a HUGE amount of our lives in or on one! I suppose I have been in the position of always having someone else do this for me. So when I recently decided to upgrade my bed, and also get rid of the other one as it was old and probably crawling with (deadly to me) dustmites, allergens and such… I thought I'd start looking online and go to a few showrooms to test them out. OMG! In general, how expensive are new beds? they are  SOOOOO expensive! The thought of buying a second hand one defeats the object and makes me feel a little queazy, so it had to be new and I wanted a new bed frame too… (I want to impress Sarah when she comes over in January, and also not suffer any more night time symptoms of bedtime asthma) which so far since I have been back in the UK, with new meds, is doing well and seems under some sort of control.

Mattresses are the thing that are most important and costly, I found out… I had so many options, latex filled (oo-er!) or memory foam which helped guard against those pesky dustmites, pocket springs and open springs… I went though all the options and even saw there were combinations until I got myself a memory foam over pocket spring "hypo allergenic" mattress (at great cost I might add!) I had tested out a few and got this one online, it arrives tomorrow 🙂
Like wise with the bed frame, options and styles were unlimited and last night I realized I hadn't ordered one to go with the new fangled mattress I had bought, so spent… (drum roll) – 3 hours, yes…. 3 whole long boring hours or more deciding on what bloody bed frame to get!!! I need to get a life, I need to get you some impressive spanking updates for making you read that guff, don't I? OK… so here goes! I promise not to talk about the damned bed again. However, I may bore you with another purchase I made this morning, my new venetian wooden slat blinds that are going to look AWESOME in the bedroom… but again… you don't really want to know this, do you?
Right… let us start today with one of my fave Dutch girls, Cory, getting a much deserved outdoor "schpaaanking!" at his original and massive archive website – Real-Life-Spankings.com – Mike who took her for a drive out in the (reasonably flat) countryside of Holland to find a secluded spot to do "you know what!" Where only the rabbits and other not hard of hearing wildlife would hear her pleas and cries as she got a bare bottom whupping to remember!
Cory gets Spanked & Switched – in the woods

************************************************
Cory features a lot at the sister site Spanked-in-Uniform.com – I featured her last at the Bellview Catholic Girls School section… and this time it's Amelia Jane Rutherford's turn as she faces a rather humiliating and long double punishment session, as you'll discover below:
Bellview girl, Amelia Jane Rutherford, is in trouble. After the last volleyball game against a rival school, one of the girls from the other team provoked Amelia and they got into a fight like a couple of hooligans. This cannot go unpunished so the headmaster first gave her a sound tawsing and some time on the Punishment Tray
In part two – Amelia gets another bare bottom tawsing but this time with the dreaded heavy 3 tailed tawse. Then she got 12 of the best with the senior cane on her bare bottom and finally, while kneeling on the Punishment Tray again, she had to write a letter to the Headmistress of the other school apologizing and describing in detail how she was punished.

***********************************************************
At FirmHandSpanking.com – I suspect this might be the last time we might see Adrienne Black in a new film – they do this sometimes and interview models, almost like a parting "goodbye" – this update contains a short interview with Stacy Stockton who she had worked with on this latest project and in the "Candid Interview" explained what implements she liked better or hated/feared (it's the cane by the way) and she remembers some of the shoots she did over the years… the cane coming into focus again… and a surprising revelation about wooden paddles when she experienced both for the first time. It's rather interesting and I like looking at and hearing Adrienne's thoughts as she is a beautiful young woman. There is an accompanying photoset which encapsulates her first appearance and memorable scenes, some of which she had recalled in the interview, over the 4 or so years since her first appearance at FirmHandSpanking.com
Below are a selection of those images shown showcasing Adrienne Black
VIEW THE ENTIRE ADRIENNE BLACK LIBRARY EXCLUSIVELY HERE

***************************************************
I missed this great update last week so am catching up with it – taken from the vastly under rated SpankingSarah.com website – witness one of my favourite UK models, Lola Marie, getting a hard leather paddling from both Sarah Bright AND Katie Didit… yup, it's time for an update from her "House of Correction" series! Check out these reduced size images which accompany the full HD movie… you can also see a free clip of this below too!
At the house of correction Katie and Sarah are discussing an accident Sarah suffered as a result of a rather nasty girl when low and behold the girl turns out to be Lola Marie. She is not at all repentant for the damage caused to Sarah and so it is decided that some damage should be done to her bottom. She is stripped naked and  bent over the punishment stool where Katie and Sarah join together in giving her the hardest paddling she has ever received.

*****************************************************
Sarah also helps out at English-Spankers.com and this is far from the 1st time that Ashleigh had crossed her path… brunette Ashleigh gets a good slippering in this episode as you will see…
Ashleigh is determined to model for a local photographer, she has been told she must not and has been spanked for disobeying. Now she is at it again, and she is in serious trouble, her big boobs and cute arse will not save her from a damn good thrashing with the slipper. She has to bend over and take a good swatting on her bare bottom.
CLICK HERE TO VIEW THE FULL HD FILMS EXCLUSIVELY HERE

****************************************************
Finally today… I have always enjoyed the spats between beautiful & slutty Paris Kennedy vs. Clare Fonda over the years, so it was great to see Clare (naturally) reprise her role as the uber pervy brothel madam at SpankedCallgirls.com – and watch what happens in this 2 part update as Clare kicks out her bad girl, Paris… to go work at Double Dan's den of iniquity… however, he suffers no fools and punishes Paris over a 2 day period making it a very painful paddling & caning experience for this wayward callgirl… see what happens in the 1st part…
… then Paris gets her revenge on Madam!
Paris Kennedy storms back to her Madam to get revenge for her painful assignment with Double Dan, that saw her get caned and spanked. She spanks yanks the Madam over her knee and spanks her hard. The Madam agrees to take Paris back, but only if she takes a spanking on her already sore and bruised bottom.
Check out the full length episodes of Paris Kennedy & Clare Fonda HERE

This site can be viewed as part of the 5 site Clare Fonda Pass for a fraction of the combined site costs!

******************************************
Next Post… lots of my own site spanking news & previews this week plus much more to keep you entertained!