As the weekend approaches and the weather here in England remains surprisingly pleasant (for once), my missus (Er Indoors) has currently been "outdoors" in the garden busying herself and goading, then bullying me into sorting out the hated steep grass bank we have… I hate cutting that, but as it's dry, I guess I'll do this tomorrow before all that greenery goes nuts… "What the hell are you on about, Chief?" I hear you moan… give us the spankings we crave, you dick… and stop prattling on about grass banks FFS!"
Okay…okay…. stop bullying me! I'm close to tears as it is! & that is the 1st topic of the day as I logged into SpankAmber this morning to see what joys she has uploaded there this past week (I couldn't really log on much anywhere last week, of course) and Amber Dawn shows us in a fantastic and unique movie as only she can make what can sometimes happen when she is on her webcam… now Amber has been neglectful of paying her taxes (I know that pain) so has been extra busy camming recently to pay off the IRS, and you can really make her do just about anything, especially if it's got a nasty twist, we all know Amber is a beautiful pain slut and this episode shows how some naughty guy who's holding the purse strings makes Amber clamp her tender nipples with clothes pegs, shove a butt plug up her tight hole and then make her strap herself HARD (he's not satisfied and instructs her "HARDER!!!" with the heaviest leather strap he could see in the room as well as more clamping humiliations which brings Amber to tears! An interesting "twist" (literally, if you see the full movie) and a fantastic film that members of SpankAmber can go view now!
Check out the intro of Amber as the latest Cyber Bully logs in… (there's no actual spanking but I urge you to check it out as it shows you precisely how Amber interacts with her paying tormentor… and I have some images of what happens later so you can see for yourself (I feel it's only fair to Amber I don't give away all her content, of course, but this is what members will get to see!)
Go cyber bully Amber yourself HERE… Her webcam online times are well advertised on her Twitter account or her blog – She loves it really!!!
**********************************************
In another unfortunate twist of events, Kisa's 2nd spanking doesn't go quite to plan at MarkedButts.com in this amateur specialist site when she goes over the knee of Kyle for a hard hand spanking followed by an unbearable bath brushing (I know what these wicked instruments can do!!!) and to finish it off… a severe strapping that has Kisa writhing in pain as the stinging cracks really start to bite, I've included an original WMV clip below, it is only 15-20 seconds long but is more than enough to show you what I was talking about! Ouch!
Oops! I forgot to warn you that this was a severe clip as you no doubt will have seen and heard! Remember that this site features amateur spanking punishments so some of the camera work is not always the best … and there are varying degrees of movie quality but this is actually the attraction of the site. This film also happens to be one of Kyle's better lit films too… and the site contains plenty of 16:9 widescreen movies easily viewable on your large screens quite clearly. All in all… as you'll see from the screen images of this particular movie of Kisa's 2nd punishment… it is more than acceptable and on this  film alone the low membership fee (and great value longer term deals definitely makes it worth a shout!)
Check out more spanking movies at the extensive free tour pages HERE
************************************************
Hmmm, talking about the quality of some movies, I have just uploaded the HD MP4 Format from the severe cold caning of Leia Ann Woods at Triple A Spanking alongside the full length HD WMV version! I have cut a very small clip of the HD MP4 version (best viewed on VLAN Player – I'm sure you all know by now!)
I had already included some images from when it came 1st came out but have decided to show you a few images from a another set that I haven't shown from AAAspanking and this stars Jasmine Lau – who thought she could sneak a few pieces of candy from my stash, only she hadn't reckoned on me being incredibly petty and counting them all so I knew she had been eating some secretly! Yes… these girls never learn… do they?
Gorgeous Jasmine gets a good hard OTK spanking and hairbrush punishment for stealing my chocolate candy! No one messes with me, whether it be cake, candy or chocolates!!! NO ONE! (lol) These Hi Res photos complimented the full movie and screen images that were also added, I hope you enjoy viewing these as much as I did making sure Jasmine wouldn't be trying to sneak any more candy without my permission again!
Check out all the latest movie updates & excellent longer term membership offers!

*********************************************************
I had recently shown more of SpankingSarah.com and this site isn't only about Sarah but her friends too and I watched a classic last night with very naughty Masie Dee, this was probably her (ahem) naughtiest film she had done without fucking anyone (there are films at this site which does have Masie getting fucked hard and sucking off stiff cocks whilst being thrashed hard at the same time) but this movie was just deliciously rude… She secretly films a porno flick with her boyfriend between spanking shoots and you get to see the little cam at work and also the results of this naughty homemade film as she first fingers her increasingly wet pussy then frigs off her swollen sex with a vibro, really pleasuring herself as it slopped in and out and we get to see it all intimately! See the images taken from this 1st part below… and the consequences of this disgraceful extremely lewd behavior follows!
Images below include those filmed on the small portable Handycam!
Masie cums loudly on camera just as her Film Shoot director returns to find this amateur porno film being made on his set… needless to say he's well pissed off and sends Masie's boyfriend packing whilst he proceeds to give Masie a much deserved embarrassing spanking taking away any joy she had just experienced and with his continual withering put downs, this makes her cry as she is spanked in the humiliating diaper position and blubs into the bed's duvet… She wasn't happy anymore!
You can see MORE of Masie punished to tears for her disgusting behavior HERE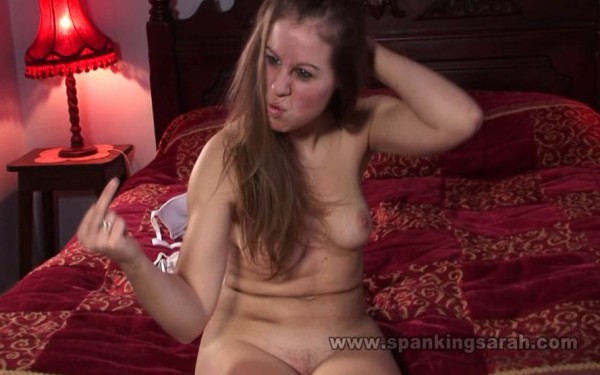 Have a good weekend everyone! I'm sure Masie here will get over it 🙂