Since I got back, it's been nothing but work work work… catching up with so much stuff. I have had to help Sarah with many of the sites and neglected the affiliate side of AAA Spanking – which I have just updated for those that promote the site elsewhere with 3 awesome new galleries etc. Anyway, I must sit down and collect the images and write about "The Party" before I forget… so this week's update (a little late) was from LAST year's inaugural party and something I had filmed with an awesome lady called Elizabella… she was there again this year but only stayed for a few days (she is local to the Houston area) to hang out and play in the evening as she had to work… but it was really nice to see her and catch up on what had been going on in her life.
Which leads me to the film we made last year… it is sometimes typical of party play that this is NOT a punishment film… it is impact and sensation play. Elizabella was a pretty hard player and could take quite a lot but all too often, the closed minds of many automatically assume that is all that should happen. Spanking parties are fantastic social affairs, and a great place to meet and catch up on news, have fun and play differently. There was no roleplay in this film and it kind of represented what we had done previously… Elizabella was a very sexual person and you could see from her impish, wicked grin that she liked all kinds of impact/pleasure play. The only thing she was scared of was the cane… as myself and Johnny (FLAPaddler) have said many many times at parties… "Don't fear the cane, fear who wields it". The cane on its own doesn't have to be a tool of ass destruction. Good Lord no… many girls use a light cane (Sarah included) and call it the "cum cane" – working lightly at first… with the aid of something to distract them… like a huge throbbing Hitachi. Believe me, when a lady cums, that cane is getting harder and whippier and it is the least of her worries. It also makes for an interesting film as you'll see – we played around with a few implements but the finale was all about the climax, control of Elizabella's orgasm and with harder strokes of the cane that she had originally feared!
I've waffled enough, it makes for an interesting film and isn't something you see that often on any spanking site but I thought it would be interesting to view (as it provides an insight to some party play that goes on) so do take a look at the images and the FREE Clip link that you can find at the bottom of this post!
Elizabella – The Player: Out now at AAAspanking.com
This is a unique film to AAA as we discovered a genuine amateur spanko who took the plunge and came to last year's Lone Star Spanking Party in Houston. She arrived with the intention of playing for the full weekend. By the time she had agreed to film one such typical session that she had enjoyed, she was already beautifully marked and slightly bruised. Girls girls like Elizabella would be on a high from the many spankings they had received and this was no exception. This film covers some intimate and close up spanking action & canings including extensive time with her Hitachi vibrator as she took both pleasure and pain to an explosive finale with it all shown in detail on camera for her first ever screen appearance! This hot Texan gal has a perfect naughty and spankable booty, see what happens in this full length HD video!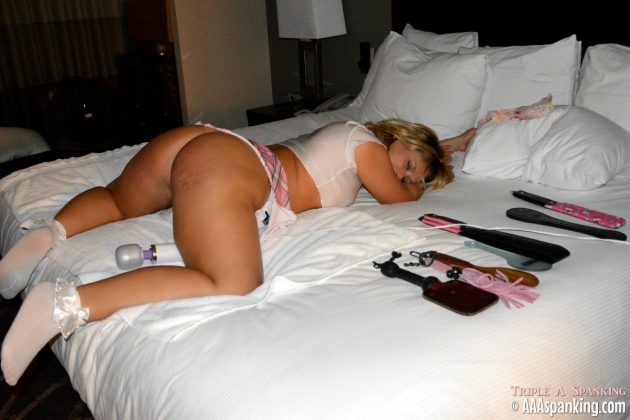 This video is also available to download in full HD
(if you prefer this method of viewing films) at the AAA Clips Store

My advice for the day… 🙂
Have a great Holiday weekend!