Happy Holidays and lots of spankings to those in North America… I wasn't online long enough for Canada Day on July 1st and of course today's date is Independence Day from us Brexit Brits. Happy July 4th… & to all my readers in North America I hope you all had a great weekend! In celebration of this, today's catch up post is a mega North American-fest of spanking talent… so let's start with a Special Judicial Punishment that I hadn't had time to review at Northern Spanking until now (I just watched the entire long play film, wow!) … here's a brief synopsis and some images that help showcase this 4 girl epic.
Featuring: Cupcake SinClair, Harley Havik, Violet October, Alex Reynolds & Paul Kennedy (using the Cane & Birch) 
The story: Four girls convicted of offences of violence and prostitution are sentenced to severe corporal punishment by the court. The method is strict; all must strip and in turn be taken to the punishment room to receive their beating. Northern have only visited the judicial theme once before, many years ago… Paul & Alex hope you enjoy their latest effort, featuring as it does three gorgeous new spanking starlets. This is a 40 minute film.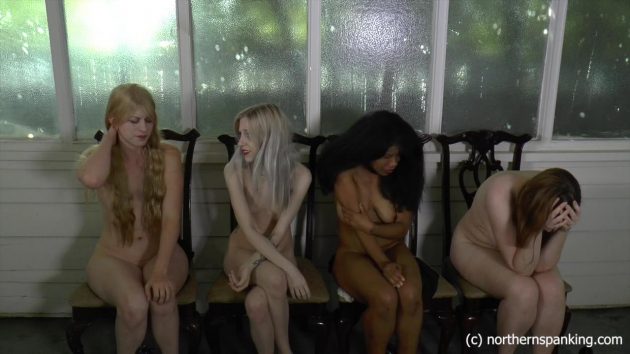 Grrrr! Just as I was preparing the next site updates my laptop decided to have a computer-stroke and has been very VERY slow and very unresponsive… the time lag between the above site update and the start of this one was approx 4 hours as I have been trying to revive the laptop. Obviously it is kind of working at the moment as I am typing this and hopefully will get this posted out. It means that if I wanted to post what I'd want currently on today's mega post – then I'd be publishing this on the 6th (Grrrr!) everything is so slooooow! So I have been running a scan after deleting loads of data and restoring it back to an earlier setting as I noticed one piece of software I use regularly had a strange update that I didn't want or need and I lost my sound on the laptop after that (Grrrr!) So I have a "driver issue" perhaps caused by that update as well. Anyway, I am still typing still so I will try to continue but I wanted to make some GIFs but that might be a GIF too far (Grrrr!)
Okay, next up, someone I know personally, Daisy… has recently appeared at a couple of sites and I am sure both Sarah & I will get to film her now that she has decided to "go public" after we have played with her in private! Daisy is a hard player and in both cases wanted a hard punishment that would get the point across… so who better than a visit to Michael Masterson? She is punished alongside Summer, another fantastic girl I have had the pleasure of playing with at spanking parties and is also another hard player!
Punished for Smuggling in a Cell Phone – starring Summer & Daisy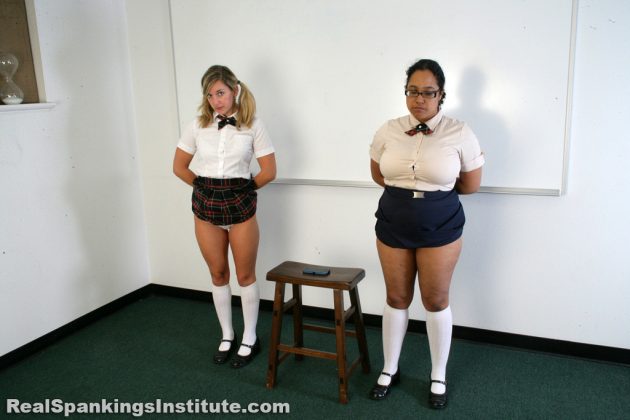 Full film update now available at the Real Spankings Institute
New to the Institute, Summer and Daisy are presented to The Dean for a hidden cell phone. Neither girl admits to owning it, so they are both to be punished. Summer is bent over and strapped on the panties and bare bottom with a heavy leather strap.
Daisy is then bent over and strapped hard over her panties and bare bottom. And since no one is confessing, Summer is bent back over. But two swats into the punishment Daisy admits that the cell phone is hers. The Dean bends her back over and leaves to retrieve a cane.
The Dean returns with a cane and applies 12 stokes to Daisy's bottom, leaving her in tears. She is placed in time out while her friend Summer, whom she apologizes too is dismissed.
This site is part of the Real Spankings Network – 8 sites for a fraction of the combined cost.

Okay, I'm running out of time and it's already the 5th here in the UK so here is a fantastic all girl spankings update from Spanked Callgirls and it has two of the hottest ladies at this site featured today… Veronica Ricci and Angela Sommers … oh my! It's a good double spanking film too, as you'll see 🙂
Angela Sommers Belly Dancer Spanking (with Veronica Ricci)
Stunning beauty Angela Sommers is trying to teach Veronica Ricci how to belly dance. But Veronica is being bratty and stubborn so Angela decides to punish her with a spanking. But Veronica is strong and strikes back with a spanking (and paddling) of her own on Angela's curvy bottom.
This site (like all the others in this network) is massive in its own right – but it is part of the 5 site Clare Fonda Pass Network – giving you the chance to view up to 5 sites for a fraction of the combined cost of them all! See more info on this (below)

Finally (believe it or not this is a shortened version of what I wanted to update… sigh) – please check out the last update here courtesy of Punished Brats and one of my "favorite brats" from this site – Audrey Sugarsmak – (dat ass… damn!)
Deficit Spending – co starring Veronica Bound
Audrey was summoned to see Veronica, the head of the family. She places all of her brother's wives on a strict allowance. In certain egregious circumstances, consequences can be severe. Audrey had arrived in the expensive outfit she had purchased the day before. She was made to take off all of the clothing including her lingerie. When Audrey was reluctant to part with her panties, she found herself over her sister-in-laws lap for several hard whacks with Veronica's hard hand. She then allowed Veronica to remove her panties. She had hoped that would end her humiliation, but soon found herself dancing to the beat of Veronica's hand landing on her naked bottom.
Veronica spanked her naked sister in law until she promised to stay within her budget. As with some others, Veronica, has a way for further humiliating the offender; she will send them home in an hideous frock. In Audrey's case, she was required to dress in a maid's uniform and then take the bus home.