Sarah wanted to make a film for AAA Spanking which involved one of her favorite domestic spanking fantasies,  sibling rivalry. She thought this site could do with more of her influence in this area and I quite agree. It's also a rather hot film as it features a spanking new debut with the awesome Jordana Leigh. She was filming a custom shoot not so long ago with Sarah and then spent a few days hanging out at hers as they are old friends. It was great to finally meet her since she appeared at Sarah's other sites years ago… I can also tell you that there are some amazing cheergirl films coming up with Jordana… but that is for another blog post and another day!
So those that love girls spanking each other, in PJ's and a domestic setting… stand by as this will be "right up your street".
Sister Spanks Hard – new film featuring Sarah Gregory & Jordana Leigh
Scene from the film "Sister Spanks Hard".
Below are some GIFs I made for this blog from the film plus a few screen grab images with some excellent stills photos (reduced in size, for promotional purposes… members get the full size images, of course). All this accompanies the movie, and it's all available for members to download now.
Sarah & her sister Jordana had secretly gone out and got a little drunk before an important exam at school. Of course this was unacceptable behavior but sneaky Jordana had pretended to be really sick the following day and Sarah had to take her exam and failed. Sarah knew Jordana was faking and so this is where this film starts with Sarah confronting her "sick" sister. This soon escalated to Sarah punishing Jordana for getting her into trouble… She spanked her over her knee like a naughty little girl and then finished the punishment with a bare bottom spanking like their momma used to do when they were naughty!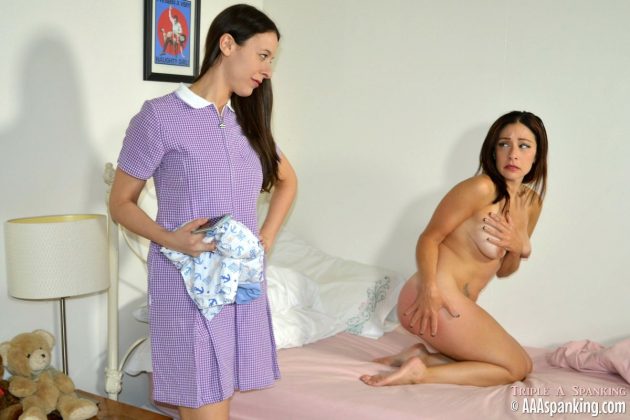 This film is also available as a one time download at either of the AAA Clip Stores (see below).
In other news… you may have seen Sarah's Custom page recently, do take a look as it shows you how to order a film to your requirements. The next model we will both be filming here in the UK is the awesome and very talented Jasmine Lau – we have our own plans for her for all the sites including cheergirl and mother/daughter roles for sarah's sites… but if you want to order additonal custom work privately, then this is your chance with Jasmine! Let us know ASAP! All orders should be sent and agreed/paid for with Sarah by this time next week.